Updated May 19, 2023. The information contained in this blog is current and accurate as of this date.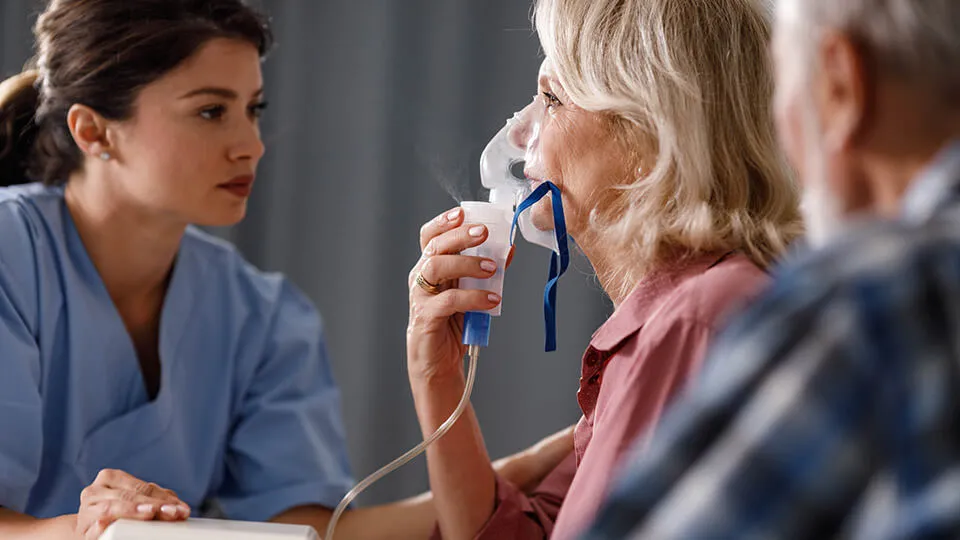 A respiratory therapist (RT) deals with conditions that affect the lungs, such as breathing issues. These health care professionals may work alone or have an assistant to help with daily appointments. These individuals may have roles in private practices specializing in pulmonary care or major medical centers such as hospitals. Learn more about how to become a respiratory therapist. 
What Is Respiratory Therapy? 
Respiratory therapy can be helpful for people with chronic ailments such as chronic obstructive pulmonary disease or non-chronic events such as helping newborns with their breathing after birth. A respiratory therapist is not a doctor but a licensed health care professional. Respiratory therapists can assist doctors in the detection and treatment of respiratory problems. 
What You Should Know To Learn How To Become a Respiratory Therapist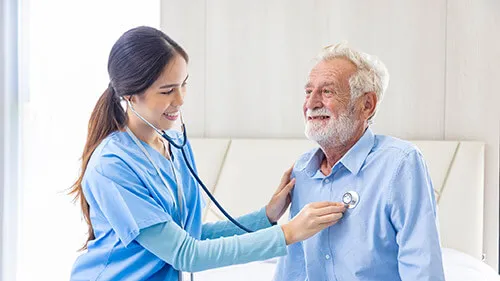 Is Health Care Career Training Right for You? 
When you're ready to pursue your career as a respiratory therapist, follow these steps:
Complete Your Degree in Respiratory Care 
Seek out a career college that offers certification or an associate degree in respiratory therapy. Some of the topics students can expect to study in their respiratory therapy program include:
Oxygen therapy.
Bronchodilator applications.
Chest physiotherapy.
Patient teaching and instruction.
Electrocardiogram (ECG) applications. 
Students can expect the following classes (or similar) to form part of their curriculum to become certified respiratory therapists:
Life support.
Cardiorespiratory physiology and diseases.
Respiratory care and techniques.
Neonatal pediatric respiratory care.
Cardiorespiratory pharmacology.
These classes should also include a respiratory practicum to allow students to practice respiratory care in an actual patient care environment.
Once you've completed a respiratory therapy program, some employers may request you to perform a competency test before hiring you. Completing required clinical hours, such as through externships, is essential to ensure you're comfortable in the role.
Pass the Credentialing Examinations
Your credentials tell others you can perform the job as a certified respiratory therapist. Credentialing happens after graduation. There are credentials and licenses; knowing about both is essential.
The first is a national board exam with multiple-choice questions and a clinical simulation exam. Completing this requirement will allow you to practice as a registered respiratory therapist (RRT). These are your credentials.
You must also follow the Credential Maintenance Program (CMP) to keep your credentials. The National Board for Respiratory Care offers this program (5), and through exams or assessments, RRTs can renew their credentials, a process that takes place every five years. 
Apply for, Obtain, and Maintain a State License
Licensing requires students to apply to a state licensing board (2) and pay the required fee. Once approved, the application gets reviewed, and the licensee can start working as a registered respiratory therapist.
It's important to note that the license is renewable and to know the frequency and requirements for renewals. Some states require renewals every six months, while others require only annual or biennial renewals. 
Start Your Job Search
Get started to pursue a career as a respiratory therapist. Explore the following techniques to help you with your employment search:
Network: Sometimes, the best way to get a job is by getting to know the people with whom you want to work. Attend socials, fundraisers, and events designed to bring respiratory therapists together. 
Do site visits: It may help to visit recruiters. It's easier to create a shortlist of candidates when you have someone in mind, and when you visit the recruiter, you'll come to mind first. 
Do interview prep: It's important to remember that you're interviewing your future employer as much as they're interviewing you. Prepare for the interview by researching the organization, the team, and how an RT will benefit its team. Create some questions, and be sure to show up on time and dress professionally.
Be nice: Whether it's the receptionist or the CEO, being nice to everyone you encounter along the way is essential. Sometimes, part of the interview involves assessing how well you fit in at an organization. Being courteous after the interview is also necessary, even if you didn't get the role. 
Follow up: An effective way to follow up after an interview is to thank the interviewer for the time and ask whether the interviewer needs more information or can provide anticipated next steps.
How Long Does It Take to Become a Respiratory Therapist? 
Depending on the program you enroll in and whether you're pursuing a full-time role as a respiratory therapist, a respiratory therapy program can take anywhere from 17 months or four years (1). Once you've completed your degree, the amount of time to obtain certification and licensing can vary based on state requirements. 
What Does a Respiratory Therapist Do? 
The respiratory therapist's role is to improve breathing and pulmonary response in patients. According to the U.S. Bureau of Labor Statistics (3) in its summary of skills and responsibilities, some of the daily tasks for a respiratory therapist include: 
Conducting patient assessment to pinpoint respiratory issues such as lung disease or obstructions.
Administering medication or therapy to improve lung condition.
Applying chest physical therapy when needed.
Assisting patients on ventilators who require endotracheal intubation or who have a tracheostomy.
Creating plans for smokers to stop smoking. 
Assisting in code blue situations. 
Clearing airways, such as suctioning mucous.
Performing pulmonary exams, ECGs, and chest X-rays. 
Creating treatment plans for long-term pulmonary care for chronic patients. 
For more information on the skills, responsibilities, and daily tasks for a respiratory therapist, read what does a respiratory therapist do for greater details.
Education Requirements and Prerequisites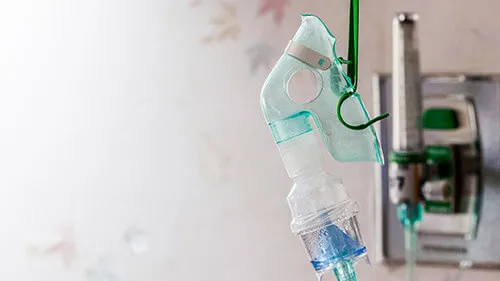 How to Be Successful With Online Classes
Prerequisites for respiratory therapy programs depend on the college or institution. However, new students can expect prerequisite courses to include the following:
Anatomy.
Physiology.
Chemistry. 
Math.
Microbiology. 
Students may also need to complete an admission program or course and submit a transcript from their previous schools. Letters of recommendation are often requested at this stage too. 
What Conditions Do Respiratory Therapists Treat? 
Breathing issues can arise from any number of conditions that respiratory therapists will need to treat, such as the following: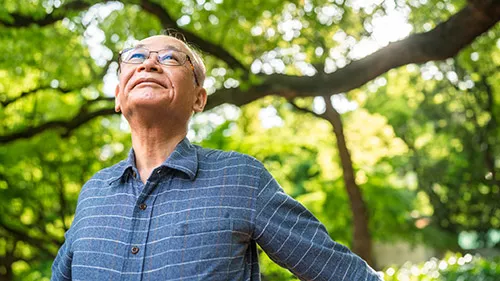 Chronic Obstructive Pulmonary Disease (COPD) 
COPD is a blanket term for chronic pulmonary conditions requiring ongoing care and treatment. These conditions are progressive in severity, and respiratory therapists work closely with these patients to improve their breathing. Some examples of COPD include the following:
Refractory or nonreversible asthma: Even with the help of medication, patients may still have difficulty breathing and managing asthmatic episodes. 
Emphysema: Patients with emphysema struggle to empty their lungs of air, as the lung cells are no longer as responsive as before. The walls of the cells have deteriorated to such a degree that the cells eventually merge, which reduces the elasticity of the lung. This elasticity is necessary for total air expulsion. 
Chronic bronchitis: This condition causes the loss of cilia, which are responsible for clearing away mucus. When the mucus isn't cleared regularly from the lungs, excess mucus buildup can occur.
Asthma
Asthma ranges in its severity. An RT can help guide patients to the correct medication and lifestyle choices to ease the discomfort. 
Acute Bronchitis 
Unlike chronic bronchitis, a progressive disease, acute bronchitis is temporary and treatable. It may require medication and chest physiotherapy to ease up discomfort.      
Pneumonia
Pneumonia can range from mild to severe cases, where hospitalization is required. It happens when the air sacs in the lungs fill up with liquid, preventing the patient from getting enough oxygen in the bloodstream. 
Sinusitis
Sinusitis can be labeled as acute sinusitis, subacute sinusitis, and chronic sinusitis. These conditions range in severity, and while none are life-threatening, they can cause extreme discomfort and lead to other complications, such as throat infections. Sinus infections can take four weeks to three months to resolve, except chronic sinusitis, which can take longer. 
Where Do Respiratory Therapists Work? 
Respiratory therapists work in hospitals, including state, private, and local emergency rooms, neonatal care rooms, or critical care units. They can also work in nursing care facilities or physicians' offices. 
Frequently Asked Questions About Becoming a Respiratory Therapist
Review these most commonly asked questions about pursuing a career as a respiratory therapist:
What Is the Fastest Way to Become a Respiratory Therapist? 
The fastest way is to enroll in an associate degree program. Concorde Career Colleges offers a respiratory therapy program that allows students to complete their schooling in as few as 17 months or less than two years. It's also important to apply yourself to studies full time to work through the course content within this time frame. For those who study part time, their course of study could take up to four years to complete.
What Does Respiratory Therapy Education Look Like? 
While the bulk of respiratory therapy education provides students with the opportunity to learn skills and tools to assist patients with breathing, additional course topics (4) include the following: 
Patient care and safety. 
Preventing the spread of diseases. 
The various stages and methods of respiratory care. 
Patient assessments and how to obtain vital signs. 
Various respiratory therapies and when to apply them. 
How to respond to emergencies. 
How to identify different respiratory diseases and treatments.
A career as a respiratory therapist can be fulfilling, especially when you start it off the right way by selecting an educational program that suits your needs. Discover Concorde Career Colleges' offerings in this field to learn more about preparing for career opportunities as a respiratory therapist.
---
Footnotes:
Respiratory Therapy Zone, How Long Does It Take to Become a Respiratory Therapist? https://www.respiratorytherapyzone.com/how-long-respiratory-therapist/
American Association for Respiratory Care, Respiratory Therapist State Licensure Information https://www.aarc.org/advocacy/state-society-resources/state-licensure-information/
United States Bureau of Labor Statistics, Respiratory Therapist: Occupational Outlook Handbook  https://www.bls.gov/ooh/healthcare/respiratory-therapists.htm
Respiratory Therapy Zone, 59+ Things Students Learn in Respiratory Therapy School https://www.respiratorytherapyzone.com/learn-in-respiratory-therapy-school/

The National Board for Respiratory Care, Credential Maintenance Program https://www.nbrc.org/candidates/#credential-maintenance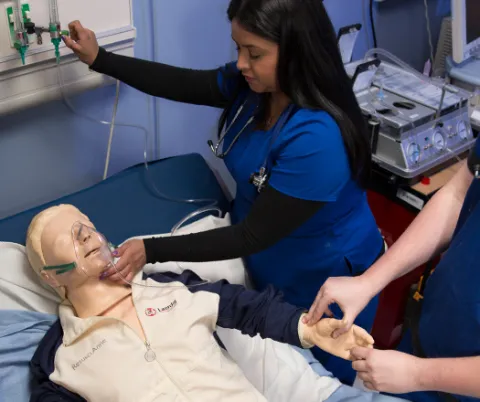 Next Steps?
Interested in learning more about our Respiratory Therapy program? We have a Concorde representative ready to talk about what matters most to you. Get answers about start dates, curriculum, financial aid, scholarships and more!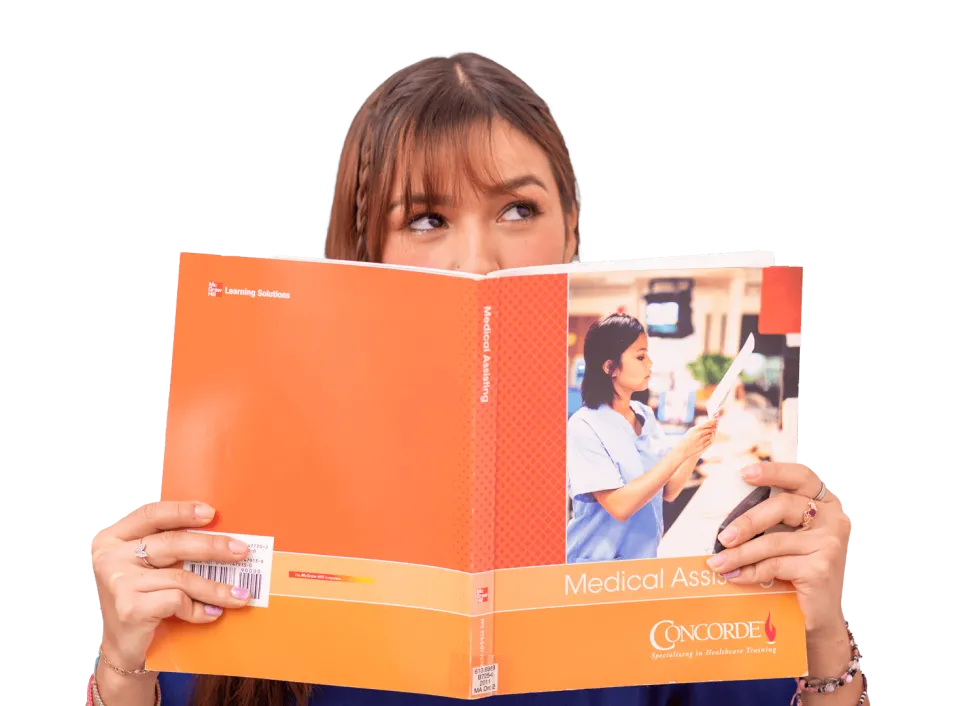 Are You College Ready?
How you think and what you love about life might give you important insights about your college readiness. Our NEW College Readiness Quiz provides instant feedback with your results. Click the button to get started!
START THE QUIZ