Updated December 15, 2022. The information contained in this blog is current and accurate as of this date.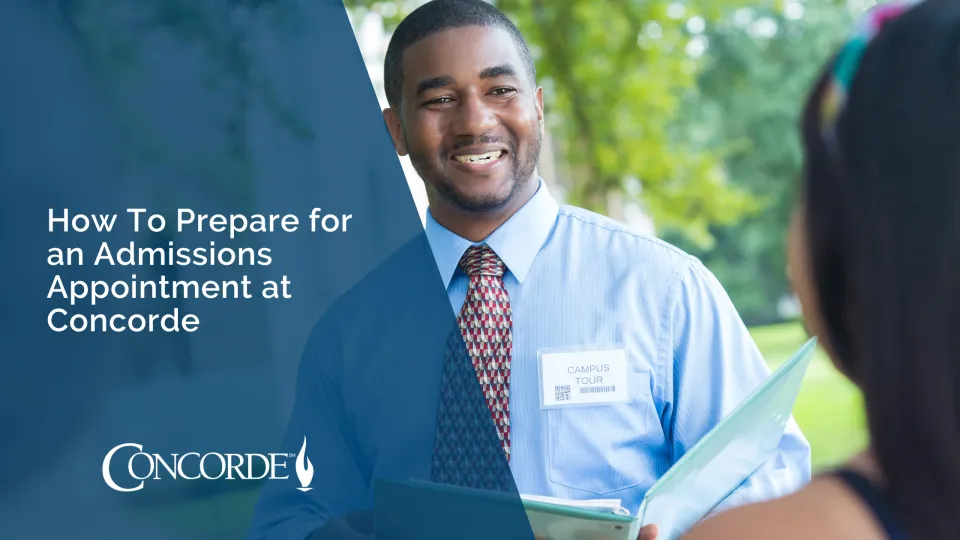 It's an exciting time when you schedule an admissions appointment with Concorde. You're one step closer to realizing your career goals, and our admissions representatives are just as excited to get to know you. Here at Concorde, we look forward to meeting you during your admissions appointment so we can answer your questions and learn more about you, your goals, and your needs as a student. After all, the better we understand what you're looking to gain from your experience, the easier it will be for us to serve your needs.
Before your appointment, there are some steps you can take to prepare. Arriving prepared means knowing what to expect from your appointment so you can make the most of the opportunity. We've put together this Q&A with the help of Mary Gordy, a Director of Admissions here at Concorde. Use this guide to learn the answers to some common questions about how to prepare for an admissions appointment with Concorde.
What Can Prospects Expect From an Admissions Appointment?
Knowing what to expect from your admissions appointment is the first step toward feeling prepared. At Concorde, our admissions representatives sit down with each prospective student for a one-on-one career planning session. Even if you're unsure of your career goals when you arrive at the appointment, our professionals can help you identify your interests and plan an educational path that will help you on your career journey. Our goal is to help you understand your own career goals and how Concorde could be a good fit so you can fulfill your aspirations.
During the appointment, expect your admissions representative to ask you some questions about yourself. We want to know about your past challenges and successes, your individual interests, your learning style, and what you're looking to gain from your education. Our representatives will also want to know about your learning preferences. For example, we offer both online and in-person courses, and we understand some students prefer one style of course over the other. Getting to know your learning preferences allows us to recommend programs that fit your learning style while equipping you with the skills you'll need after graduation.
How Should Students Prepare?
Before your appointment, there are some steps you can take to prepare. Use these steps to help you get ready for your meeting:
Reflect on Your Intentions
Take time to reflect on what you want to get out of your appointment. Understanding your goals for the appointment will help you know what questions to ask. Additionally, having goals for your appointment can ensure you make the most of your one-on-one time. While our representatives are always happy to spend more time answering your questions, this face-to-face time is a great opportunity to dig deep and learn all you can about how our programs can fit your goals.
For example, ask yourself why you're attending the admissions appointment. Are you looking to learn more about the programs Concorde offers? Do you already know what program you want to enroll in but want to learn more about how we structure classes? Or maybe you just want to meet one of our professionals face-to-face before committing to one of our programs. Whatever your reason, we're happy to take the time to meet your expectations for the appointment.
Write a List of Questions
Based on your reason for attending, prepare a list of questions you want to have answered during the session. We've included a list of common questions to ask your admissions representative at the end of this article, so check those out for inspiration. We encourage you to come with a list of questions so you don't forget to ask about anything important.
Do a Little Research
Research us online to gain some background information before your session. You may even find the answers to some of your questions before you arrive. Look up the closest campus to you and skim through the available programs. Learning about what programs we offer, how long they take to complete, and what your options are for program types can give you a good baseline of understanding. Based on your research, think about whether you have additional questions. Add those questions to your list, too.
Relax
Relax before your appointment. We're excited to meet you, and we want you to be your authentic self during the meeting. Getting to know you on a personal level will help us find the right program or programs for you. The better we get to know you, the more we can personalize your experience so you can feel confident that Concorde is the right fit for you.
What Questions Will the Admissions Representative Ask Me?
During your appointment, expect the admissions representative to ask you some questions about yourself. These will be open-ended questions that help us get to know you a little better. Here are some questions your representative may ask:
What are your career goals?
What are you interested in studying?
What are you looking to get out of your educational experience?
What are the most important qualities in your ideal school?
What is your academic history?
What challenges have you faced in your educational pursuits?
What successes are you most proud of in your personal, professional, or educational life?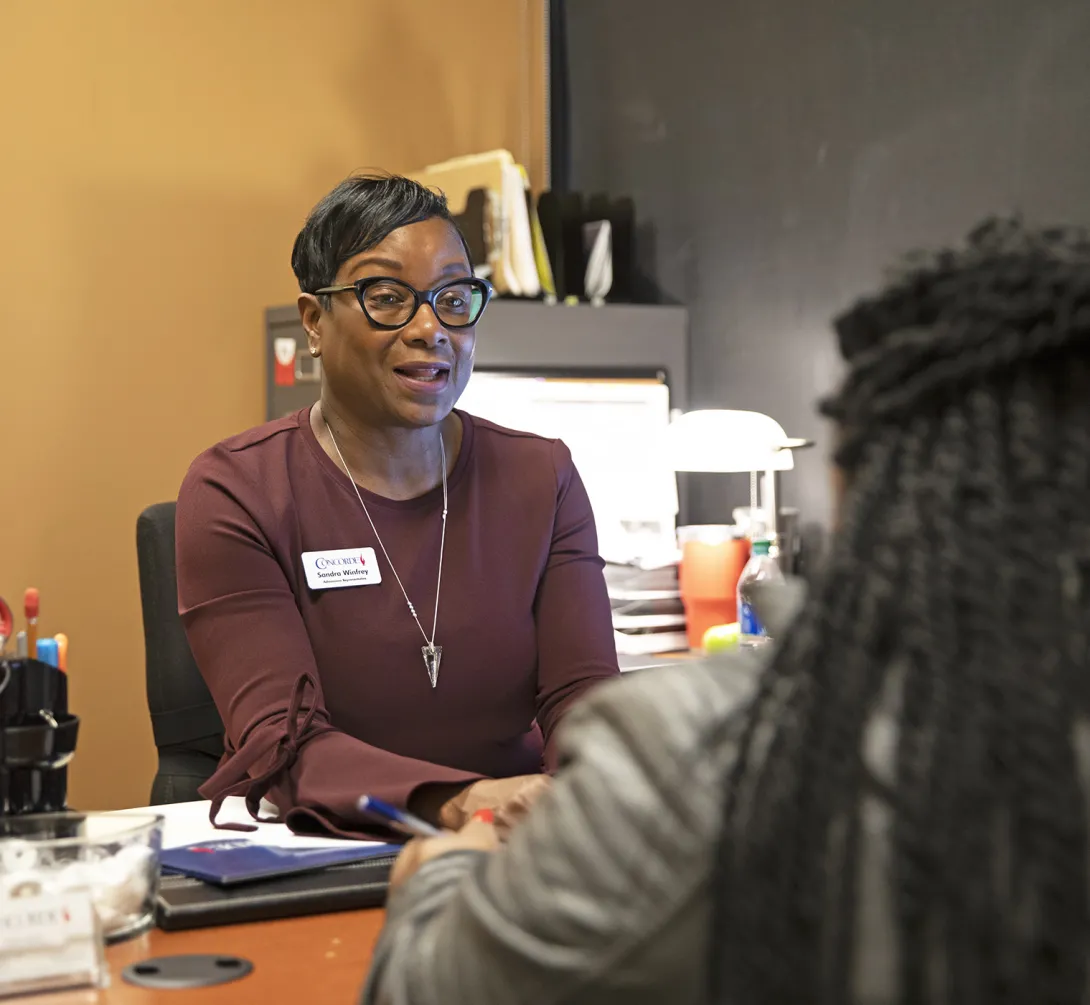 Know that your appointment isn't an interview. We simply want to get to know you as a person to make sure Concorde is a good fit for your goals and aspirations. At the same time, your questions can help you feel confident that our school is right for you.
What's the Difference Between an In-person and Virtual Admissions Appointment?
There are several differences between attending your admissions appointment in person and online. Both options have pros and cons to consider. Here's what you need to know for each:
In-person Admissions Appointments
When you attend an in-person admissions appointment, you enjoy the benefit of touring our beautiful campus. While you're here, you can meet instructors, program directors, and other members of our faculty. This means you can start to find your way around campus, which can help you navigate the school and its facilities if you attend classes in person. Getting to meet some of the staff you'll work with during your program can be a great way to make a positive first impression and learn about their interests and passions.
Virtual Admissions Appointments
We understand that not everyone can attend their admissions appointment in person, so we also have virtual appointments to accommodate all our prospects. During your virtual meeting, you'll join a virtual meeting room on your computer while talking to the admissions representative over the phone.
Through the meeting room, the representative can share content with you and talk you through the information. You'll get to see pictures and maps of our campus, helping you know where to go on your first day if you have in-person classes. You may not get to meet our other faculty, but you can complete the appointment from the comfort and convenience of your own home.
What Else Can I Expect From a Concorde Admissions Appointment?
At Concorde, we genuinely care about finding the perfect academic program to fit your lifestyle, career, and personal goals. Throughout your appointment, you can expect us to listen to you and strive to understand your unique needs and interests. Our representatives want to know what interests you, and we want to provide you with the information you need to make an informed decision about your education. Even if we don't find a program that fits you, that's okay. Our goal is to help you find your way on your educational journey.
Beyond helping you find the right academic program for you, we can talk with you about financial aid and scholarship options. Every student on our campus has a unique financial situation, and we're here to provide individualized support so you can balance the cost of your education with your financial goals. During your appointment, you can ask about meeting with one of our financial aid advisors to learn more about your options.
Concorde also provides scholarship opportunities to reward students who excel and support those who may need more financial assistance to cover the cost of their education. We also offer scholarships for military veterans and their families. You can visit our scholarship page to learn more about what we offer.
What Are Some Good Questions To Ask During My Appointment?
We encourage all questions from our guests, but if you're not sure where to start, we've put together this list of common questions to ask during an admissions appointment. Here are some things to ask your representative:
How long are the programs through your school?
How much will my education cost?
What kinds of student support services do you offer?
How does your school prepare students for their careers?
What makes Concorde's programs unique?
What are the admissions requirements for students at Concorde?
How can Concorde prepare me for my career?
We hope this Q&A guide has helped you learn how to prepare for an admissions appointment at Concorde. If you have more questions about what to expect from your appointment, don't hesitate to reach out. Our team is always happy to help, and we look forward to seeing you soon.
"Admissions," Concorde Career Colleges, https://www.concorde.edu/admissions

"Schedule a Tour," Concorde Career Colleges, https://www.concorde.edu/admissions/schedule-tour

"Financial Aid," Concorde Career Colleges, https://www.concorde.edu/admissions/financial-aid

"Student & Alumni Scholarships," Concorde Career Colleges, https://www.concorde.edu/admissions/scholarships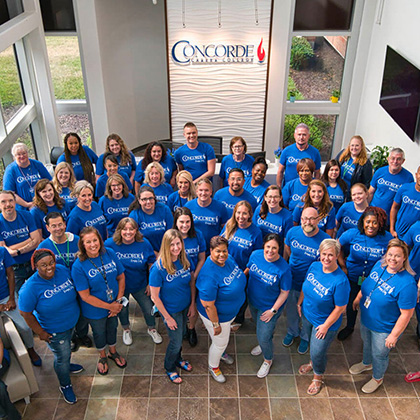 Next Steps?
We have a Concorde representative ready to talk about what matters most to you. Get answers about start dates, curriculum, financial aid, scholarships and more!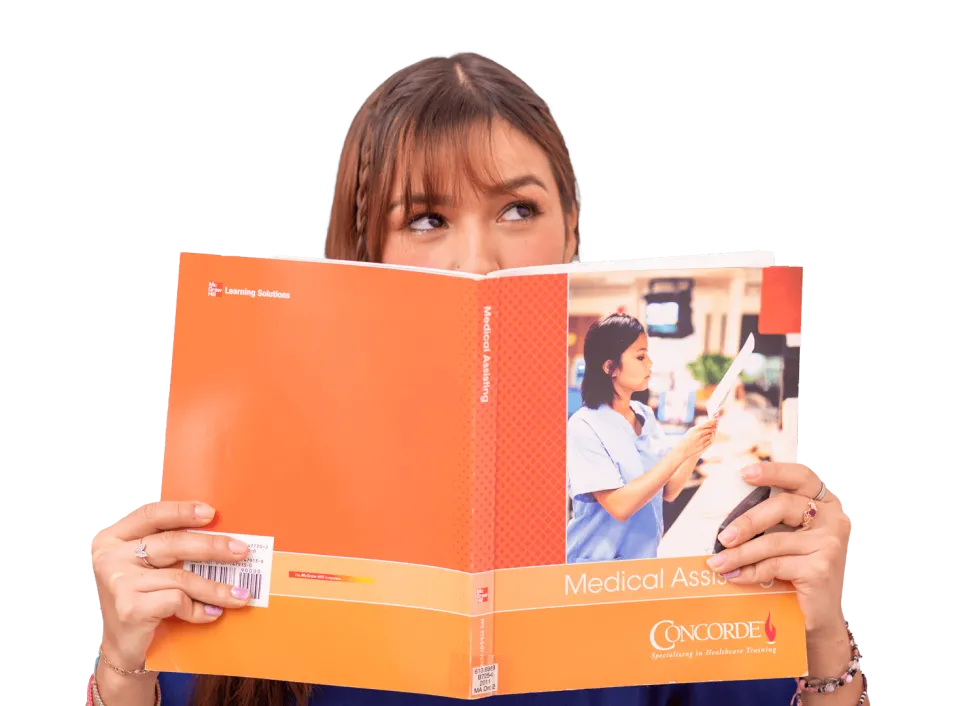 Are You College Ready?
How you think and what you love about life might give you important insights about your college readiness. Our NEW College Readiness Quiz provides instant feedback with your results. Click the button to get started!
START THE QUIZ