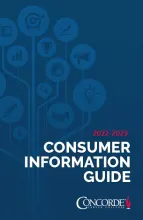 Click here to Download full Consumer Guide
OVERVIEW
The U.S. Department of Education (ED) requires schools participating in Federal student aid programs to disclose certain information to prospective and current students and employees as a requirement to participate in Federal financial aid programs. The purpose of this document is to make the student and prospective student aware of informational materials that are available. Students and prospective students encouraged to review these materials and become familiar with them.
Consumer Information
The Student Right-to-Know and Campus Security Act
Family Educational Rights and Privacy Act (FERPA)
Voter Registration
Jeanne Clery Disclosure of Campus Security Policy and Campus Crime Statistics Act (CampusSecurity/Clery Act)
---
CONSUMER INFORMATION
The school distributes a variety of publications that contain information regarding the school and its financial aid programs. Students are entitled to receive, at no charge, a paper copy of any of the information contained in this document. Please contact the Financial Aid Department at the campus for more information.
Financial aid programs that are available to students
How students apply for aid and how eligibility is determined
Criteria for selecting recipients and determining award amounts
The rights and responsibilities of students receiving aid
How and when financial aid will be disbursed among students
The terms and conditions of any employment that is part of the financial aid package
The terms of, the schedules for, and the necessity of loan repayment, required loan exit counseling, and conditions under which students may obtain deferments.
The criteria for measuring satisfactory academic progress, and how a student who has failed to maintain satisfactory progress may reestablish eligibility for Federal financial aid
Regulatory agencies that accredit, approve and license the school and its programs.
Costs of attending the school (tuition and fees, books and supplies, room and board, and applicable transportation costs, such as commuting) and any additional costs of the program in which the student is enrolled or has expressed an interest
The school refund and withdrawal policy and the federal return of Title IV funds requirements when a student withdraws from school, including the order in which financial aid is refunded
General information about the school's academic programs, facilities, faculty, and services available to disabled students, including students with intellectual disabilities
Whom to contact for information on student financial assistance and whom to contact for general school issues
Information regarding the availability of federal financial aid for study abroad programs
School policies on transfer of credit, including the criteria it uses regarding the transfer of credit earned at another school, and a list of any schools with which it has established an articulation agreement
Emergency response and evacuation procedures to reach students and staff
---
COPYRIGHT INFRINGEMENT
Students should be aware that the unauthorized distribution of copyrighted material, including unauthorized peer-to-peer file sharing, is subject to civil and criminal liabilities. Penalties may include monetary damages, fines, and imprisonment.
The school prohibits the use of its computers and computer networks for the unauthorized downloading and uploading of copyright-protected material, or for maintaining or storing unauthorized copyright-protected material. Disciplinary action, up to and including expulsion from the school, will be taken against students who engage in the unauthorized distribution of copyrighted materials using the school's information technology system.
---
GRADUATION & PLACEMENT RATE INFORMATION
The school calculates graduation statistics as required by the Federal Student Right-to-Know Act. Student outcomes information is posted on each campus page within this site. To view these rates, please visit the resources section within the specific campus page. 
---
IMPROVEMENTS TO ACADEMIC PROGRAMS
The school reviews its academic programs on a regular basis to ensure relevancy with current employment requirements and market needs. As deemed appropriate, the school may change, amend, alter or modify program offerings and schedules to reflect this feedback. If you have questions about this process, contact the institution's academics department.
---
FAMILY EDUCATION RIGHTS AND PRIVACY ACT (FERPA)
Information regarding student rights under the Family Educational Rights and Privacy Act (FERPA) of 1974 is provided in the school's catalog, which was given to all students prior to enrollment. The catalog and any addenda can also be found on the school's website at: https://www.concorde.edu/, selecting your campus location, scrolling to the bottom of the page and clicking on the school catalog. It can also be obtained via hard copy by contacting the school's registrar.
---
PROTECTION OF STUDENT SPEECH AND ASSOCIATION RIGHTS
Students should be treated equally and fairly. The school facilitates the free and open exchange of ideas. Students should not be intimidated, harassed, discouraged from speaking out, or discriminated against.
---
VACCINATIONS
Good health practices are encouraged for all students. Programs have specific vaccination requirements. Review the admissions requirements section of the catalog to determine whether this impacts the student's program. Students are encouraged to consult with their health care professional to discuss obtaining or updating vaccinations.
Many clinical and externship sites maintain their own policies with regards to vaccinations. Students are encouraged to discuss possible expectations prior to enrollment, prior to externship or clinical placements, and when pursuing employment opportunities prior to graduation. The campus Student Affairs department and/or clinical coordinators can provide additional resources.
---
STUDENT DEMOGRAPHIC INFORMATION
Information about the composition of students at the school is available on the College Navigator website (www.nces.ed.gov/collegenavigator). College Navigator is maintained by the U.S. Department of Education National Center for Educational Statistics.
To view information about the school, enter the school name into the search tool. Here are a few highlights of information within the various sections:
Enrollment: gender and race/ethnicity distribution of students
Financial Aid: data regarding the various financial aid sources for students, including Federal grants (Pell and SEOG)
Retention/Graduation Rate: Retention rate of certificate- or degree-seeking, first-time, full-time, undergraduate students
The Student Affairs Department serves as a liaison between students and employers, serving the students by promoting the school to prospective employers. For additional information regarding career and placement services offered to students during and after enrollment, contact the Student Affairs Department staff.
---
VOTER REGISTRATION INFORMATION
As part of the requirement for the institution to participate in the Federal Student Aid programs, we are required by Federal law to provide each student with their state's voter registration form in paper, or by an electronic method.
In order to register to vote, please visit http://www. eac.gov/voter_resources/contact_your_state.aspx.
Find and select the state to view eligibility requirements, registration deadlines, and a link to visit the state election department web page and obtain the state's voter registration form. In addition, Concorde annually sends a message to each student on voter registration information. If you have any questions, please contact the Financial Aid Office.
---
CAMPUS CRIME STATISTICS
The Jeanne Clery Disclosure of Campus Security Policy and Campus Crime Statistics Report is distributed to every student on an annual basis, no later than October 1st and is available to prospective students and prospective employees at their request. It is also housed on the school's website under Campus Resource Links by selecting Annual Security Report.
This report includes currently available statistics for the previous three years concerning reported crimes that occurred on-campus; in certain off-campus buildings or property owned or controlled by the school; and on public property within, or immediately adjacent to and accessible from, the campus (as applicable). The report also includes institutional policies concerning campus security, such as policies concerning sexual assault, domestic violence, dating violence, stalking and other matters.
---
SEXUAL ASSAULT PREVENTION and AWARENESS
Throughout the year, Concorde provides ongoing prevention and awareness programs for students and employees, which focus on preventing dating violence, domestic violence, sexual assault and stalking through risk reduction and increased bystander intervention. There are a many public resources both locally and nationally for victims of assault and abuse. Please contact your campus Student Affairs team for assistance.
---
SUBSTANCE ABUSE INFORMATION
The school distributes information relative to substance abuse to all current and prospective students and through Student Central, accessed through the current student portal.
---
To the extent practicable, Concorde has posted the verified textbook pricing information on the campus pages for all required and recommended materials for all classes. This pricing information includes the International Standard Book Number (ISBN) and market price, if applicable, for each course.
Campus Program Textbook Information Forms: