Updated May 6, 2020. The information contained in this blog is current and accurate as of this date.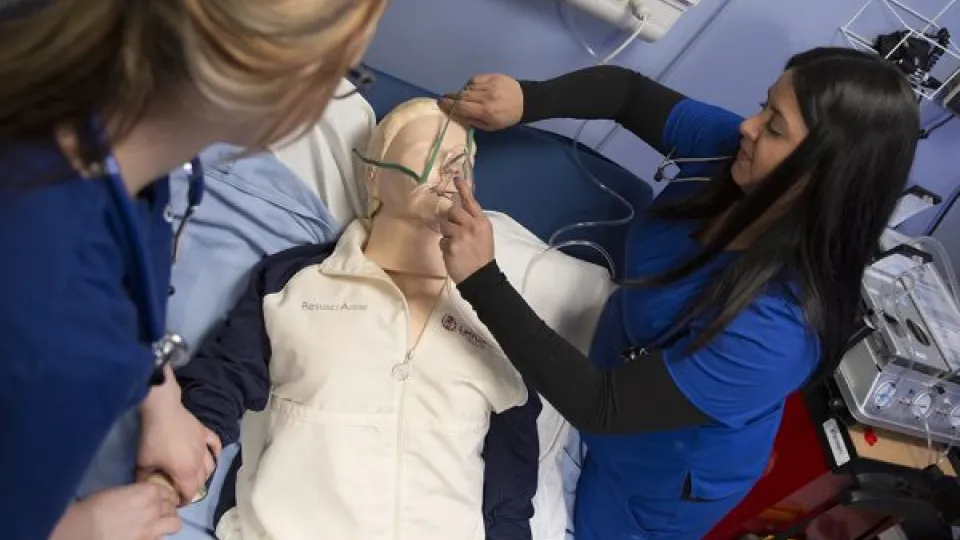 Patients experiencing both acute and chronic dysfunction of the cardiopulmonary system receive assessments and treatment through respiratory therapy. A respiratory therapist is a health care professional who treats these types of patients. This individual works with physicians to create a treatment plan and determine the level of care through diagnostic tests and physical examinations. Learn more about the work of respiratory therapists and the variety of career opportunities available.
The Job Outlook for Respiratory Therapists
According to the U.S. Bureau of Labor Statistics, the job outlook for respiratory therapists is favorable. Expect employment to rise by 21% through 2028. This rate is faster than the national average of 5% for all occupations (1).
The number of older adults in the United States is a significant factor (2). Expect to see an estimated 80 million Americans older than age 65 by 2040. The number of adults older than 80 is expected to quadruple between 2000 and 2040. Older adults can have a greater incidence of conditions causing restricted lung function that require respiratory therapy.
Some hazards to lung function likely increase the need for respiratory therapists in the coming years. Some of these hazards include:
Increased use of vaping devices, which can lead to lung illnesses.
Air pollution that can exacerbate lung conditions.
Quartz manufacturing exposure, which has resulted in cases of pulmonary silicosis.
Respiratory Therapist Career Paths
Explore the following career paths you can take as a respiratory therapist.
Respiratory Therapist Credentials
Aspiring respiratory therapists can consider two credentials to pursue work in this field. Credentialing is offered by the National Board for Respiratory Care Inc. (NBRC). Employers may not hire a respiratory therapist without certification. Pursuing a higher degree of certification demonstrates the advanced level of expertise in the field.
The Certified Respiratory Therapist (CRT) credential is available for those who earn an associate degree, bachelor's degree, or master's degree in a respiratory therapy program accredited by the Commission on Accreditation for Respiratory Care (CoARC).
To complete their CRT, individuals must pass the Therapist Multiple-Choice (TMC) Examination with a minimum of the low-cut score. This exam features 140 scored questions and 20 pre-test questions. Participants have a three-hour window to answer all the questions presented on the exam. The exam covers:
Patient data evaluation and recommendations.
Initiation and modification of interventions.
Troubleshooting and quality control of equipment and infection control.
Individuals who achieve the high-cut score on the TMC exam can take the Clinical Simulation Examination. Passing this exam makes them eligible for the Registered Respiratory Therapist (RRT) credential. The RRT is the standard of excellence for respiratory therapists. This RRT exam has 115 questions and includes 12 distinct scenarios. Individuals must take the RRT exam within three years of graduation or retake the CRT exam before testing for the RRT.
Respiratory Therapist Specialties
Respiratory therapists can specialize in different areas. Some of the most common specializations include those listed below.
Emergency Respiratory Therapy
Respiratory therapists specializing in emergency respiratory therapy work in hospitals. Their positions are based in emergency rooms where they help people recover from serious conditions such as pneumonia, heart surgery, and lung failure. They may assist doctors during surgeries and manage life support for select patients. Much of emergency respiratory therapy involves work with ventilators. This type of respiratory therapy is ideal for quick thinkers and those who can work well under pressure.
Geriatric Respiratory Therapy
As people reach age 65 and older, their lungs become less efficient and require more attention. Respiratory therapists work with older adults to treat conditions such as bronchial pneumonia, respiratory tract infections, and chronic obstructive pulmonary disease (COPD). Geriatric respiratory therapy takes place in hospitals, outpatient facilities, or in a patient's home.
Adult Respiratory Therapy
Respiratory therapists who treat adults work in hospitals or outpatient facilities, or they make in-home visits. Adult patients may need respiratory therapy treatment for conditions such as emphysema, cystic fibrosis, and pulmonary rehabilitation after surgery.
Pediatric Respiratory Therapy
Respiratory therapists in pediatrics work with newborns and children of all ages to treat cardiopulmonary issues. They may work in hospitals and neonatal intensive care units, or they may provide outpatient care to treat childhood asthma. Common pediatric conditions include asthma, lung trauma, and cystic fibrosis.
Surface and Air Transport Respiratory Therapy
In this specialty, respiratory therapists provide assistance and treatment to patients receiving emergency transportation. They may provide care to a critically ill or injured person in a helicopter, air ambulance, or ground ambulance. Their job is to keep patients alive until they get to the hospital.
In-Home Respiratory Therapy
Many patients with chronic or long-term illnesses prefer to receive treatment in their homes. Respiratory therapists who provide in-home care work through a hospital or a private company. The demand for in-home respiratory therapy continues to grow. Health care professionals who are interested in providing more intimate care should think about a career in this specialty.
Other Careers in Respiratory Therapy
Outside of what is offered at Concorde, you can consider the following additional careers available in respiratory therapy:
Adult Critical Care Specialty (ACCS).
Registered Pulmonary Function Technologist (RPFT).
Pulmonary Function Technician.
Polysomnographic Technologist (RPSGT).
Neonatal and Pediatric Respiratory Care Specialist (NPS).
Registered Sleep Center Technologist (RST).
Sleep Disorders Testing and Therapeutic Intervention Respiratory Care Specialist (SDS).
Adult Critical Care Specialty (ACCS)
Those seeking to treat critically ill adults can earn the Adult Critical Care Specialty (ACCS) credential. They can take the ACCS examination, which tests their knowledge and skills of adult critical care. These respiratory therapy professionals monitor changes in a critically ill patient's lungs, and they'll take over for a transport team member if immediate assistance is needed. Therapists with this specialty may work in an ambulance or in an ICU to provide care.
Individuals should possess exceptional communication skills to act during emergency situations. Specialists must have problem solving and time management skills to make quick decisions to save patients' lives and stabilize patients for further examination. This job requires you to work more than 40 hours per week, depending on shift schedules. You may have to work late nights and weekends in an ICU to cover shifts.
Registered Pulmonary Function Technologist (RPFT)
An RPFT mainly works with patients in a hospital setting and explains procedures administered to them. This individual checks patients' vital signs and writes reports following the health care provider's policy. An RPFT can track statistical data for a hospital's respiratory department and changes to respiratory equipment when needed. This individual may work in a full-time or part-time capacity.
Technologists need to get a high-cut score on the Pulmonary Function Technology (PFT) Examination to perform in this role. Receiving a low-cut score means that they will receive a Certified Pulmonary Function Technologist (CPFT) Credential.
Technologists need to have organizational skills to schedule and conduct pulmonary tests, and to keep updated records of tests performed at the medical facility that they're serving. To be an effective RPFT, you must have effective interpersonal skills to interact with patients and answer their questions about testing procedures.
Pulmonary Function Technician
A Certified Pulmonary Function Technician (CPFT) monitors the cardiopulmonary functions of patients in their care. Experienced and entry-level professionals can apply for this role based on the qualifications listed in an organization's job description. A CPFT works under a lab manager and performs tests on a patient's lungs. These professionals can provide medication that relaxes the patients' airways to improve breathing.
Communication and service skills with patients are important to allow CPFTs to receive important pulmonary data from patients and deliver treatments to them. Technicians must employ their problem solving skills to report a patient's cardiopulmonary data to the practicing physician.
Employers require these individuals to have preexisting experience in working with patients and on pulmonary function testing to fulfill responsibilities of this role. You need to have a low-cut score on your PFT examination to obtain a CPFT Credential. Some job descriptions may require technicians to lift 20 pounds if they're helping to move medical equipment.
Polysomnographic Technologist
Polysomnographic technologists, or sleep technicians, conduct sleep studies overnight or during the day in an individual's home. These professionals deliver information to practicing physicians to investigate where patients may have a sleep disorder. They use certain equipment to monitor sleep activity, brain and muscle activity, eye movement, and breathing.
Polysomonographic technologists primarily work in sleep centers at a hospital, a physician's office, or a clinic. They can work between eight to 10-hour shifts with patients of all ages. These professionals get paid hourly, but they can receive overtime, vacation, and retirement benefits in this role.
To become a sleep technician, you'll want to complete the appropriate diploma program. Sleep technicians can receive a credential through the Board of Registered Polysomnographers, based in the United States. Another option is to work at a sleep center for 18 months before taking a certification exam through the Commission of Accreditation of Allied Health Education Programs (CAAHEP). A self-study program can help you to prepare for this exam.
Neonatal and Pediatric Respiratory Care Specialist (NPS)
An NPS works in a neonatal pediatric ward at a hospital. These professionals attend to newborns with breathing disorders, and they can respond to respiratory emergencies in a pediatric intensive care unit (PICU) such as near drowning, diabetic ketoacidosis, or a car accident. An NPS can also work with older children and young adults to treat conditions such as asthma and cystic fibrosis, or they might work with babies born prematurely.
Neonatal and pediatric respiratory care specialists need to have previous work experience in a neonatal setting to work in this position. They must pass the examination through the National Board for Respiratory Care to receive further consideration. These professionals need to emphasize teamwork when working with their colleagues to treat children's respiratory conditions.
Specialists must use their active listening skills to communicate with parents and provide all treatment options and the pain levels their children may be experiencing.
Registered Sleep Center Technologist (RST)
An RST assists with examining patients and helps follow up with patients with sleep disorders. This professional works with a sleep specialist to assess a patient's sleep condition through tests and produce a diagnosis related to a sleep problem. These technologists use therapeutic tools to educate patients about sleep disorders and provide care.
RSTs can also operate out of a sleep center, industry or academic research environments, and in a home setting. Technologists need to get certified through the American Board of Sleep Medicine (ABSM), which renders basic education and treatment compliance. Through the ABSM, these individuals will learn more about testing procedures for patients, logging scores for sleep studies, and problem solving when working with patients. Those seeking RST credentials need to pass the Registered Sleep Technologist Exam, which includes 150 questions, to become certified.
RSTs must keep relationships with current customers and their patients who attend the sleep center, along with their team members to provide high-quality care for patients with sleep conditions.
Sleep Disorders Testing and Therapeutic Intervention Respiratory Specialist (SDS)
A Sleep Disorder Specialist (SDS) rates the performance of patients who take part in polysomnography. These sleep study professionals monitor the oxygen level in a patient's blood when the patient is asleep, heart rate, and any eye and leg movements. The specialist uses therapeutic intervention to treat sleep disorders such as insomnia, sleep apnea, and restless leg syndrome.
These types of respiratory therapy specialists are not automatically certified after receiving their associate or bachelor's degree from an accredited college or a university. You can earn a Certified Respiratory Therapist (CRT) or a Registered Respiratory Therapist (RRT) credential to become certified. Specialists need to have about three to six months of previous work experience in sleep testing if they intend to pursue this career path with an RRT credential.
Individuals must pay strong attention to detail to come up with the right diagnosis and treatment plans for patients as well as obtain the correct testing results to proceed with treatment.
Choose to pursue a career in respiratory therapy to treat patients with respiratory illnesses and build relationships with them. You'll work with patients of all ages and improve the care given to patients during emergency and non-emergency situations.
---
Footnotes
1. "Occupational Outlook Handbook: Respiratory Therapists, Job Outlook," U.S. Bureau of Labor Statistics, https://www.bls.gov/ooh/healthcare/respiratory-therapists.htm#tab-6
2. "The US Population Is Aging," Urban Institute, https://www.urban.org/policy-centers/cross-center-initiatives/program-retirement-policy/projects/data-warehouse/what-future-holds/us-population-aging
Are You College Ready?
How you think and what you love about life might give you important insights about your college readiness. Our NEW College Readiness Quiz provides instant feedback with your results. Click the button to get started!