Updated February 14, 2023. The information contained in this blog is current and accurate as of this date.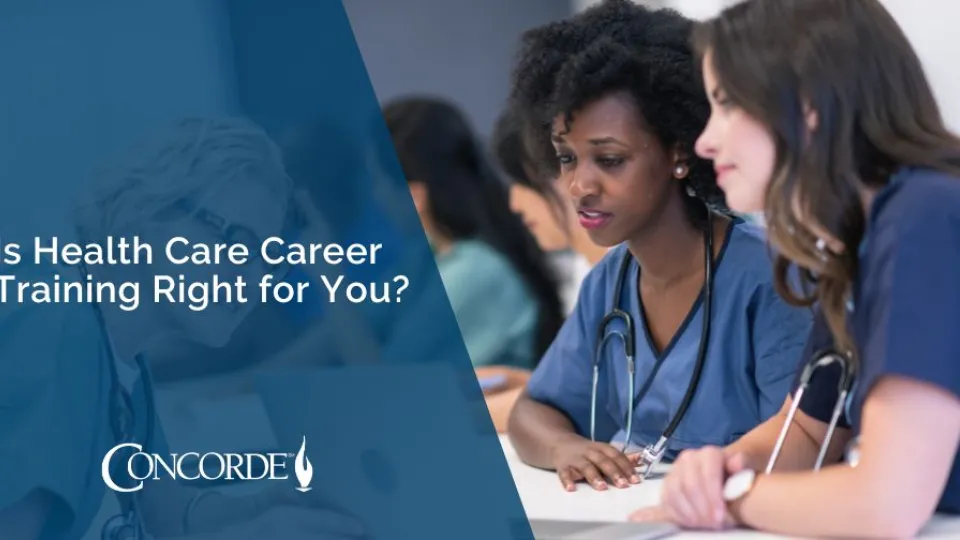 For many professionals, health care is a rewarding field filled with nearly endless career options. But this field is not for everyone. For the student who is looking to begin their career in health, it's important to think about what your education might entail and what it might be like to begin a career in your desired field. At Concorde, we offer health career training options for anyone looking to make a difference. Read on to learn more about an education in health care to discover if it's the right field for you.
What Does It Mean To Work in Health Care?
The health care field is massive, with over 18 million workers (1). It is one of the fastest-growing sectors in the U.S. In this field, though, each role is different and requires various skills and personalities. At Concorde, we offer education to prepare future nurses, dental assistants and hygienists, diagnostic professionals, and more. If a student is interested in making a difference for patients as a member of collaborative, integrative care teams, there are plenty of options when they commit to this innovative, global field.
Benefits of Working in Health Care
Thinking of health care? Here are some benefits that industry professionals may experience:
In-Demand Positions
There will always be a need for health care, especially as patients navigate pandemics, illnesses, and other global events. While no worker can predict the future, the meaningful, potentially life-saving work that health care professionals complete keeps their skills in demand. After receiving the proper training, a health care student will gain in-demand skills to carry them into the future.
Variety of Options
When people think of health care, they often think of bedside manner and caring for ill patients. If a student isn't interested in these options, though, they have plenty of career choices that work behind the scenes to help patients. For example, students could explore our diagnostic programs to begin a career as a medical laboratory technician that plays an integral role in patient care without requiring extensive patient conversation. If a student would like to work with patients, there are dental positions or nursing options, for example, where they could connect with those needing all sorts of care. There are a variety of positions that students can enjoy, as well as a wide range of different fields to explore. Dentistry, for example, offers a much different challenge than working in a medical laboratory. But for those who select health care, both options are possible. One of the best parts of this variety is that the different health care options can often collaborate on holistic approaches to patient care. Those who select health care can often learn and grow with other professionals in many different areas.
Personal Advancement
When a student pursues a career in health care, they aren't limiting themselves to staying in that exact position for their entire career. With some hard work and dedication to their craft, they can often advance their careers and take on new responsibilities in their field. With Concorde's post-graduate assistance programs, students have ongoing support to help them excel in a career that spans beyond graduation.
Make a Difference
Those who select a career in health care can experience the thrill of making a difference in a patient's life. Whether it's assisting with a life-saving procedure or simply offering exceptional service to make them feel comfortable during a routine operation or test, a health care worker has the ability to improve lives every day. If a student wants to prepare for a future where they can make an impact, health care training might be a great first step.
Respected Work
Many people understand the importance and impact of health care work. When a student learns about a position in this field, with a lot of hard work and dedication, they may be able to graduate into a position that helps them make a positive impact on society. This is a great benefit for those who feel like they would like to use their skills in a role that people can understand and respect.
It's not always about recognition, though. Health care professionals may often make choices behind the scenes to help those in their care. However, if you'd like a career with an impact that you can be proud of, looking into health care can be a positive first step.
Challenges in the Health Care Field
Of course, like any career field, health care isn't all positive. Here are some challenges to consider before committing to this field:
Debt
Some health care careers can require extensive training, leaving the student in debt as they begin their new career. Luckily, Concorde offers flexible programs with a variety of locations and options to meet various professional schedules. If health care seems like the right choice for a student, there are plenty of options to help them pursue their career in a manageable way.
Long Hours
Depending on the role, health care workers may complete long hours and non-standard shift times. For example, some roles may require weekend or night work. But, if a student is tired of traditional working hours and is interested in something with a bit more flexibility, they might want to consider exploring some health care options.
Demanding Work
The challenge of health care work can lead some workers to experience burnout. While many positions can be challenging, health work can be physically and emotionally exhausting for even the most experienced workers. Still, the more challenging the work, the more rewarding it can be, especially when a worker makes a difference for a patient. If you're ready for an engaging challenge, you might find health care to be an exciting career.
What Can You Expect in a Health Care Training Program?
If you're interested in health care, the best way to prepare for your dream career is with a qualified health care training program. For the best results, you don't want to simply select the first program you see. It's important to find a program that cares about its students and helps them find success throughout their careers.
At Concorde, our student-centered approach strives to help students receive the support they need. With 17 campuses across eight states, and a flexible learning environment that utilizes in-person, online, and field training options, Concorde is a great option to consider if you'd like to think about pursuing an education in health care.
Is Health Care Career Training Right for You?
If you're wondering whether you're a good fit for health care training, some common characteristics that successful health care professionals share include:
Lifelong Learners
The health care field is constantly changing and advancing. To succeed in this area, many professionals make a commitment to lifelong learning and training so that they can offer their patients the very best service at all times. Some ways that a health care professional may build and advance their skills include research, conference attendance, training in new devices or programs, and collaboration and discussion with colleagues. If you're someone who loves to learn and always wants to improve your skills, health care may be the exact right commitment for you.
Comfortable in Fast-Paced Settings
In health care, some decisions may come quickly if a professional can save a patient's life. Even in non-patient-facing roles, health care workers may often be faced with quick decisions that can make a huge impact on the lives of others. Before committing to this field, students should make sure that they are comfortable thinking on their feet in high-pressure situations. For many, this challenge makes the job interesting and makes sure that each day is its own adventure.
Team Player
If a student wants to work totally independently, health care might not be the best option for them. In many cases, health care workers do their jobs within a comprehensive team of individuals whose unique skills and training can help a patient receive the care they need. For example, a diagnostic technician may send test results to a primary care provider who may then refer a patient to a specialist for additional testing or treatment. If a student wants to make a difference as a key member of a team, health care can be a great place to do it.
Doesn't Back Down From an Emergency
Those who succeed in the health care field often have a mindset that seeks out high-pressure situations rather than running from them. Health students use their training and knowledge to save lives, and they know that they are may often be the most qualified to help. If you're someone who doesn't shy away from a challenge and thrives on emergency situations, working in health may keep you engaged.
Benefits of Concorde's Health Care Training Program
For those who think that health care might be their perfect match, Concorde offers the training necessary for success. Here are some of the benefits that our students can enjoy:
Variety of Degree Options
Health care students of all passions and types can find their perfect fit at Concorde. We offer a collection of more than 20 programs. Another benefit of our programs includes real-world flexibility with in-person coursework and experiential, in-field learning to help you get your degree and get to work in a timely manner.
If a student is unsure what they'd like to pursue, our student-centered focus promotes an open-door policy. Whether a student is looking for advice or simply wants to talk about what they want to achieve in their future career, we have their back at any time. If you've made the first step to determine that you'd like to pursue an education in health care let our thoughtful advisers and program offerings guide you throughout your training.
Instructors With Real-World Experience
Concorde students learn from instructors who have worked in their industries for many years, giving them the chance to learn from experts who know how to succeed outside of the classroom. At Concorde, you can receive instruction in the technical knowledge necessary to succeed along with guidance and advice from those who have survived, and thrived, in the field. Don't overlook the networking opportunities and connections these relationships can offer. Those looking to pursue a rewarding career in health care should look through Concorde's education offerings today.
Tailored Curriculum
Don't waste time taking courses that are irrelevant to what you want to do. At Concorde, our tailored curriculum corresponds with the kind of skills and training that students need to succeed in a desired health care career. For those who would like to begin their career path, Concorde may be a great fit. We work with go-getters and help support them as they take on the world.
Like-Minded Individuals
If any of this interests you, you can rest assured that you'll be in the position to find the connections you want with like-minded individuals. At Concorde, our students are all here because they want to pursue a meaningful career. Future health care professionals can build lasting communities with other students, sharing knowledge and study tips to help each other reach the top of their fields. For those who don't want to go at it alone, there is plenty of support available to you at Concorde.
Health care isn't for everyone, but, those who do choose it may experience a rewarding career that challenges and uplifts them as they help make a difference in patients' lives. If you think that you're the type of person who can succeed in this world, check out our health care training programs today. We're confident that you'll find an ideal fit on the way to your dreams.
---
Footnote
1. "Healthcare Workers," The National Institute for Occupational Safety and Health (NIOSH), https://www.cdc.gov/niosh/topics/healthcare/default.html#:~:text=Healthcare%20is%20the%20fastest%2Dgrowing,employs%20over%2018%20million%20workers.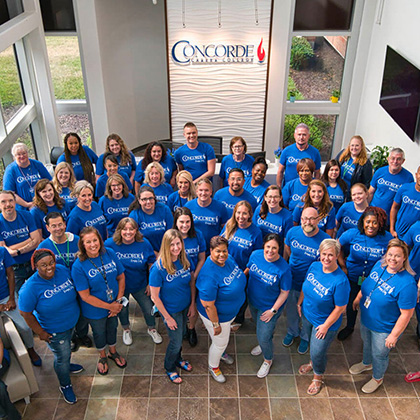 Next Steps?
We have a Concorde representative ready to talk about what matters most to you. Get answers about start dates, curriculum, financial aid, scholarships and more!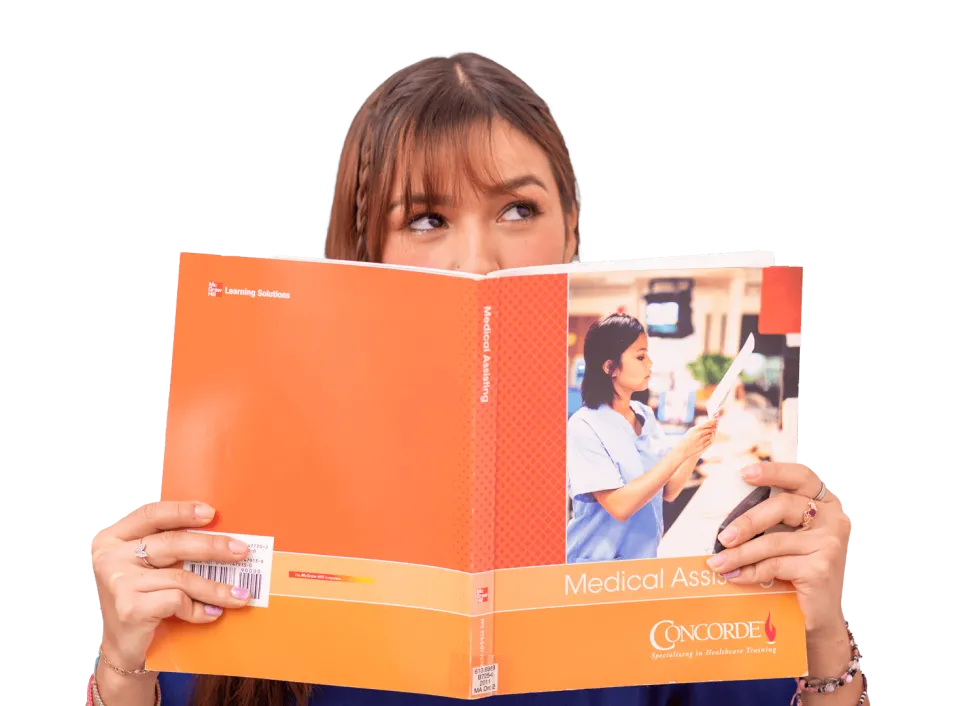 Are You College Ready?
How you think and what you love about life might give you important insights about your college readiness. Our NEW College Readiness Quiz provides instant feedback with your results. Click the button to get started!
START THE QUIZ