Updated May 17, 2021. The information contained in this blog is current and accurate as of this date.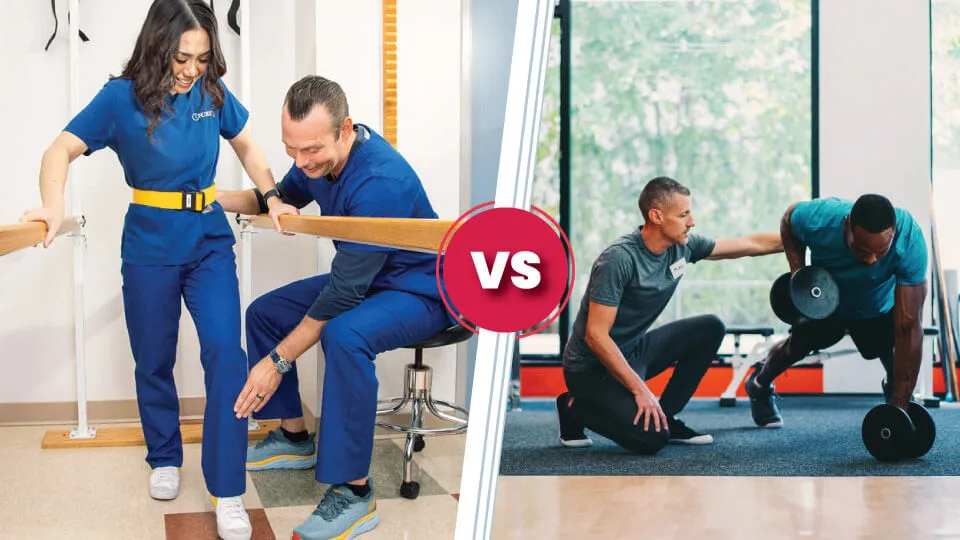 A physical therapist assistant, also known as a PTA, can be a rewarding profession for someone looking for a job in the medical field. An individual can complete physical therapist assistant studies and achieve an associate degree in physical therapy in about 21 months. While a physical therapist assistant may have many similarities to a fitness trainer, some key differences exist. Learn how a physical therapist assistant is different from a fitness trainer, what a physical therapist assistant does, and how to become one.
Physical Therapist Assistant vs. Fitness Trainer
A physical therapist assistant provides direct care under a physical therapist's (PT's) supervision. Physical therapists are responsible for creating a rehabilitative program that is customized to a patient's specific injury or diagnosis. Physical therapist assistants administer a physical therapist's rehabilitation program, assisting with various exercises, stretches, and strength-training activities.
Fitness trainers (1) are sports professionals responsible for assisting and motivating individuals to reach their personal fitness goals. They also assist with developing a fitness routine that includes various exercises such as aerobics, weight training, strengthening, balance, and flexibility. Besides creating an exercise program for their clients, fitness trainers may also help develop a nutritional guide or create recipes that will support their clients in their fitness and weight-loss goals.
What Work Does a Physical Therapy Assistant Perform?
Physical therapist assistants treat individuals of all ages and health conditions. They take into account existing injuries and disabilities while administering treatment, as well. A physical therapist assistant's goal is to help patients return to their pre-injury conditions to regain movement and flexibility, effectively manage discomfort or pain, maintain their independence, and lead an active, healthy life.
Duties of a physical therapist assistant may include the following:
Treating patients with various techniques, such as massage, stretching, or aquatic therapy.
Assisting individuals in completing specific exercises for mobility, strength, flexibility, and coordination.
Teaching patients how to walk with crutches, canes, walkers, and other mobility devices.
Assisting individuals in using medical devices and aids, such as TENS units (transcutaneous electrical nerve stimulation).
Observing and recording a patient's performance and results from each appointment.
Educating patients about what to expect following the course of treatment.
Why Become a Physical Therapist Assistant?
For those who enjoy working directly with individuals in a clinical setting, an occupation as a physical therapist assistant may be an ideal option. It can be a gratifying career. Physical therapist assistants have the privilege of assisting their patients as they go from having little mobility or decreased physical function to a life of independence and improved physical health.
Many physical therapy assistant programs can be completed in less than two years. Training and professional development include both coursework and clinical experience.
What's the Job Outlook for Physical Therapist Assistants?
The U.S. Bureau of Labor Statistics (2) expects physical therapist assistant jobs to continue growing over the next several years. The need for physical therapy is on the rise, especially as people are aging and living longer. Several physical health issues, such as chronic diseases, orthopedic injuries, mobility-related afflictions, and other medical conditions, respond well to physical therapy treatment.
While physical therapists create and oversee all rehabilitative care, physical therapist assistants help carry out the care plan as designed by a physical therapist. This support saves on the cost of physical therapy for the patient. It also uses the physical therapist's time more efficiently, allowing the PT to be available for any emergency therapy treatment needs that may arise.
What Health Conditions Do Physical Therapist Assistants Treat?
Physical therapy treats a wide range of health conditions (3), ranging from ankle sprains and fractured bones to life-altering chronic health conditions. These conditions may include:
Acute injuries, including total joint replacements, stroke or spinal cord injuries, wound or burn care, cardiovascular complications, and pulmonary conditions.
Cardiovascular and pulmonary afflictions, including chronic respiratory disorders, vascular disease, cystic fibrosis, hypertension, heart disease, and COPD (chronic obstructive pulmonary disease).
Geriatric health conditions, including cancer-related complications, fall-related injuries, joint replacement surgeries, osteoarthritis, rheumatoid arthritis, diabetes, and amputations.
Neurology-related disorders, including cerebral palsy, spina bifida, traumatic brain injury, Parkinson's disease, multiple sclerosis, and spinal cord injuries.
Orthopedic injuries, including back and neck pain, rotator cuff injuries, muscle strains, joint sprains, knee and ankle injuries, and carpal tunnel syndrome.
Pediatric conditions, including developmental delays, Down syndrome, neuromuscular disorders, brain injuries, juvenile rheumatoid arthritis, and autism spectrum disorders.
Sports-related ailments, including performance enhancement, injury prevention, acute sports injuries, and rehabilitation.
Women's health issues, including urinary incontinence, bowel incontinence, pelvic pain, breast cancer, lymphedema, osteoporosis, and fibromyalgia.
Home health care rehabilitation for disorders such as total joint replacements, progressive neurological conditions, dementia, chronic pain, wound or burn care, COPD, and heart failure.
Where Do Physical Therapist Assistants Work?
Physical therapist assistants work in clinical and community-based settings. As part of their work, these professionals often collaborate with parents, caregivers, medical professionals, and other health experts. You can find physical therapist assistants working in many settings. These places include hospitals, outpatient clinics, long-term care facilities, nursing homes, group homes, schools, private practice offices, hospice settings, and private residences. Due to the various environments in which a physical therapist and a physical therapist assistant work, schedules can range from part time to full time and include working nights and weekends.
Working as a physical therapist assistant requires individuals to be physically active and frequently moving. They must perform tasks such as setting up equipment, demonstrating exercises and stretches, and lifting and moving patients. For this reason, they must learn proper techniques for working with their patients to avoid or prevent unnecessary injuries to themselves and their patients.
How Do You Become a Physical Therapist Assistant?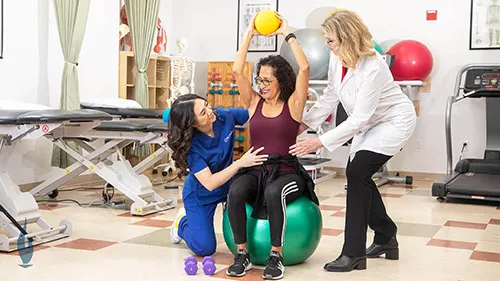 How To Become a Physical Therapist Assistant
All 50 states require physical therapy assistants to obtain an associate degree from a program accredited by the Commission on Accreditation in Physical Therapy Education (CAPTE). Upon graduation, an individual must take and pass the National Physical Therapy Exam. Once candidates fulfill these requirements, they can work toward becoming licensed and certified as physical therapy assistants.
What Are Education and Training Like for Physical Therapist Assistants?
A PTA associate degree program typically takes less than two years to complete. The curriculum includes coursework in anatomy, physiology, kinesiology, neuroscience, biomechanics, clinical pathology, behavioral sciences, communication skills, ethics, and values. The educational program also involves hands-on skill training and real-life experience through supervised clinical work in various medical settings. Approximately 75% of the coursework connects with the classroom and laboratory. The remaining 25% involves full-time clinical educational experiences.
What Are the Licensing and Certification Requirements?
All states require physical therapist assistants to be licensed or certified. To be licensed, a physical therapist assistant must have graduated from an accredited physical therapist assistant program and pass the National Physical Therapy Exam. Individuals must be at least 18 years old. Other requirements for becoming certified as a physical therapist assistant include passing a criminal background check. Additionally, some states require applicants to take and pass a state-specific exam.
Once a physical therapist assistant obtains licensure and certification, an individual may be required to take continuing education courses to keep the license updated. Physical therapist assistants should check with their state board for specific licensing requirements.
Other certifications a physical therapist assistant may earn include CPR (cardiopulmonary resuscitation), BLS (basic life support), and other first-aid skills.
What Important Qualities Do Physical Therapist Assistants Need?
A career as a physical therapist assistant requires more than an associate degree and state licensing. Physical therapist assistants need to possess several characteristics and qualities to be able to provide exceptional care for the patients they will encounter daily.
Compassion: Physical therapist assistants work with people who are in constant pain. They need to have compassion and empathy when assisting their patients.
Detail-oriented: Physical therapist assistants need to follow written rehabilitation plans created by physical therapists. Being detail-oriented will help them keep accurate records and follow instructions carefully.
Agility: Physical therapist assistants perform manual therapy and therapeutic exercises on their patients. Being agile and nimble will make therapy more useful for the patient.
Communication skills: Having good communication skills is a must for most professional careers, especially for physical therapist assistants. They spend most of their time working directly with patients and their families.
Physical endurance: Physical therapist assistants move around most of the time, assisting patients with their exercises or traveling between their office and the patient's home, school, or other clinical settings.
How Does One Choose a Physical Therapist Assistant Program?
Keep the following factors in mind when choosing a physical therapist assistant program (4):
Accreditation: To be licensed as a physical therapist assistant, an individual must attend a school with an accredited physical therapist assistant program.
Cost: While the cost of an education shouldn't be the only factor in choosing the right program, don't forget to take cost into consideration.
Financial aid: Many schools that offer physical therapist assistant programs also provide financial aid opportunities such as student loans or grants.
Location: An individual can consider several options for education. Some colleges and universities offer customized learning options such as full-time in-person learning, full-time virtual learning, or a combination of the settings.
Other Health Care Occupations
The following describes several other health care occupations, some of which have similar responsibilities to physical therapist assistants.
Massage therapist: Massage therapists treat patients by manipulating muscles and soft tissues of the body. These individuals help relieve pain, heal injuries, increase relaxation, improve circulation, and aid in a patient's overall well-being.
Occupational therapist assistants: Occupational therapist assistants (OTAs) assist patients with illnesses, disabilities, or injuries that negatively impact their daily lives. These professionals work with occupational therapists to create and administer treatment plans for their patients to improve the skills needed for daily living and working.
Nursing assistants: Nursing assistants provide care such as administering medications, cleaning wounds, and providing other medical treatments. They also communicate the patients' needs to supervising medical staff.
Dental assistants: Dental assistants provide patient care under the supervision of a dentist. They assist dentists during dental procedures, process X-rays, maintain records, and schedule appointments.
Medical assistants: Medical assistants perform administrative and clinical tasks in doctors' offices, hospitals, and other medical settings. They work directly with patients by recording their vital signs, preparing medical histories, and prepping patients for procedures.
Pharmacy technicians: Pharmacy technicians assist pharmacists with various tasks, such as filling prescription orders, entering patient information into a pharmacy's records, and assisting with insurance claims. Attending pharmacists supervise all pharmacist technician tasks.
Concorde Career Colleges' Physical Therapist Assistant Program
The Physical Therapist Assistant program at several Concorde Career College campuses is accredited by the Commission on Accreditation in Physical Therapy Education (CAPTE). The education and training, which students can complete in as little as 21 months, focus on real-world experiences and hands-on training from the beginning of the program. Concorde's curriculum educates students in therapeutic exercise, functional training, mobility training, ambulation training, and activities of daily living. Students gain knowledge of working within these focus areas as they advance through the program's coursework.
Concorde offers valuable curriculum and educational training and provides real-world training and off-site clinical experiences. By job shadowing another physical therapist assistant, students can receive practical hands-on experience. The expertise and skills developed during a clinical experience can give students practical knowledge to use in their future careers in professional physical therapy settings.
Start Your Education for a Career as a Physical Therapist Assistant
At Concorde, students can train to begin their physical therapist assistant career in months rather than years. The admission advisors work with students, preparing them for their learning experience. Financial aid is available for those who qualify and includes student loans, grants, and available scholarships through the Concorde Career College Scholarship Foundation. Contact Concorde to schedule a tour or apply online today.
---
Footnotes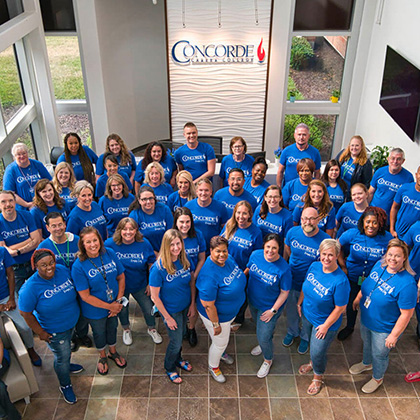 Next Steps?
We have a Concorde representative ready to talk about what matters most to you. Get answers about start dates, curriculum, financial aid, scholarships and more!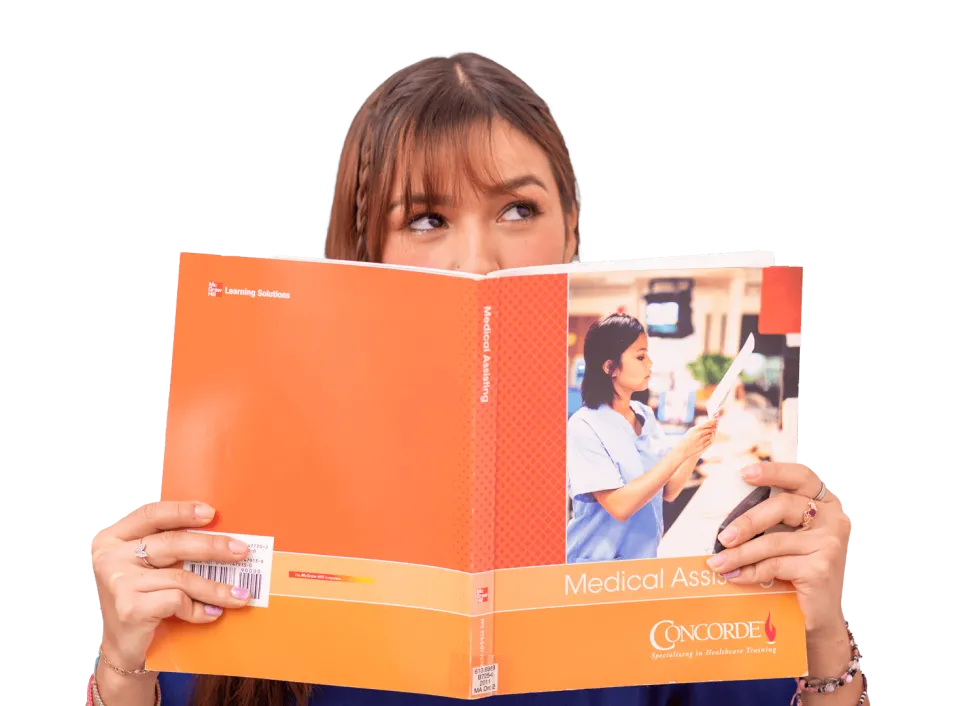 Are You College Ready?
How you think and what you love about life might give you important insights about your college readiness. Our NEW College Readiness Quiz provides instant feedback with your results. Click the button to get started!
START THE QUIZ