Updated April 24, 2023. The information contained in this blog is current and accurate as of this date.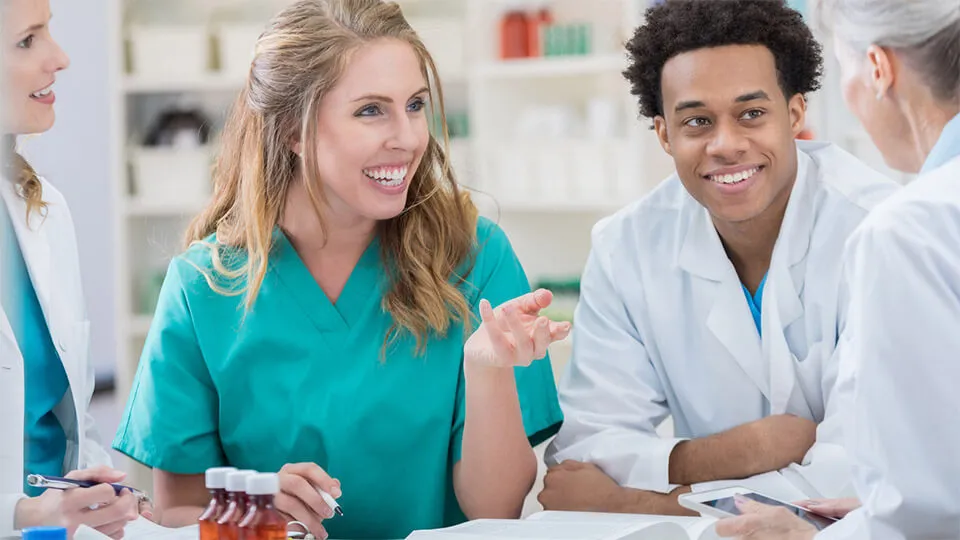 Pharmacy technicians support pharmacists and are essential to the efficient operations of a pharmacy or dispensary. The role adapts to the needs of pharmacies and can be a fulfilling career with growth potential. Explore what you should know about how to become a pharmacy technician. 
What Is a Pharmacy Technician?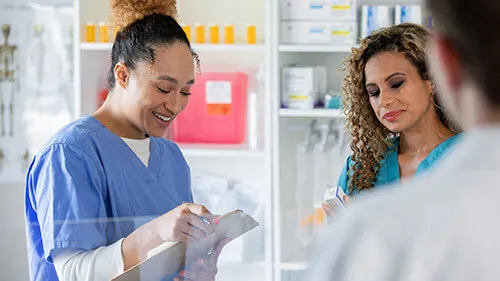 A Day in the Life of a Pharmacy Technician
A pharmacy technician supports pharmacists and plays a vital role in patient management in a medication dispensary environment. Pharmacy technicians work in pharmacies, private medical practices, hospitals, laboratories, and pharmaceutical production. They can also work in pharmaceutical sales as representatives of a specific pharmaceutical company. 
What Do Pharmacy Technicians Do? 
The scope of a pharmaceutical technician's job will depend on the needs of the medical facility that provides the employment. According to the General Pharmaceutical Council (1), the role can include duties such as: 
Assisting pharmacists in dispensing medication (under supervision). 

Collating medication for prescriptions. 

Responding to patient queries. 

Managing the dispensary and supervising other pharmacy staff.

Regulating stock levels to ensure sufficient stock.
Why Become a Pharmacy Technician? 
Becoming a pharmacy technician can be a fulfilling career. Some of the benefits of the pharmacy technician role include the following: 
Client interaction: The role of a pharmacy tech can be very social as you're constantly dealing with clients' concerns through various communication forms.

Fast educational program: Students can opt to complete a pharmacy technician Diploma Program at Concorde Career Colleges, which can take as few as six months, or an Associate of Applied Science degree program in approximately 18 months (check with a Concorde admissions advisor as program length varies based on location).

Flexible, accessible programs: Students can complete their pharmacy technician program online with an in-person externship component, allowing them to complete the course at their own pace.

Exciting career trajectory:  Pharmacy technicians can pursue multiple opportunities within the pharmacy field. Numerous further learning opportunities can affect earning potential and job opportunities.

Possibility of flexible hours: Some roles require workers to complete shifts, which allows some flexibility in the work schedule. 

Stable career choice: Pharmacy technicians are in demand, and the U.S. Bureau of Labor Statistics projects job demand to grow by 5% (2) per annum from 2021 to 2031. 
Types of Pharmacy Technician Programs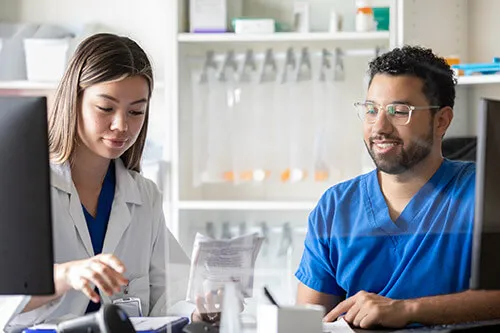 Pharmacy technician programs assist students in building skills and gaining experience to equip them for placement in pharmacies or similar dispensing roles. Different options exist:
Pharmacy Technician Diploma Program
Concorde offers a Diploma Program that covers the core pharmacy technician curriculum with completion within six months (check with a Concorde admissions advisor as program length varies based on location). Students will learn the following:
The fundamentals of supporting pharmacists. 

Compounding medications.

Filling prescriptions.

Helping patients. 

Pharmaceutical calculations. 
Pharmacy Technician Associate of Applied Science Program 
In addition to the Diploma Program, students who enroll in the Associate of Applied Science Degree Program will include general education coursework. This course takes approximately 18 months to complete (check with a Concorde admissions advisor as program length varies based on location).
What to Look for in Online Pharmacy Technician Programs 
When deciding to take your studies online, it's essential to choose an online pharmacy technician program that offers the following: 
Accessibility: Online educational programs should be easily accessible across devices. This capability allows students to keep up with their studies anywhere they choose.

Helpful resources: Online educational programs require students to dig deep into educational material; if they get stuck, resources are available to help them troubleshoot the issue. Online support should be available in the form of a chat service, email service, or telephone call.

User-friendly interface: Successful online program depends significantly on how easily navigating the platform and course material is.

Intuitive course material: How the course material gets presented with imagery and layout is almost as important as the quality of the content. Learning is more streamlined with well-presented course material.
Valuable Skills for Pharmacy Technicians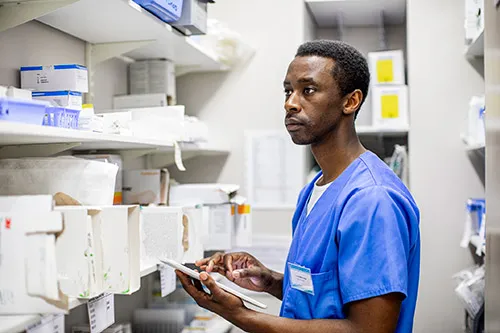 Common Misconceptions of Pharm Techs
Skills pharmacy technicians will need (4) to perform their job well include: 
Soft skills: A pharmacy technician deals with people often, whether in a pharmacy environment completing patient scripts or in a sales environment where they collaborate with medical professionals to sell their product. Soft skills are necessary to communicate caringly with others. 

Technical skills: Digital platforms store patient records and medical documents. For pharmacy technicians to prosper in their careers, they would need to learn the technical components of their job, including accessing electronic records, billing and payment information, and prescription issuing. 

Pharmacy skills: Specific skills are required to perform everyday job functions, such as prescription issuing and delivering medications. The task also includes medication packaging selection and checking stock levels. Technicians may also be required to calculate pharmaceutical formulations to dispense the correct medication at the right level. 

Interpersonal skills: The health care environment requires more than caring communication. Pharmacy technicians must also have good interpersonal skills, including professionalism and the ability to work with others to solve queries, complete scripts, or make appointments. Pharmacy technicians also work with colleagues; interpersonal skills are essential for effective teamwork.
How To Become a Pharmacy Technician
Due to the nature of the job, many states now require a pharmacy technician to have some formal education or certification.
Step 1: Identify and Complete a Pharmacy Technician Program
Before choosing a program, students need to know what they want to get from their pharmacy technician program. Concorde's Diploma Program could be ideal if your goal is to enter the job market as quickly as possible. Individuals can complete the Pharmacy Technician Program in as few as six months, but the length varies based on location. (Check with a Concorde admissions advisor for verification.) 
However, if the goal is to go more in-depth into the role with more extensive career prospects, the associate degree program at Concorde may be a good fit. 
Many pharmacy technician certificate programs are online with an in-person externship component, which allows students to complete their education at their own pace. Many of these courses also provide access to online communities and helpful resources to encourage students. 
Step 2: Prepare for the Pharmacy Technician Certification Exams 
These certificate program exams test a student's ability to apply skills. These exams test reasoning skills, and students will be eligible to receive their certification credentials upon completion with a passing score. Many states regulate pharmacy techs and require them to complete the certification before entering the job market. 
Program accreditation can occur through the American Society of Health-System Pharmacists, which appoints the Pharmacy Technician Accreditation Commission (5) or the Pharmacy Technician Certification Board (6). For certification, students complete a test. Once passed, the student then receives credentials as a certified pharmacy technician.
Step 3: Apply for a Job 
Once certified, pharmacy technicians can start the job hunt. The following techniques will help you in your job search:
Create a resume that contains the most pertinent information about your experience (such as hands-on training or externships), your education, and other learning opportunities you've had that will add value to the role. 

Apply through job sites and contact recruitment offices. If you've earmarked a company or pharmacy you'd like to work for, contact its HR department to learn about job openings.

Prepare for the interview by researching the employer and preparing answers to possible questions the recruiter might have. Also, thank the recruiter after the interview via email or phone to stay top of mind and follow up on the interview's outcome.
Step 4: Pursue Continued Education 
Once you've landed the job, there's still plenty of room to grow in this role. Explore further educational opportunities and ways to expand your career. 
Establishing a career in the health care field as a pharmacy technician is a rewarding experience. It allows you to explore career possibilities within the pharmaceutical realm while still having fulfilling interactions with the public, colleagues, and clients. At Concorde, each pharmacy technician course prepares students to directly apply classroom knowledge to a work setting through a combination of theory and hands-on training experiences. Explore career possibilities as a pharmacy technician with Concorde today.
---
Footnotes: 
General Pharmaceutical Council, What Does a Pharmacy Technician Do? https://www.pharmacyregulation.org/raising-concerns/raising-concerns-about-pharmacy-professional/what-expect-your-pharmacy/what-does

U.S. Bureau of Labor Statistics, Occupational Outlook Handbook: Pharmacy Technicians, https://www.bls.gov/ooh/healthcare/pharmacy-technicians.htm

Maryland Higher Education Commission, The Importance of Accreditation https://mhec.maryland.gov/institutions_training/Pages/acadaff/oos_online/accreditationOOS.aspx

Indeed, Pharmacy Technician Resume Skills https://au.indeed.com/career-advice/resumes-cover-letters/pharmacy-technician-resume-skills

American Society of Health-System Pharmacists, Pharmacy Technician Accreditation Commission https://www.ashp.org/about-ashp/our-leadership/councils-and-committees/commissions/pharmacy-technician-accreditation-commission

Pharmacy Technician Certification Board, Home Page https://www.ptcb.org
Are You College Ready?
How you think and what you love about life might give you important insights about your college readiness. Our NEW College Readiness Quiz provides instant feedback with your results. Click the button to get started!