Updated October 20, 2023. The information contained in this blog is current and accurate as of this date.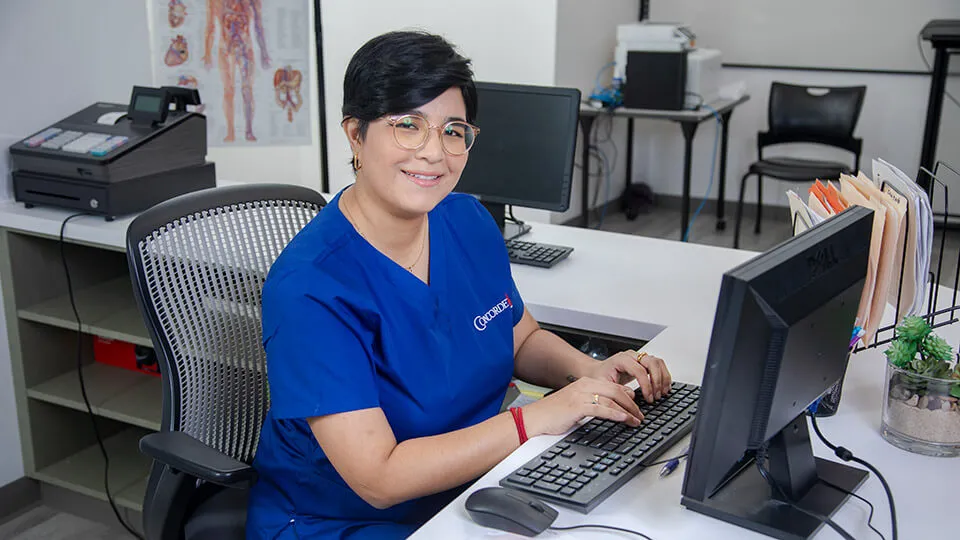 A medical office professional handles the administration of a medical office, such as a doctor's practice or an outpatient facility. This individual is instrumental in the smooth operations of a health care facility regarding bookings and patient records. Learn how to train to become a medical office professional and explore career opportunities.
What Is a Medical Office Professional? 
A medical office professional may have several names, including medical office administrator (MOA) and medical office specialist. The title may differ from one practice to another, but the responsibilities remain the same.
The role includes reception desk duties, administration, record keeping, and billing. Medical office professionals only get involved in the clinical side of operations if they take on additional responsibilities and earn further certifications, respiratory care, basic patient care, and medical assisting.
What Does a Medical Office Specialist Do?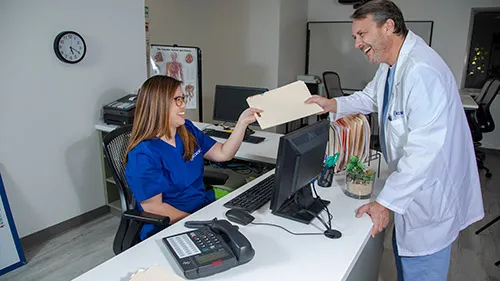 Reasons To Become a Medical Office Professional (MOP)
A medical office specialist's duties vary according to the needs of the health care facility but often involve front office work such as receiving patients and taking calls. Other duties include: 
Responding to email requests such as queries, bookings, or appointment cancelations. 
Creating a booking schedule for on-site physicians and attending to walk-in patients.
Communicating with patients and medical insurers to ensure efficient claims handling and correct patient billing.
Basic bookkeeping and debtor management to keep on top of the practice's cash flow. 
Overseeing office administration tasks such as filing, maintaining digital records, and ordering supplies. 
Helpful Skills To Have When Working as a Medical Office Assistant 
While medical office assistants might not have to know how to take a blood pressure reading or prepare a patient for a consultation, their skills are essential for efficient office operations. Some of the skills to have include: 
A Friendly Personality
A cheerful, professional presence is essential when receiving patients or discussing patient matters by telephone. A doctor's visit can be a stressful experience, and a calming presence can improve the experience.
Well-Developed Organizational Skills
A skilled medical office professional will ensure that all aspects of a practice are organized and operating as efficiently as possible, from billing to communications.
An Understanding of Basic Bookkeeping
Bookkeeping skills like performing general ledger entries and simple accounting can support an office's financial operations.
Some Knowledge About Practice Software
Many health care facilities are digitizing their records, and understanding software operations will help with efficient records processing. According to a recruitment study by ZipRecruiter , individuals seeking medical office professional jobs list digital proficiencies among the top 10 skills on their resumes. The skills include competency with Microsoft Office, electronic health records, and data entry. To best showcase this experience to a potential employer, elaborate on how your digital skills knowledge can help a practice, such as clinic and office administrative management, scheduling, and medical record maintenance.
Some Clinical Experience
While not a regular requirement for medical office administrators, some employers want their MOAs to have some clinical knowledge, according to the ZipRecruiter study . 
Where Does a Medical Office Professional Work?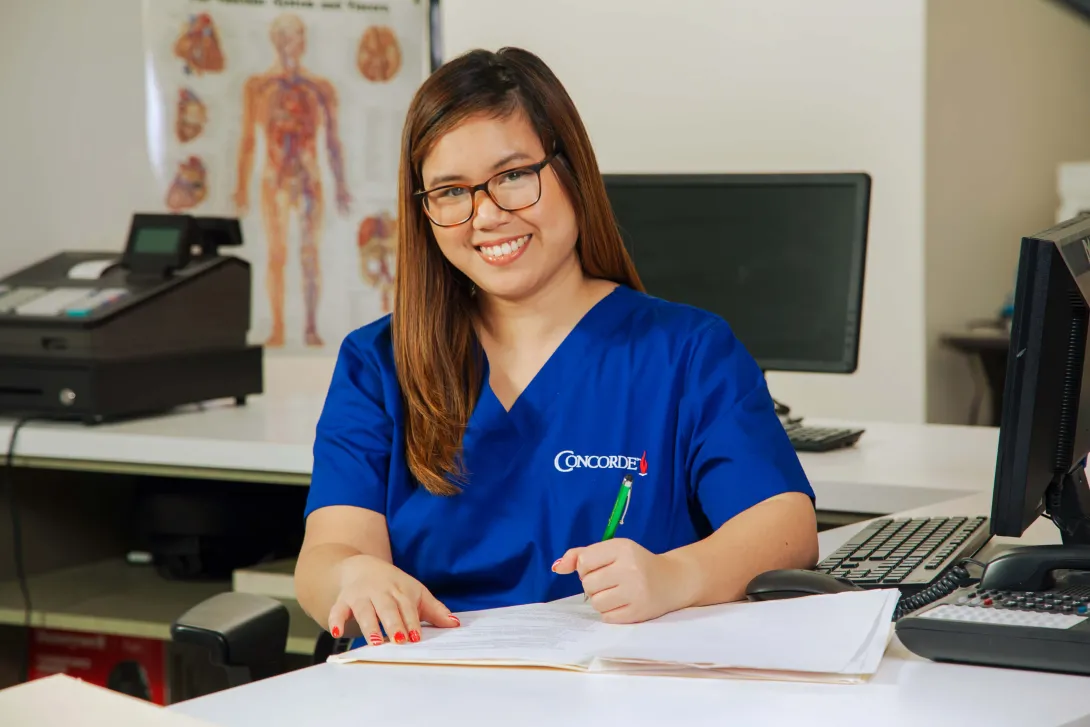 Things You Don't Know About MOAs (Medical Office Administrators)
Medical office assistants have several health care settings where they can work, such as clinics, doctor's suites, long-term care facilities such as hospice or memory care, and specialist facilities for physiotherapists, oncologists, optometrists, and dentists. 
The role can range from entry-level positions, such as a front desk clerk who manages bookings and patient reception, to more supervisory roles, such as an accounts manager . One practice might have more than one medical office professional that the practice employs.
How Long Does It Take To Become a Medical Office Administrator? 
How long it takes to become a medical office assistant depends on whether students enter the field from high school or choose to complete a Medical Office Professional diploma program first. At Concorde Career Colleges, program length may depend on transfer credits and course load. Concorde does not guarantee externship placement, graduation, post-externship employment, or salary outcome. 
What Does Coursework for a Medical Office Professional Diploma Program Cover?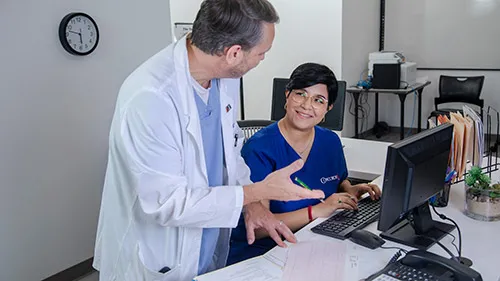 A Day in the Life of a Medical Office Professional
Students will have access to course material that will cover topics such as: 
Theoretical knowledge and practical skills in office administration tools. 
Medical terminology. 
Medical office procedures. 
Communication. 
Psychosocial skills. 
Medical office procedures.
Through these topics, the Medical Office Professional diploma program at Concorde Career Colleges provides students with the opportunity to learn and practice the theoretical knowledge and enduring skills needed for an entry-level administrative position in allied health. The program also prepares students for the American Academy of Professional Coders (AAPC) certification test.
Steps To Become a Medical Office Professional 
The path to becoming a medical office professional will depend on the level at which an applicant may want to enter the career field. Is an individual comfortable with an entry-level position, or does the person require something more challenging? Explore the following steps for how to become a medical office professional:
Step 1: Enroll in a Medical Office Administration Program 
One of the advantages of enrolling in a medical office administration program is that you can practice the necessary skills to embark on a fulfilling career in health care. Standard program curriculum elements cover:
Standard medical office procedures to follow. 
Computer applications, such as appointment scheduling and maintaining patient records.
Common medical terminology to teach the student how to communicate with other health care professionals. 
How to process medical insurance claims with insurance companies and follow up on outstanding accounts.
Medical insurance coding for effective billing. 
Administrative functions of a medical office and best practices. 
Step 2: Earn Your Medical Office Professional Diploma 
Students who complete the required coursework for a Medical Office Professional diploma program can learn and practice the knowledge and develop the skills necessary for success in the field. In addition to coursework in theoretical knowledge, students must complete an experiential learning opportunity in a medical office environment through an externship experience. 
Step 3: Stand Out by Earning Additional Certifications 
Certification can boost a resume when students want to stand out during recruitment. Some of the certifications that complement the role of a medical office professional include the following:
Certified Medical Administration Assistant (CMAA): Applicants with their CMAA  can complete tasks set for medical administrative assistants, medical office assistants, and medical office secretaries.
Certified Medical Office Manager (CMOM): To obtain a CMOM credential, applicants must demonstrate experience in various medical office management tasks such as financial management, risk management, and record keeping. The certification requires the applicant to pass an exam.
Nationally Certified Medical Office Assistant (NCMOA): A national certification is advantageous for medical office assistants who may need to travel for their roles or want a broader career prospect. Students must submit proof that they've completed the diploma requirements  through an accredited program.
Step 4: Start the Job Search
Follow the process below to search for jobs as a medical office professional:
Prepare your resume and cover letter according to the current industry standard. Be sure to showcase pertinent information about your knowledge and experience that will interest potential employers. 
Send your resume to recruiters and scour job sites for job openings for medical office professionals. 
Prepare for interviews and research the company you're interviewing with beforehand. The interview process is as essential for the application as it is for the hiring company.
Network with health care professionals and participate in internships or externships to allow others to witness your capabilities as a medical office professional.
Working as a medical office assistant can provide a satisfying career in the medical field as you learn the duties and responsibilities of medical office management. With Concorde, you can train for a career with engaging course material designed to equip you with the necessary knowledge and skills. Take the next steps to prepare for a career as a medical office professional.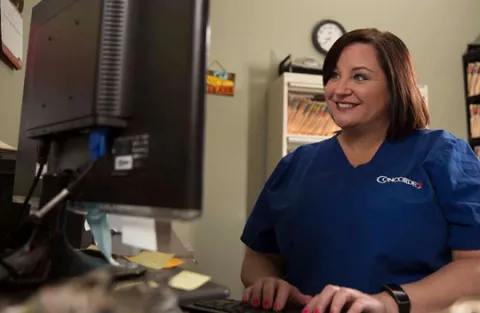 Next Steps?
Interested in learning more about our Medical Office Professional program? We have a Concorde representative ready to talk about what matters most to you. Get answers about start dates, curriculum, financial aid, scholarships and more!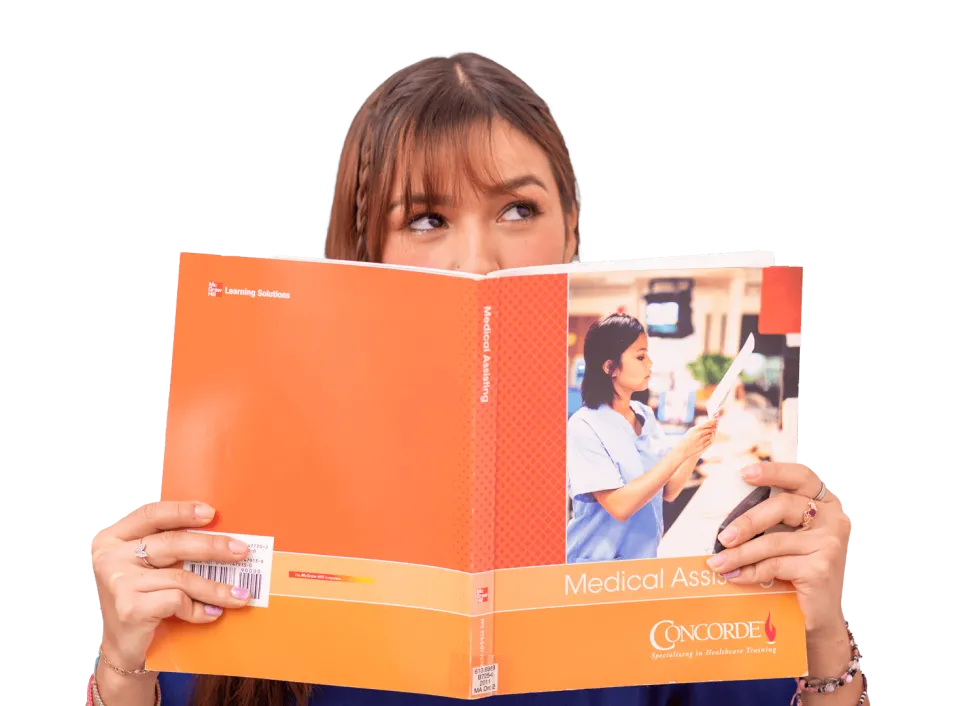 Are You College Ready?
How you think and what you love about life might give you important insights about your college readiness. Our NEW College Readiness Quiz provides instant feedback with your results. Click the button to get started!
START THE QUIZ