Updated April 18, 2022. The information contained in this blog is current and accurate as of this date.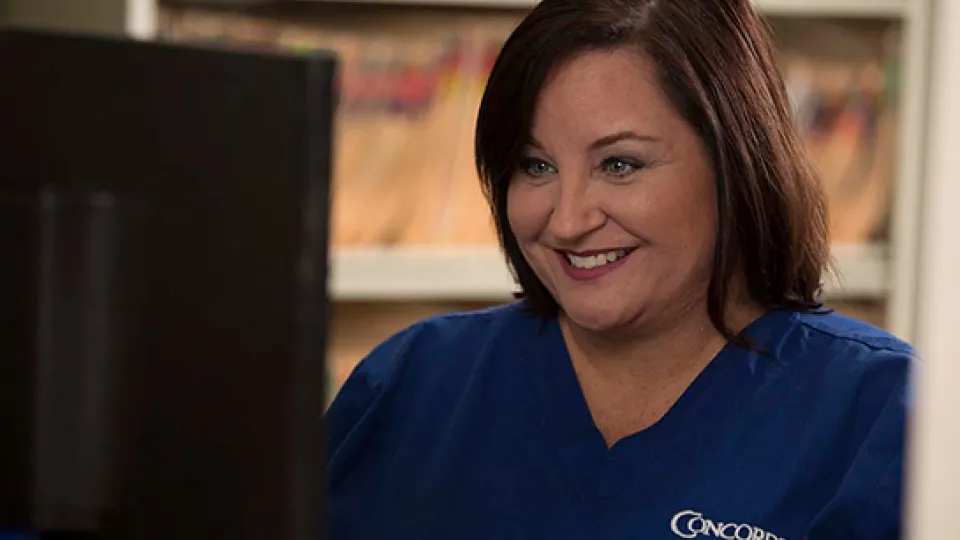 Medical office professionals perform administrative and clerical tasks to support health care providers. In less than a year, you can complete a diploma program and be prepared to pursue a career as a medical office professional. If you're considering this training program, you may want to learn more about the day-to-day responsibilities of a medical office professional to help you explore this career. You can use this guide to discover a typical day in the life of a medical office professional and determine whether the career path is a good fit for you.
What Is a Medical Office Professional?
A medical office professional (MOP) provides administrative support in a health care setting. They typically work at doctor's offices, medical clinics, outpatient care centers, assisted living facilities, or other health care facilities. While they don't have clinical duties, medical office
professionals have an important role in providing quality patient care. They perform administrative and clerical tasks to keep the office functioning smoothly so doctors and nurses can focus on treating patients.
What Does a Medical Office Professional Do?
A medical office professional may have many responsibilities depending on where they work. Typically, these professionals manage office functions, provide customer service to patients, and interact with providers. While their duties can vary, medical office professionals may have some or all of the following responsibilities:
 Answer phones and greet patients as they enter the medical office.
 Schedule appointments and call patients to confirm their appointment times.
 Perform data entry to maintain patient charts and records.
 Manage billing processes and send invoices to patients.
 Submit insurance information to providers.
 Process insurance claims and records in a timely manner.
 Maintain office inventory and order office supplies.
Operate office equipment, such as computers, printers, fax machines, phone systems, and scanners.
What Are the Educational Requirements for Medical Office Professionals?
While some employers may hire medical office professionals with a high school diploma, it's highly recommended for these professionals to earn a diploma or an associate degree. Many employers prefer to hire medical office professionals with this level of education. Students can typically earn a diploma in under one year at Concorde.
While earning their diploma, students learn the skills required to be successful in their health care careers. They take courses in computer programs, billing and coding processes, and office
procedures. Other helpful skills they have the opportunity to learn and practice in a diploma program include medical terminology and communication skills to help them interact effectively with both patients and providers. At Concorde, the Medical Office Professional (MOP) diploma program also prepares students to take the American Academy of Professional Coders (AAPC) certification test. This certification is highly desired by employers because it shows that a professional has the skills and expertise to provide medical coding and billing services. The certification can help new graduates distinguish themselves from other job candidates.
What Is the Job Outlook for Medical Office Professionals?
Employment for medical office professionals is likely to grow significantly in the near future. The U.S. Bureau of Labor Statistics (BLS) projects employment for medical assistants, which includes medical office professionals, to grow 18% from 2020 to 2030 (1). That's much faster than the average employment growth of other occupations in the general workforce. According to the BLS, employers will have around 104,400 openings for these professionals each year over the decade. As the baby-boom population continues to age, physicians will likely hire more assistants and medical office professionals to keep up with the increased demand for preventive medical services.
What Is a Typical Workday for a Medical Office Professional?
No two days are ever the same for medical office professionals. While a typical workday may vary, most medical office professionals share some common responsibilities. Here's a look at a general workday for a medical office professional:
Work Schedule
Most medical office professionals work full-time schedules. They commonly work standard business hours on weekdays. They may work in the evenings or on weekends if their facility is open during those times. Some medical office professionals, such as those who work in hospitals or other 24-hour facilities, may work overnight shifts and holidays.
Administrative Duties
At the beginning of their workday, medical office professionals usually arrive at the office before other staff to begin some of their administrative duties. They may record an outgoing phone message stating the facility's hours that day. They also check voicemail messages and emails and update providers' schedules if there are any cancellations for the day.
When the office opens, a medical office professional begins checking in patients and provides them with any paperwork they need to complete, such as confidentiality forms. They process patient information to update records, obtain insurance information, and prepare bills and invoices. These professionals often spend much of their day submitting insurance information and calling insurers to resolve any issues.
During the day, medical office professionals continue to register patients and answer phone calls or emails. They schedule new patients, enter data into a computer system, and prepare patient charts for doctors or nurses. At the end of the day, they stay until the last patient has
left so they can tidy the waiting room and front office area. Before they leave, they record a voicemail message notifying callers the office has closed for the day. Then they shut down their computer and lock the office.
Customer Service
In addition to their administrative duties, medical office professionals provide customer service to ensure quality patient care. They greet each patient who arrives at the facility in a friendly, courteous manner. Medical office professionals often escort patients to a waiting room or exam area. They also answer questions a patient may have about the appointment.
Medical office professionals often go above and beyond to provide patient care. For example, they may call a pharmacist for information about a new patient's prescriptions if the patient forgets to bring a list. Other times, they may find ways to adjust a provider's schedule to accommodate a patient seeking a same-day appointment. Medical office professionals use their excellent interpersonal skills to offer quality customer service to each patient.
Are you ready to train for a career as a medical office professional? At Concorde, you can earn a Medical Office Professional diploma in as little as eight months. You'll have the opportunity to learn and practice important skills, including medical terminology and medical insurance basics. We can provide information regarding various financial aid options (for those who qualify) to help you finance your education. Contact us to request more information, schedule a tour, or apply for the program.
Footnotes
1. "Medical Assistants: Job Outlook," U.S. Bureau of Labor Statistics, https://www.bls.gov/ooh/healthcare/medical-assistants.htm#tab-6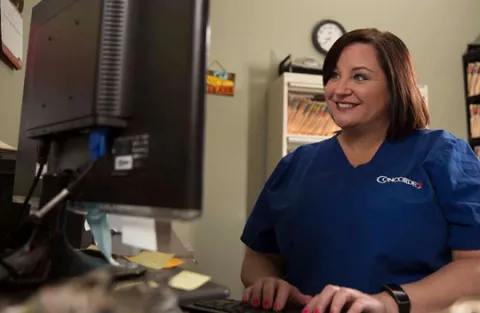 Next Steps?
Interested in learning more about our Medical Office Professional program? We have a Concorde representative ready to talk about what matters most to you. Get answers about start dates, curriculum, financial aid, scholarships and more!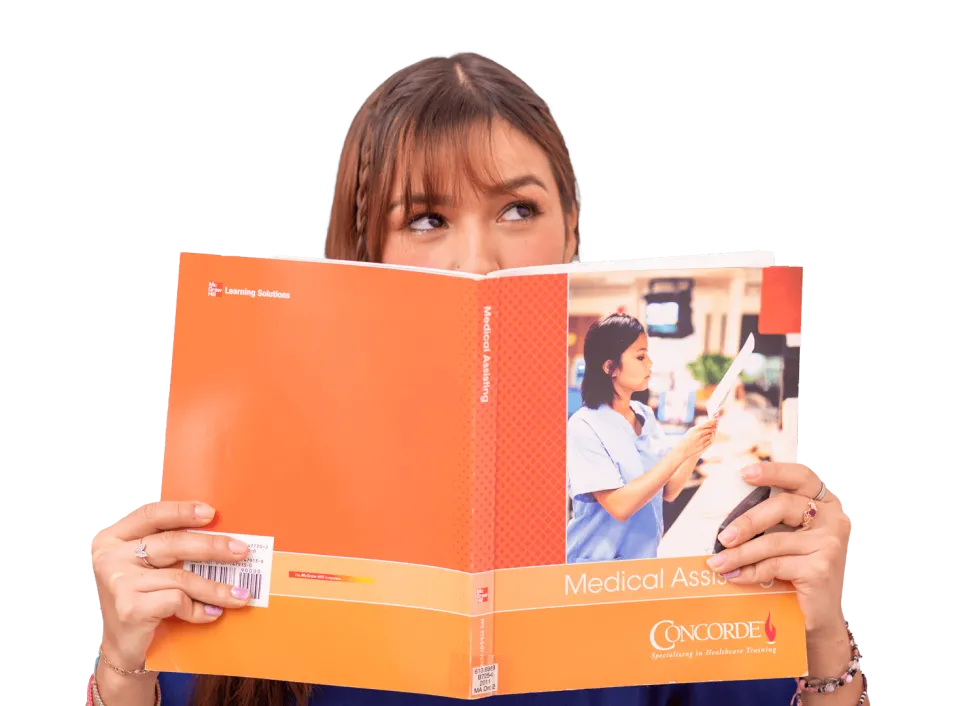 Are You College Ready?
How you think and what you love about life might give you important insights about your college readiness. Our NEW College Readiness Quiz provides instant feedback with your results. Click the button to get started!
START THE QUIZ