Updated August 23, 2023. The information contained in this blog is current and accurate as of this date.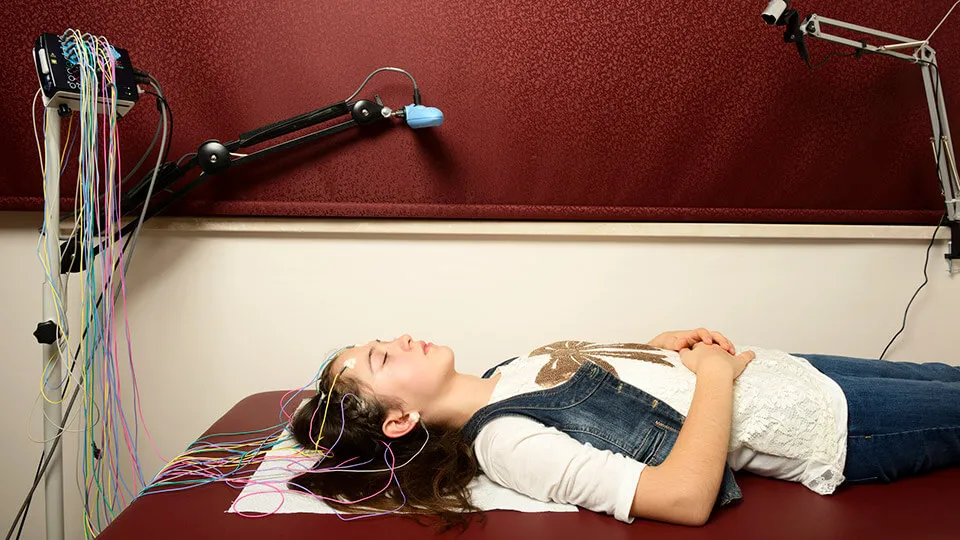 Did you know that there are around 100 sleep disorders? Some of the most common sleep disorders include having trouble getting to sleep, waking up repeatedly during the night, and feeling excessively tired during the day. Poor sleep isn't just annoying. Chronic sleep issues may cause serious health problems, including heart attacks and strokes. What's more, sleep disorders are becoming one of the fastest-growing health problems.
This makes polysomnographic technology a critical practice in health care, with the role of polysomnographic technologists (sleep techs) becoming increasingly essential to a health care team. At Concorde Career College, our Polysomnographic Technology program could prepare you for such a career in as little as eight months. Review this guide for an overview of the role of a sleep tech.
What Is a Polysomnographic Technologist?
A polysomnographic technologist or polysomnographic technician is a health care professional who studies and analyzes patients' sleep patterns. They work under the direction of sleep physicians to diagnose and treat various sleep disorders. Polysomnographic technologists undergo training that prepares them for operating and interpreting data from specialized equipment they use to conduct sleep studies.
They play a crucial role in conducting sleep studies, monitoring patients overnight, and recording data that helps physicians make more accurate diagnoses and design more effective treatment plans for sleep disorders.
What Does a Polysomnographic Technologist Do?
Polysomnographic technologists specialize in caring for patients with sleep-related issues. Their roles and responsibilities can vary between work environments, and they may undergo different training and education, depending on the institutions they attend.
Role and Responsibilities
As students who graduate from a polysomnographic technology program and passed certification exams, sleep techs may supervise trainees and technicians who help perform sleep studies. Their job may require a range of duties, including:
Taking care of the specialized sleep monitoring equipment and keeping it calibrated.
Explaining procedures to patients before and after the study and answering questions.
Connecting sensors on patients before the study and removing them afterward.
Recording and monitoring the information from the machines while the patient is sleeping.
Taking observation notes about the patient as they sleep.
Analyzing and scoring the sleep study and sending it to a sleep doctor to interpret data and suggest treatments.
Helping patients understand how to implement recommended treatment plans.
Education and Training Requirements
Completing a polysomnographic technology diploma in an accredited educational program is the first step in training for this exciting career. A hands-on polysomnographic technology program could take as little as eight months to complete and provide the opportunity to practice skills in areas such as placing electrodes, monitoring patients, and planning sleep disorder treatments. After completing your courses, you can take a certification exam to become a board-registered polysomnographic technologist.
The Polysomnographic Technologist's Workspace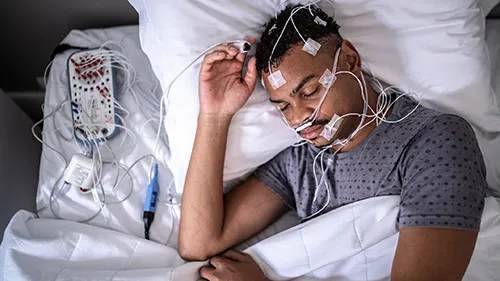 Why Should I Become a Polysomnographic Technologist?
A polysomnographic technician may work within different environments that provide sleep evaluation and treatment services. They also work alongside other health care professionals to deliver quality care.
Sleep Centers and Facilities
A sleep technologist may work in sleep centers, hospitals, or clinics that specialize in sleep disorders. No matter the facility, their work environments focus on providing diagnostic testing and treatment for patients with sleep-related conditions. They may also work in dedicated sleep laboratories with specialized monitoring equipment and comfortable facilities to conduct sleep studies with patients. In addition, sleep techs might work in specialized units within a hospital or clinic that offers sleep disorder evaluation and treatment services.
Polysomnography Technology, Equipment, and Tools
Sleep techs may work with a range of polysomnographic technology, equipment, and tools to conduct patient evaluations (1). Some of these monitoring methods may include:
Electroencephalography (EEG): EEG equipment detects and records the electrical activity in the brain and provides valuable insights into different sleep stages.
Electrocardiography (EKG): During a sleep study, the technologist places a single EKG sensor on a patient's chest to monitor the electrical activity of the heart.
Electromyogram (EMG): Unlike diagnostic equipment, EMG sensors are solely for monitoring patients and collecting data on muscle activity during sleep.
Electro-oculography (EOG): EOG sensors detect eye activity and capture patients' eye movements accurately.
Breathing sensors: These sensors detect air movement through the mouth and nose, allowing polysomnographic technologists to assess breathing patterns during sleep.
Respiratory inductive plethysmography belt: This device monitors and provides data on the patient's respiratory effort while they sleep.
Pulse oximeter: A pulse oximeter measures the patient's pulse and blood oxygen levels for assessing overall oxygenation during sleep.
Video and audio monitoring equipment: Video and audio tools help polysomnographic technologists and health care providers observe and listen to the patient's sleep environment. Using synchronized recordings, providers can interpret sensor data more accurately.
What Procedures Do Polysomnography Technologists Perform?
The day in the life of a polysomnographic technologist may actually begin in the evening since most sleep studies are done at night.
Sleep Study Processes
There are a couple of processes sleep techs may be involved with during a sleep study. Besides monitoring patients during the study, they could also oversee:
Patient Preparation
When patients arrive, the sleep tech may ask questions about sleep patterns, including breathing issues, snoring, and excessive movement. Next, they guide the patient to the sleep study room, which usually has a bed, video camera, and sleep monitoring equipment to record the patient's vitals, including heart rate, brain waves, muscle activity, and body functioning.
Monitoring and Data Collection
After connecting sensors on the head, chest, face, stomach, and legs, the polysomnographic technologist leaves while the patient goes to sleep. During the study, the sleep tech carefully observes the patient through the monitoring window to note various sleep characteristics, such as:
Position changes.
Patient movement.
Stages of sleep.
Snoring and breathing patterns.
Other patterns or anomalies while sleeping.
Specialized Sleep Studies
A polysomnographic technologist may help physicians and other health care professionals conduct more specialized sleep studies, including continuous positive airway pressure (CPAP) titration and bi-level PAP (BiPAP) studies. A CPAP study helps determine the optimal airflow rate for treating patients with sleep-related breathing disorders (2). Patients who are diagnosed with obstructive sleep apnea, for instance, may undergo CPAP studies to find the most suitable treatment options.
Providers might also recommend treatment with BiPAP equipment if CPAP treatment isn't optimal. With BiPAP studies, sleep technologists observe and determine if BiPAP machines would be more appropriate for unique patient treatments. Sleep techs may also work in pediatrics and perform sleep studies for children. In pediatric sleep studies, technologists use the same equipment as they do for adult patients but may complete additional training to specialize in this area (3).
Interpreting Sleep Study Results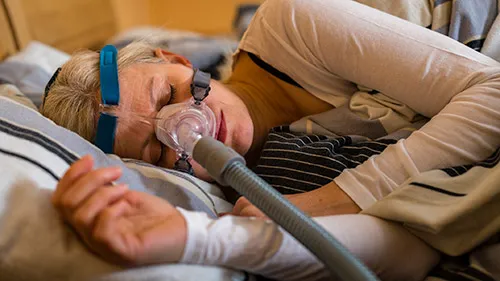 Aspects of Being a Good PSG Tech
When the sleep study concludes, the sleep tech removes the sensors from the patient and answers any questions they may have about the procedure. Next, they collect the data and send it to a sleep physician for analysis, diagnosis, and treatment orders. The technologist might later work with patients to help them better understand and follow through with personalized treatment plans.
Scoring Sleep Studies
When scoring a sleep study, polysomnographic technologists may review many pages of data, with each page representing only about 30 seconds of recording time. Scoring usually occurs in two reviews. In the first review, they analyze the patient's brain activity based on each stage of sleep. Then, they focus on identifying abnormal breathing events, making notes of awakenings, and examining EKG and limb movements. After scoring, the sleep techs then collaborate with physicians and health care teams to generate a comprehensive report. This review allows sleep techs to provide their interpretations and recommendations based on the data (4).
Certifications for Polysomnography Technologists
How To Become a Polysomnographic Technologist
Students striving to become technologists complete polysomnographic technology programs which include coursework designed to prepare them for their careers. After completing training, such as our Polysomnography Technology program, technologists may then obtain the required certification through the Board of Registered Polysomnographic Technologists (BRPT). The BRPT offers the following credentials for polysomnographic technologists (5):
Certified Polysomnographic Technician certification.
Registered Polysomnographic Technologist credential.
Certification in Clinical Sleep Health credential.
Aside from the required licensing, sleep techs may continue to stay up to date on current practices, standards of care, and health regulations.
Career Opportunities and Outlook
The career outlook for all clinical and health technologists — including polysomnographic technologists — is projected to grow by 7% between 2021 and 2031 (6). This means sleep techs could have many opportunities in different health facilities that provide sleep diagnosis and treatment services. Moreover, an additional 25,600 roles are projected to open each year, on average, which may make this profession a secure and sustainable career choice.
Enrolling in a program such as our Polysomnographic Technology program could be the first step in preparing for an interesting and important career in sleep health. Entering a career in polysomnographic technology may also mean you work closely with physicians and health care professionals to help patients have a better quality of life.
---
Footnotes:
1. "Overnight Sleep Study: What Are All These Wires For," Sound Sleep Health, https://www.soundsleephealth.com/overnight-sleep-study-what-are-all-these-wires-for/ 
2. "Types of Sleep Studies," Advanced Sleep Medicine Services, https://www.sleepdr.com/for-patients/sleep-study-types/ 
3. "Sleep Study (Polysomnogram)," Nemours KidsHealth, https://kidshealth.org/en/parents/sleep-study.html 
4. "Sleep Study Scoring," AXG Sleep Diagnostics, https://axgsleepdiagnostics.com/sleep-blog-2/sleep-study-scoring/ 
5. "CPSGT, RPSGT, and CCSH Certifications," Board of Registered Polysomnographic Technologists (BRPT), https://www.brpt.org/ 
6. "Clinical Laboratory Technologists and Technicians Career Outlook," U.S. Bureau of Labor Statistics, https://www.bls.gov/ooh/healthcare/clinical-laboratory-technologists-and-technicians.htm#tab-6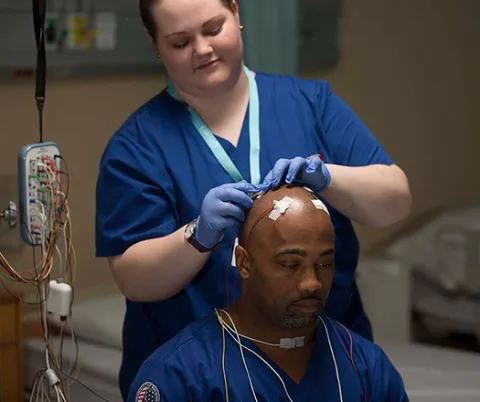 Next Steps?
Interested in learning more about our Polysomnographic Technology program? We have a Concorde representative ready to talk about what matters most to you. Get answers about start dates, curriculum, financial aid, scholarships and more!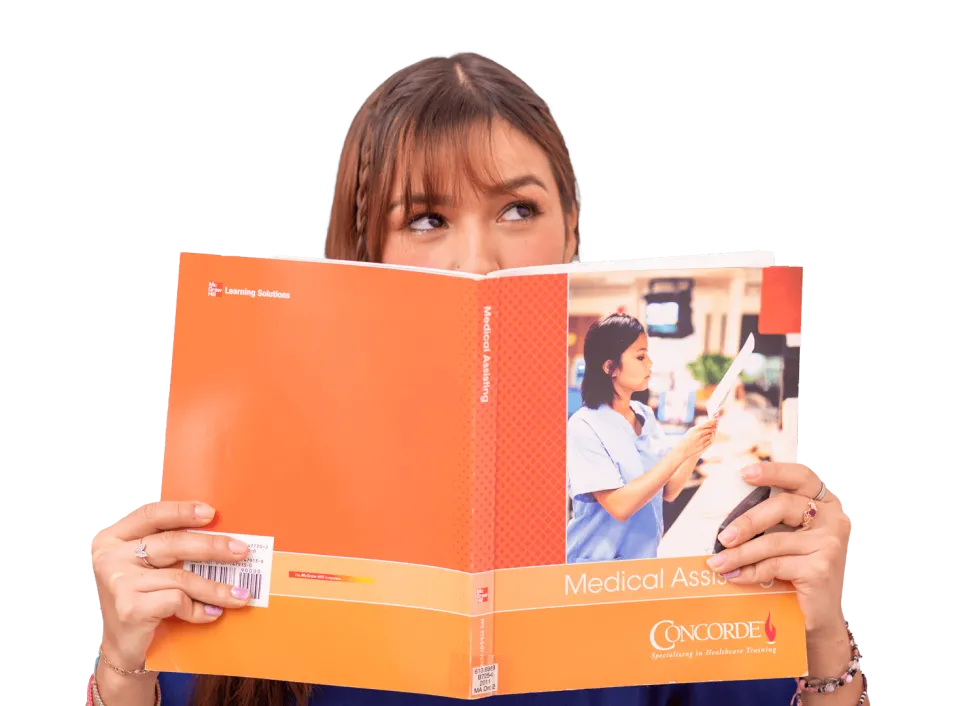 Are You College Ready?
How you think and what you love about life might give you important insights about your college readiness. Our NEW College Readiness Quiz provides instant feedback with your results. Click the button to get started!
START THE QUIZ