Updated August 14, 2023. The information contained in this blog is current and accurate as of this date.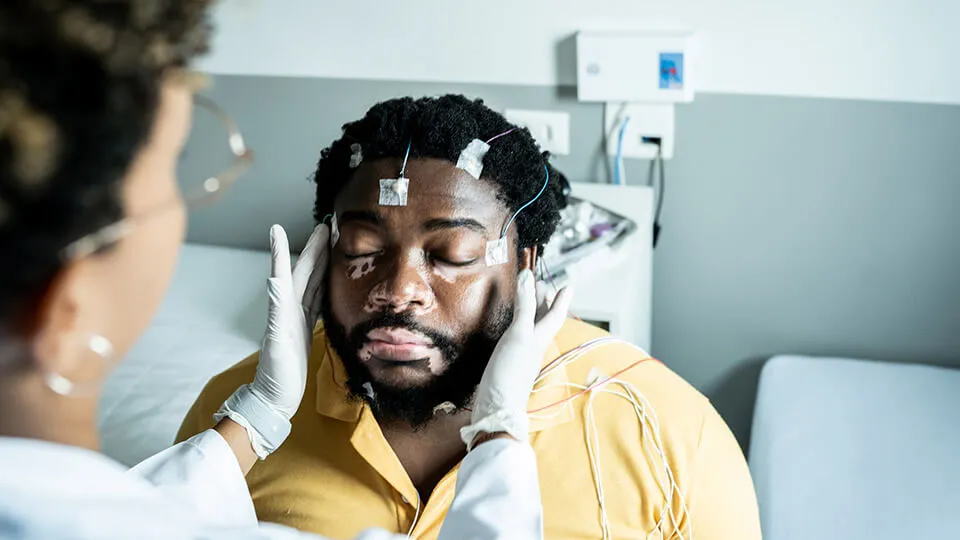 Sleeping is vital to every aspect of health, and sleep deprivation can adversely impact your physical, mental, and emotional wellbeing. Specifically, according to Cleveland Clinic, even one night of poor sleep can affect anxiety and depression, memory and attention, reaction time, immune system, and more. If sleep and the study of it interest you, you may be an ideal candidate for the role of a polysomnographic technologist. Keep reading to learn what a polysomnographic technologist is, what they do, how to become a polysomnographic technologist, and much more about the position.
What Is a Polysomnographic Technologist?
Polysomnographic technologists, also known as sleep technologists, are health care professionals who help patients with insomnia, sleep apnea, and other sleeping conditions. Polysomnographic technologists assist physicians, licensed sleep specialists, and other health care professionals in conducting sleep studies. These sleep studies help medical professionals diagnose the patient's sleep issue based on the results.
How Do Polysomnographic Technologists Help Patients Sleep Better?
As mentioned above, the tests administered by a polysomnographic technologist help doctors and other health care professionals diagnose and treat various sleep disorders. According to the International Classification of Sleep Disorders, there are now eight recognized categories of sleep disorders:
Insomnias
Sleep-related breathing issues
Hypersomnia of central origin not due to circadian rhythm sleep disorder, sleep-related breathing disorder, or other causes of disturbed nocturnal sleep
Circadian rhythm sleep disorders
Parasomnias
Sleep-related movement disorders
Isolated symptoms, apparent normal variants, and unresolved issues
Other sleep disorders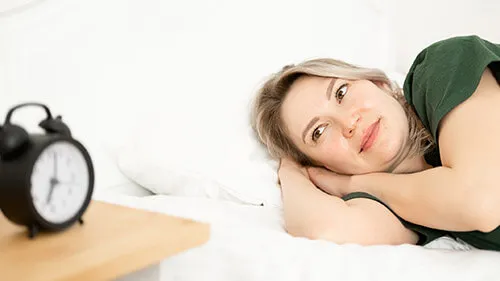 Qualities That Make a Good Polysomnographic Technologist
What Are The Duties of a Polysomnographic Technologist?
What Does a Polysomnographic Technologist Do
Polysomnographic technologists conduct multiple tests and support patients during sleep studies. During this process, polysomnographic technologists induct patients, answer questions they may have, and explain the procedures that will be administered. Then, you'll hook up any instruments or sensors, including polysomnographs, capnographs, positive airway pressure devices, and more1.
Once the patients are asleep, with sensors on the head, chest, face, stomach, and legs, polysomnographic technologists monitor them during the sleep study. While observing the patients, you'll also collect data and take detailed notes for each patient's sleep study log, noting:
Movement
Position changes
Disturbances
Snoring
Stages of sleep
Other sleep irregularities
In rare instances, polysomnographic technologists are also responsible for responding to critical events during a sleep study, such as seizures, breathing distress, or sleepwalking.
Overall, polysomnographic technologists' job responsibilities include the following:
Taking care of the sleep monitoring equipment and ensuring proper calibration
Explaining procedures to patients before and after the sleep study and answering any of their questions
Connecting sensors to patients before the study and removing them afterward
Recording and monitoring the information produced by the equipment
Taking observation notes and recording them in a sleep log
Analyzing and scoring the sleep study
Collaborating with the doctor or sleep specialist regarding the results of the sleep study
Helping patients understand how to implement the doctor's recommended treatment best
Where Do Polysomnographic Technologists Work?
Polysomnographic technologists typically work at sleep centers in clinics, hospitals, private physician's clinics of a doctor specializing in sleep disorders, or in a patient's home.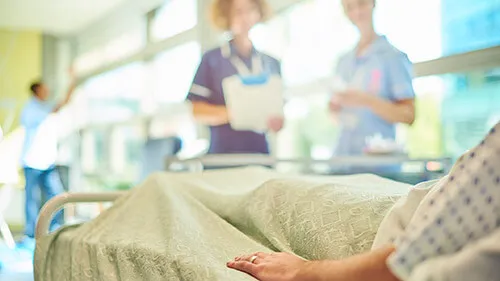 How a Polysomnographic Technologist Helps Patients
How To Become a Polysomnographic Technologist
You'll need certain skills and educational requirements to become a polysomnographic technologist. Some employers may hire a polysomnographic technologist based on your previous experience as a polysomnographic assistant or in another related position. Still, most employers require prospective polysomnographic technologists to have at least a 1-year program in polysomnographic studies.
Skills and Abilities You Need to Become a Polysomnographic Technologist
Polysomnographic technologists have a specific yet vital job in helping those with sleep issues and, as a result, must have a particular set of skills. These abilities include2:
Sleep technologists must have refined communication skills. During shifts, polysomnographic technologists are responsible for communicating with both patients and other health care professionals. This communication with patients is especially essential, as sleep technologists must effectively communicate the steps involved in a sleep study, information about various sleep disorders, and guidelines regarding their treatment and care plans.
Like any health care role, polysomnographic technologists need specific technical knowledge and expertise. Sleep technologists must maintain strict standards and protocols for specialized equipment used during a sleep study.
Polysomnographic technologists must have empathy for their patients to communicate with them effectively. Part of this communication will include recognizing a patient's specific situation and attempting to understand their perspective.
After all, patients with sleeping issues may experience fatigue, irritability, and other cognitive issues that may impair their thinking. So, polysomnographic technologists need to understand this and be considerate of what the patient is experiencing. This empathy will help polysomnographic technologists maximize patient comfort during their sleep study.
Sleep technologists need to have excellent attention to detail. During a sleep study, polysomnographic technologists take in-depth notes to help the doctor and other health care professionals diagnose a patient. Consequently, it's vital that a polysomnographic technologist can stay focused and maintain accurate patient records.
As mentioned above, polysomnographic technologists must develop the emotional intelligence to relate to and comfort patients. These interpersonal skills are necessary to help patients relax enough to sleep with the sensors on them, which can be a challenge, especially for those who already have sleeping issues — like those who need a sleep study.
While some sleep studies happen during the day, most are at night. So, prospective polysomnographic technologists must be comfortable working at night. Similarly, sleep technologists also need the ability to work long shifts while spending a lot of time on their feet.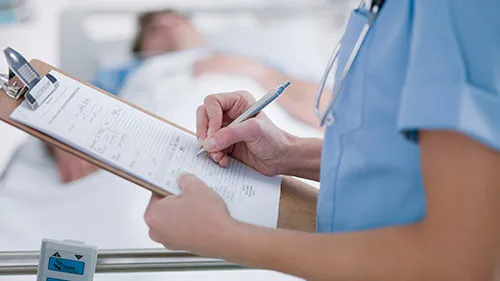 What a Polysomnographic Technologist Does at Work
Educational Requirements You Need to Become a Polysomnographic Technologist
As mentioned, most employers require prospective polysomnographic technologists to complete at least a polysomnographic studies program which typically takes a year. At Concorde Career Colleges, we provide an excellent Polysomnographic Technology diploma program. This program helps prepare graduates using hands-on clinical learning experiences. You can earn your diploma and complete the polysomnographic technology program at Concorde in as little as eight months.
After completing your Polysomnographic Technologist program, you must also obtain a basic life support certification. This certification gives you the knowledge and training to recognize and respond quickly to symptoms of cardiac arrest. Additionally, students must pass the Registered Polysomnographic Technologist (RPSGT) exam offered through the Board of Registered Polysomnographic Technologists (BRPT) to receive licensing. Concorde designs the polysomnographic technology diploma program to prepare students for this very exam.
What Are the Differences Between a Polysomnographic Technologist and a Sleep Therapist?
Sleep therapists differ from sleep technologists in how they seek to provide aid to those with sleeping issues. Where polysomnographic therapists specialize in researching and studying sleep issues, sleep therapists review conditions and provide patients with a comprehensive care plan that typically includes patients' mental and physical health. These care plans are typically created using the tests and analyses done by a polysomnographic technologist.
What's the Job Outlook for Polysomnographic Technologists?
There is a growing demand for sleep aids and devices. Consequently, according to Arizton, the business surrounding sleep will reach a global market size of $137.16 billion. That's why the job outlook for polysomnographic technologists is positive and on the rise. This outlook is especially true for larger cities with a higher number of residents with sleeping disorders. Zippia projects that between 2016 and 2028, the number of jobs for polysomnographic technologists will grow approximately 9% and produce 23,000 more job opportunities across the country3.
Become a Polysomnographic Technologist at Concorde
Are you ready to learn more about how you can become a polysomnographic technologist through Concorde's Polysomnographic Technology program? This program gives students plenty of hands-on experience so they can enter the field prepared and confident. If you're ready to positively impact those who suffer from sleep disorders in your community, find out about our requirements and opportunities for becoming a Registered Polysomnographic Technologist by contacting Concorde's Admissions office today.
---
Footnotes
1. "How Can I Become a Registered Polysomnographic Technologist?" Learn.org
https://learn.org/articles/How_Can_I_Become_a_Registered_Polysomnographer_Technologist.html
2. "How to Become a Polysomnographic Technologist (With Skills)," Indeed
https://ca.indeed.com/career-advice/finding-a-job/how-to-become-polysomnographic-technologist
3. "How to Become a Registered Polysomnographic Technologist," Zippia
https://www.zippia.com/registered-polysomnographic-technologist-jobs/how-to-become-a-registered-polysomnographic-technologist/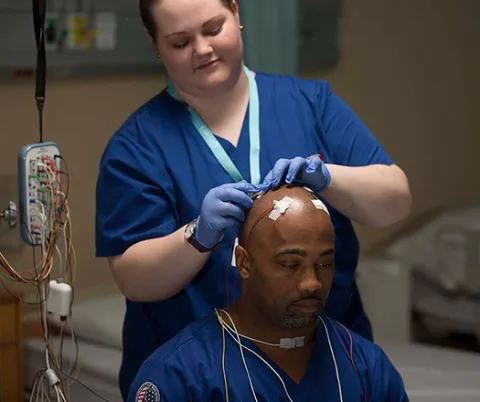 Next Steps?
Interested in learning more about our Polysomnographic Technology program? We have a Concorde representative ready to talk about what matters most to you. Get answers about start dates, curriculum, financial aid, scholarships and more!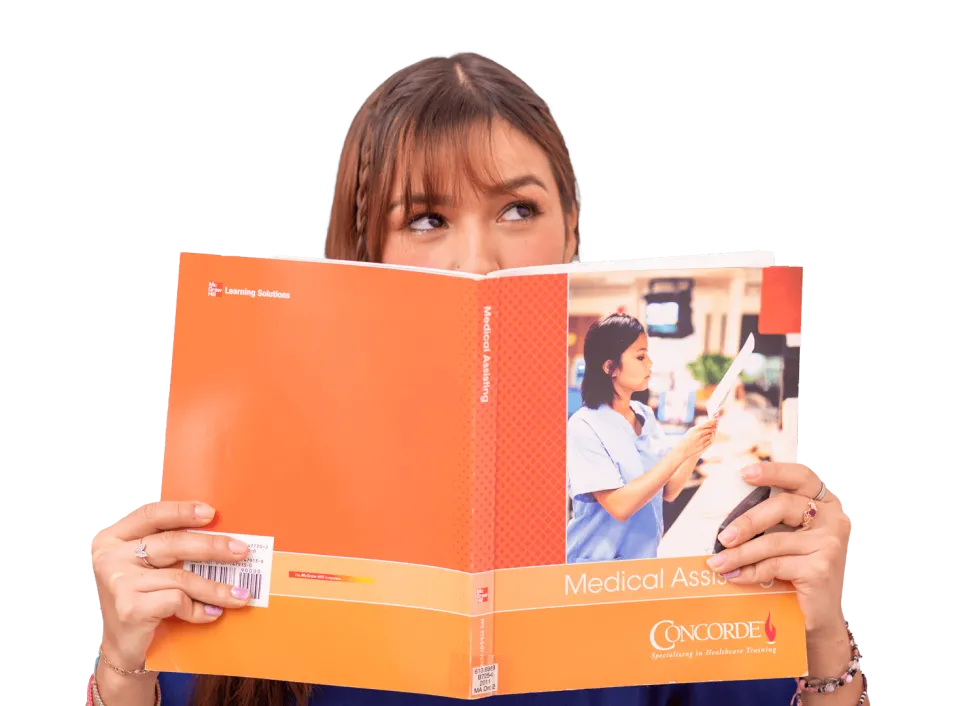 Are You College Ready?
How you think and what you love about life might give you important insights about your college readiness. Our NEW College Readiness Quiz provides instant feedback with your results. Click the button to get started!
START THE QUIZ