Updated September 30, 2020. The information contained in this blog is current and accurate as of this date.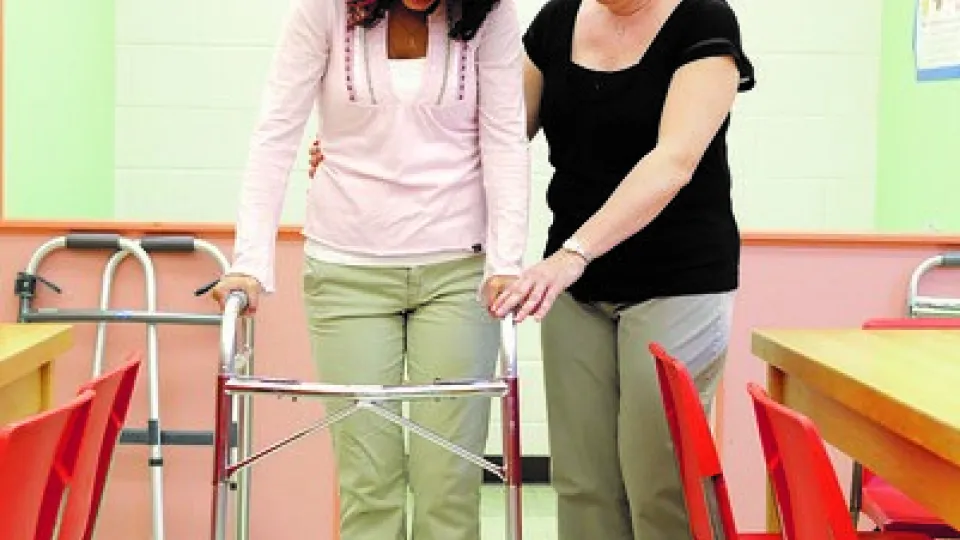 Occupational therapists and occupational therapy assistants work with patients who are experiencing emotional, social, and physiological effects after an injury. However, many OTs and OTAs also work with individuals who have mental illnesses and developmental and cognitive disorders.
Occupational therapy can be highly beneficial as part of a treatment plan for patients with mental illness or developmental disorders because it can help them improve their social interactions, behavior, and work and academic performance.
What Is Occupational Therapy?
Occupational therapy is a health care branch that helps people with health challenges live their regular lives through the therapeutic use of normal daily activities. This therapy is used to help rehabilitate individuals and enable them to live with a disability, injury, or illness.
Occupational therapists are professionals in the field who work with patients to support and enable them to take part in everyday life activities. Occupational therapy provides a way for people with injuries, developmental disabilities, learning disabilities, cognitive impairments, and mental illnesses to receive supportive and rehabilitative services that promote their well-being and help them get back to their regular routines.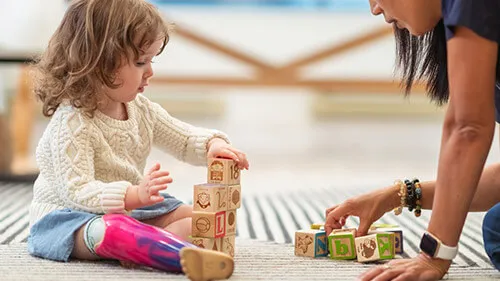 What Does an Occupational Therapy Assistant Do?
Occupational therapists and occupational therapy assistants typically work with a range of therapeutic techniques to promote their patients' progress and treatment plans. Additionally, occupational therapy can be used in many different settings, such as physical health care settings, mental illness support services, and even in educational environments.
What Is Occupational Therapy For?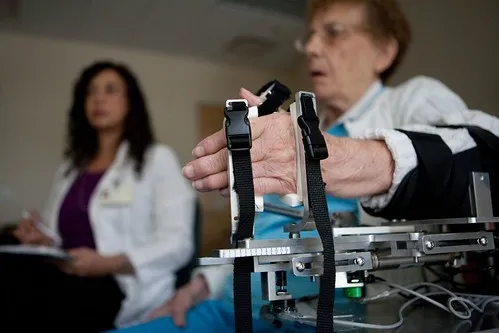 Why Would Someone Need Occupational Therapy?
Occupational therapy is used for a variety of therapeutic functions. First and foremost, this field of health care focuses on rehabilitating individuals who may have physical, cognitive, or mental barriers that prevent them from adequately performing their typical everyday functions.
For instance, a patient suffering from cognitive impairment due to a stroke or another physical injury may work with an occupational therapist to improve their functionality. In therapy, they may work on routine tasks like hygiene and self-care, try doing chores around the home, and even interact socially in community settings. The goal of occupational therapy is to help patients improve their ability to take on and participate in these types of activities.
Occupational therapists and occupational therapy assistants work with individuals of all ages and backgrounds, from childhood and adolescence to adulthood. Additionally, each stage of life will require unique therapy modalities that promote the development and improvement of the individual. Typically, though, occupational therapy that's used to support and improve mental health will focus on areas like physiological and developmental disorders, mental illness, and social-emotional learning dysfunctions.
Occupational therapists and occupational therapy assistants who work with young patients may commonly encounter sensory processing disorders like autism spectrum disorder, behavioral disorders like attention deficit disorder, and mental health illnesses like depression, bipolar disorder, and even post-traumatic stress disorder. No matter the age of the patients, this therapy approach can be used for both physical and cognitive improvement.
How Is Occupational Therapy Beneficial for Mental Illness?
Occupational therapy has many benefits when used for intervention and treatment of mental illness and cognitive disorders. According to the American Occupational Therapy Association (1), occupational therapy has had many positive outcomes for individuals with mental illnesses in various areas, such as education, the workplace, health and wellness, and skill development. In fact, using occupational therapy in conjunction with primary treatment plans for patients with mental illnesses (such as medication or behavioral therapy) can have many lasting benefits, including:
Helping patients live a relatively normal lifestyle by incorporating routine activities and fostering a sense of independence, such as keeping up with personal hygiene, managing medications, maintaining appropriate social and professional interactions, and more.
Encouraging and supporting patients in developing healthy habits that promote health and well-being and are rooted in positive behavior and thinking patterns.
Helping patients develop coping techniques to physically and mentally handle the symptoms of their mental illnesses.
In addition to these immediate benefits, occupational therapy has also become an increasingly regular part of mental illness treatment plans. Especially in the case of extreme disability, occupational therapy continues to be a significant part of the recovery process for many individuals.
Occupational Therapy and ADHD
Occupational therapy for attention deficit hyperactivity disorder can be highly beneficial for both young children and adolescents. Typically, when an occupational therapist or occupational therapy assistant works with a patient with ADHD, they will start the first session with an evaluation. This process usually involves several different approaches to help them learn more about the individual in order to develop an appropriate therapy plan:
An occupational therapist or occupational therapy assistant will commonly look at different areas of an individual's personal life to see how the symptoms of ADHD are affecting them. This can include areas such as school, social interactions, behavior at home, and the individual's strengths and weaknesses.
They may also look at physical characteristics, such as coordination, motor skills, energy levels, and their ability to perform everyday routine tasks.
Cognitive areas play a role as well, and a therapist may also evaluate a patient's cognitive skills, including the ability to focus, manage time, stay organized, and communicate effectively.
When patients with ADHD work with an OT and/or OTA, the therapy sessions often include a range of activities that promote cognitive abilities and coping techniques. Depending on the individual's age, an occupational therapist may use several different methods, such as:
Approaches that help patients improve their focus and attention when completing tasks.
Activities that practice social skills such as conversation skills, listening skills, and nonverbal communication techniques and awareness.
Techniques that encourage patients to stay organized with homework, personal belongings, and other areas of their lives.
Lessons that help them learn new ways to accomplish everyday activities that may otherwise pose a challenge to patients with ADHD.
In some cases, an occupational therapist or occupational therapy assistant may work with patients with ADHD who also have a sensory processing disorder (SPD). These SPD patients typically have a tougher time filtering out sights, sounds, textures, smells, and other environmental occurrences than their non-ADHD peers. In cases like these, occupational therapy may then encompass what's known as a sensory integrative therapy to help patients with ADHD and sensory processing issues.
The techniques in sensory therapy aim to help patients reorganize the sensory processing centers in the brain. This form of occupational therapy can include methods like:
Deep pressure and massage.
Repetitive motions, such as a specific exercise.
Touch therapy with textures and hands-on exercises.
Using music and calming sounds to help with sound sensitivity.
Occupational Therapy for Depression
Occupational therapy is also very beneficial for individuals suffering from depression. From a therapeutic standpoint, depression can become debilitating, as many sufferers generally lose the drive or desire to participate in everyday activities. Additionally, severe depression can cause many physical symptoms, including:
Low energy or excessive fatigue.
Significant changes in appetite.
Headaches or migraines.
Changes in sleeping patterns, either sleeping excessively or hardly at all.
There are many other symptoms of depression that can manifest physically, and occupational therapy is an approach that can help individuals suffering from these symptoms.
One strategy occupational therapists and occupational therapy assistants take is to assess an individual's life roles and meaningful relationships so that they can help them adapt to these responsibilities. This way, the patient will have the opportunity to take part in their normal activities and have a sense of accomplishment when doing so.
When used for depression, occupational therapy often focuses on aspects of an individual's life that are most affected by their symptoms. For instance, a patient who has trouble getting to school or work on time due to fatigue or a lack of drive may use occupational therapy techniques to help them overcome those symptoms.
Occupational therapists and occupational therapy assistants may also help patients develop a plan to rebuild their self-esteem and self-identity by looking at areas of their lives where choices they make have affected their self-esteem. In this sense, the therapy plan might involve finding ways to restructure daily activities in order to encourage better habits and choices.
Occupational Therapy and Bipolar Disorder
Bipolar disorder is a mood disorder that is generally characterized by cycles and levels of depressive and manic episodes. These levels of mania (a euphoric state) and depression can vary dramatically from person to person. However, bipolar disorder is still challenging for any individual trying to cope with it. Occupational therapy is often used to approach both cycles of the disorder to support and help patients improve their quality of life, reorganize their responsibilities and priorities, cope with symptoms, and much more.
Commonly, occupational therapy for bipolar disorder focuses on how the cycles of depression and mania affect an individual's life and well-being. For instance, an occupational therapist can support a patient by helping them improve their ability to perform meaningful everyday activities. One way they do this is by applying their patient's strengths to set goals for improvement.
Occupational therapists and occupational therapy assistants can also help individuals with bipolar disorder by working on their cognitive function, such as communication and thinking patterns, and executive function, such as organization and self-control. Here are several other approaches and methodologies an occupational therapist or occupational therapy assistant may use when working with someone who has bipolar disorder:
Grading: In this approach, an occupational therapist will create gradual changes in an activity's level of demand or difficulty, which allows patients to improve or learn new skills that they need to reach their specific therapy goals.
Role-play: Occupational therapists may use role-play techniques to help patients with bipolar disorder improve various aspects of their approach to social situations. For instance, this method can be used in anxiety management, where patients with this disorder can gain a better understanding of specific triggers or issues they may have in order to overcome them.
Cognitive Behavioral Therapy (CBT): While CBT isn't always associated with occupational therapy, it is a highly effective approach for individuals with bipolar disorder. With CBT, an occupational therapist may use different methods, such as self-monitoring techniques, that will help individuals learn to recognize and cope with symptoms of their disorder.
These are just a few of the many techniques that an occupational therapist may use when working with individuals with bipolar disorder.
Occupational Therapies for Autism Spectrum Disorders
In addition to mental illnesses, occupational therapy has also been a highly beneficial means of treatment and support for individuals with autism spectrum disorders. Typically, autism is detected in childhood, and many children who have autism will have some form of behavioral and occupational therapy plan to help them and their families cope and learn how to manage the symptoms that come with the disorder.
An individual who has autism spectrum disorder will most often have challenges with communicating and interacting with others, taking an interest in things, performing activities, and developing skills. Therefore, occupational therapy can be a highly beneficial treatment approach for helping children and other individuals who have autism develop and strengthen these skills both in school and at home.
When occupational therapy is used as part of ongoing treatment for individuals with an autism spectrum disorder, a therapist may combine various techniques and strategies as part of the overall therapy plan. The therapist then uses these strategies and approaches to help the individual with autism improve their quality of life in school, at work, and at home. Here are some of the basic skills and activities that occupational therapists aim to strengthen in their patients:
Everyday activities, such as dressing, grooming, and other routine tasks.
Fine motor skills for writing, cutting with scissors, and grasping objects.
Gross motor skills for movements like walking, running, or riding a bicycle.
Visual skills like tracking objects and following a marker while reading.
Activities that help patients improve communication, problem-solving, and social skills.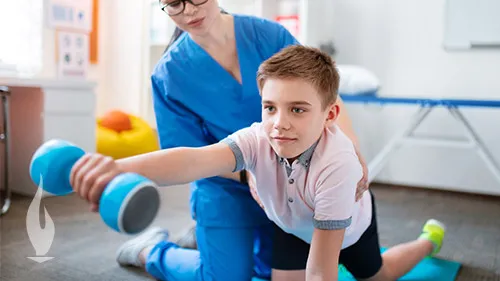 How To Become an Occupational Therapy Assistant
Occupational therapy continues to be a beneficial and effective treatment method for mental illnesses and cognitive disorders. Individuals can experience many positive outcomes when participating in occupational therapy, including developing healthy relationships, improving focus, enhancing the ability to express feelings, and getting a better understanding of self-regulation. With occupational therapy as part of an ongoing treatment, many people can find healthier ways to cope with their mental illness while improving their quality of life.
---
Footnotes
(1) "Occupational Therapy and Depression: Reconstructing Lives," American Occupational Therapy Association, https://www.aota.org/About-Occupational Therapy/Professionals/MH/Articles/Depression.aspx
(2) "Image," pennstatenews, https://www.flickr.com/photos/pennstatelive/15022659267/sizes/m/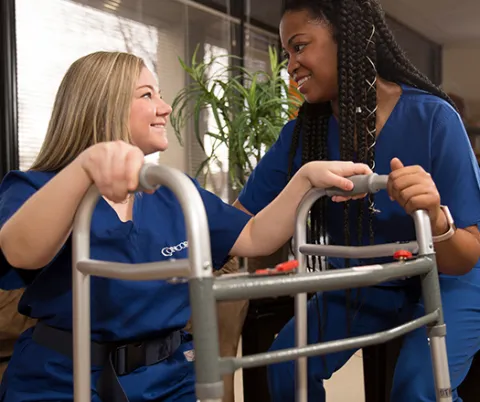 Next Steps?
Interested in learning more about our Occupational Therapy Assistant program? We have a Concorde representative ready to talk about what matters most to you. Get answers about start dates, curriculum, financial aid, scholarships and more!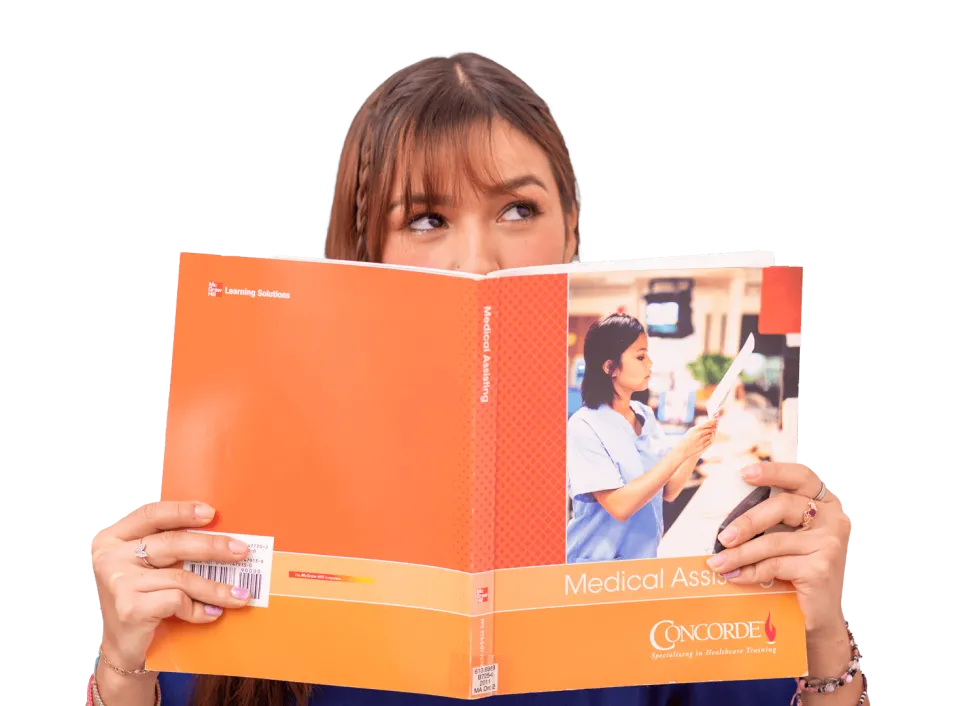 Are You College Ready?
How you think and what you love about life might give you important insights about your college readiness. Our NEW College Readiness Quiz provides instant feedback with your results. Click the button to get started!
START THE QUIZ