Updated January 12, 2023. The information contained in this blog is current and accurate as of this date.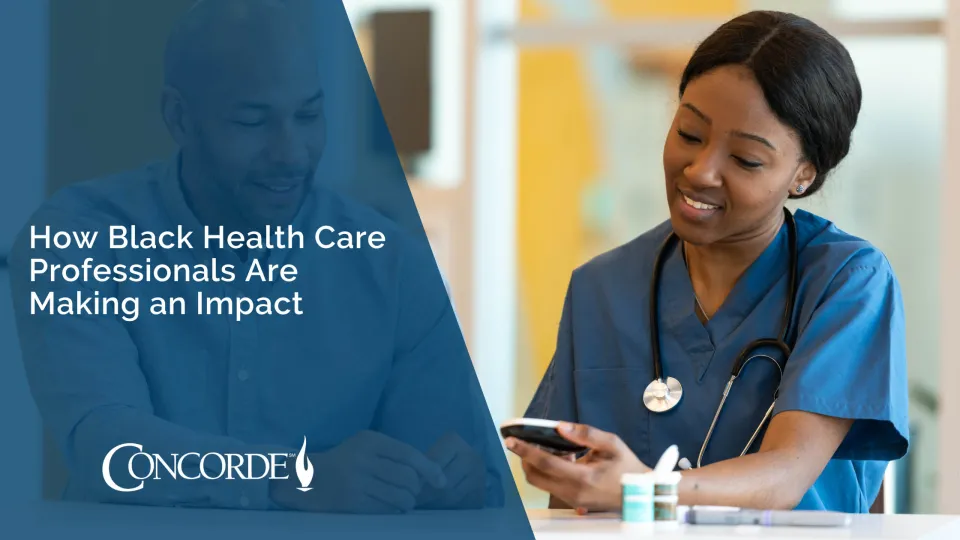 Professional associations operate in just about every sector, providing opportunities for interaction, development, and education for their members. The value of professional organizations can be particularly important to health care professionals, for whom continuing education and networking are essential components of the work. Among Black health care practitioners, professional associations also commonly serve a community role by advocating for representation in the various medical fields and educating the population about services historically denied them.
With that in mind, let's consider some professional associations for Black health care professionals, how they support their members, and what they do to serve their communities.
National Black Nurses Association
The nonprofit National Black Nurses Association (NBNA) (1) was founded in 1971 with the mission of representing Black nurses and ensuring access to quality health care for people of color. For aspiring nurses, the NBNA provides annual scholarships to foster professional inclusion in the nursing profession. For current nurses, the association conducts regular continuing education programs that keep professionals up-to-date on both the advances in the field and the licensing requirements of its practitioners.
On a broader level, the NBNA works closely with organizations in the private and public sectors to improve the health outcomes of patients in general and minority consumers in particular. Association members operate in both micro- and macro-level environments to achieve this goal. Members function as change agents in their places of employment to create health care settings that better accommodate minority groups, while also working to influence national policies that affect Black communities.
The association also actively recruits and supports aspiring Black nurses to ensure ongoing representation in the profession. There are many advantages of NBNA membership, as members have access to resources for learning, career advancement, conference registration, international networking, leadership, and support. Prospective individuals — including nursing school students — can apply for membership online. Numerous membership options are available, including a $2,000 lifetime membership. Once registered, members can start local chapters of the NBNA as well, so they can more directly serve the communities in which they live and work.
National Dental Hygienists' Association
Initially founded in 1932, the National Dental Hygienists' Association (NDHA) (2) is a 501(c)3 nonprofit organization dedicated to increasing Black representation among dental hygienists and helping members of underserved communities to obtain access to oral health care. The NDHA is a small but influential professional association that specifically serves African and African American minorities through resources, scholarships, and development opportunities.
The NDHA strives to realize the first part of its mission by providing Black dental hygienists with opportunities for development and advancement, promoting high standards of care and learning, advocating for membership among underrepresented groups, and raising awareness of the profession in general. Concerning the second part, it actively educates the public about dental hygiene, disseminates relevant information, and influences policy to make it easier for individuals to find and receive the care they need.
There are a couple of ways that individuals can get involved with the NDHA. One, of course, is through membership. Annual membership costs $175 for active professionals, $75 for retired professionals, and nothing for students enrolled in a dental program. One can also support the association financially via its various conventions and fundraising events. Information concerning both routes of support is available on the NDHA payment portal page (3).
National Association of Black Physical Therapists
The National Association of Black Physical Therapists (NABPT) (4) is a nonprofit organization devoted to creating opportunities for Black professionals in the field of physical therapy. Currently, the association has over 500 members across 10 established chapters, with eight additional chapters in development.
The NABPT's mission involves numerous goals serving both its members and communities. They include:
Promoting the field of physical therapy to aspirants within Black communities.
Maintaining a national directory of Black physical therapists to facilitate networking, referrals, mentorship, and community service.
Fostering career development via continuing education, leadership training, and research opportunities.
Counteracting health disparities affecting Black communities.
Helping Black communities access physical therapy services.
The NABPT supports its goals by coordinating regular professional events, raising and distributing scholarship funds, and performing service activities within specific chapters. To date, the association has raised over $20,000 in scholarships, helping aspiring physical therapists to realize their professional goals.
Individuals and organizations can support the NABPT through membership dues. The association offers multiple levels of membership — for current physical therapists and physical therapist assistants, for current and prospective students of physical therapy, and for institutions. Members can start their own chapters upon meeting specific criteria. The NABPT also accepts donations. Interested donors can use the association's donations page (5) to provide financial support.
Association of Black Cardiologists
In 1974, Dr. Richard Allen Williams and 17 other medical professionals founded the Association of Black Cardiologists (ABC) (6) to direct much-needed attention to the impact of cardiovascular disease on Black communities. Today, the ABC has an international membership exceeding 2,000 across various sectors, health care and otherwise. Together, they strive toward the association's mission of eliminating the disparities associated with treatment for cardiovascular disease among people of color.
The ABC carries out a diverse range of activities related to its goals. In addition to regular fundraisers and galas, the association works on establishing leaders to promote a national agenda, increasing awareness of cardiovascular disease to reduce prevalence, and funding programs through an endowment. For medical students in particular, the ABC provides several scholarships and awards. It also educates the public about a range of public health issues in an ongoing effort to improve health care literacy and save lives.
To get involved with the ABC, one can apply to become a member or sign up for one of its numerous committees. It also has a need for volunteers for short-term projects in myriad functional areas.
National Medical Association
The National Medical Association (NMA) (7) is a broad-scope professional and scientific organization that represents both Black physicians and their patients. Its mission is to establish parity in the medical field as well as to eliminate disparities in health care delivery. Namely, the association aims to improve health quality among minority groups via advocacy, community health education, research, partnerships in the public and private sectors, and the ongoing development of NMA members. Though its mission specifies minority communities, the NMA aims to serve all groups regardless of ethnicity. Throughout its history, the NMA has carried out numerous community-oriented activities to enrich health awareness and improve public health policy. For example, it conducts multiple national consumer education programs on issues that impact the lives of its target patients, such as cardiovascular disease, HIV/AIDS, women's health, asthma, and immunization. The association was also a driving force behind the monumental health care reforms of Medicare and Medicaid. Moreover, the NMA has devoted itself to increasing Black representation in the medical field by providing generous scholarships to Black medical students.
Both professionals and non-professionals can get involved with the NMA. One may join as:
An active physician. An emeritus member.
A non-physician associate.
A non-physician non-member.
A postgraduate member.
A student.
A physician non-member.
The benefits of joining the NMA include discounts on continuing education, access to journal and electronic resources, and the use of a physician locator service. One also gains voting representation in the NMA House of Delegates, the association's legislative body responsible for establishing policies concerning a broad range of topics. This legislative power allows individuals to decide on issues affecting both physicians and patients, thus allowing them to influence their communities more directly.
National Association of Health Services Executives
The National Association of Health Services Executives (NAHSE) (8) distinguishes itself from others on this list as its target audiences aren't specific practitioners. Rather, its members consist of professionals in health services administration and executives responsible for health care delivery. The purpose of the NAHSE is to develop, establish, and advance Black leaders in the health care industry, as well as to improve the quality of services available to minority communities.
To achieve its dual purpose, the association strives to increase minority participation in the industry, maintain an influential presence to ensure input in health care systems, and function as a vehicle for Black leaders to help design and direct health care delivery. Specific activities in service of its mission include but aren't limited to:
Professional programs and workshops.
Educational programs.
A mentoring program.
A job bank.
Scholarships and fellowships.
Community service projects.
The NAHSE has chapters in over 25 metropolitan areas in all four major regions of the United States. To become a member, an individual or organization must be or aspire to be involved in health services administration to some degree — such as through legislation, consultation, planning, publication, or teaching. Moreover, their intentions for membership must not be solely for personal gain. Four types of membership are available — retiree, personal/associate, student, and early careerist — with a unique price point for each. For those enrolled in an allied health program for health care administration, the cost is just $50.
As a health care professional, you can serve your patients with more than just medical treatment. If you're interested in joining a professional association to advance both your career and your community, we can point you to resources that can help you find your way. Whether you're a prospective student, current student, or alumnus, get in touch with your local Concorde campus to discover opportunities near you.
---
Footnotes
(1) National Black Nurses Association Home Page, National Black Nurses Association Inc., https://www.nbna.org/
(2) National Dental Hygienists' Association Home Page, National Dental Hygienists' Association, https://www.ndhaonline.org/
(3) "NDHA Pay Online," National Dental Hygienists' Association, https://www.ndhaonline.org/ndha-online
(4) National Association of Black Physical Therapists Home Page, National Association of Black Physical Therapists Inc., https://nabpt.org/
(5) "Donate," National Association of Black Physical Therapists Inc., https://nabpt.org/donate/
(6) Association of Black Cardiologists Home Page, Association of Black Cardiologists Inc., https://abcardio.org/
(7) National Medical Association Home Page, National Medical Association, https://www.nmanet.org/default.aspx
(8) National Association of Health Services Executives Home Page, National Association of Health Services Executives, https://www.nahse.org/
Are You College Ready?
How you think and what you love about life might give you important insights about your college readiness. Our NEW College Readiness Quiz provides instant feedback with your results. Click the button to get started!