Updated October 27, 2021. The information contained in this blog is current and accurate as of this date.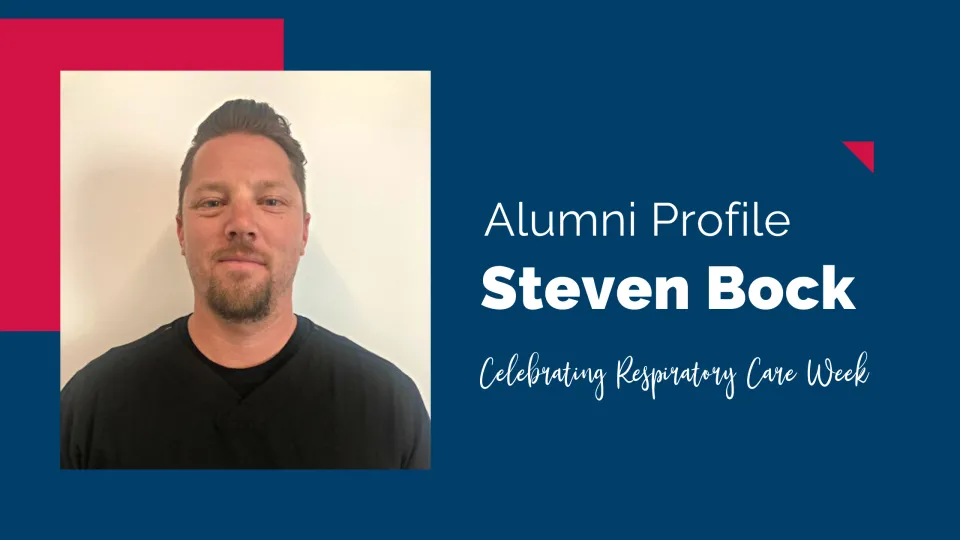 When Steven Bock worked as a paramedic, he provided a variety of advanced emergency medical care, including cliff and beach rescues in Ventura County, California.
One part of the job he enjoyed the most was assisting with respiratory issues. When he decided to pursue a new career in the medical field, he chose respiratory therapy.
"As a paramedic you run into such a variety of emergencies," he said. "For some reason respiratory was the one that was always more challenging. You have to sit back and think about what you're doing but move with a purpose. It causes you to think outside the box – why is this person not breathing."
He started as a paramedic after graduating high school. "As a paramedic you do everything from treating a person who does not feel well and wants go to the hospital to full-blown intubation," he said. "The field gives you a broad range of capabilities."
He spent seven years in the field then worked in business management for a few years. In 2019, he started studying respiratory therapy at Concorde's North Hollywood campus.
Bock liked that the campus was near his home and that Concorde partnered with area hospitals.
"They have connections with multiple hospitals in the greater Los Angeles area and that's a great thing," he said.
It wasn't easy to attend school and juggle online studies with in-classroom and clinical work, but Concorde instructors were readily available to answer questions and provide support, Bock said.
His hard work paid off, especially during clinicals.
"When I was in clinicals I was able to see different aspects of the world of respiratory therapy," he said. "That's what I was going after."
After graduation in the spring of 2021, he secured two jobs – full-time at Children's Hospital Los Angeles and part-time/per diem at Los Robles Regional Medical Center in Thousand Oaks.
"People don't quite have an understanding of the role that we play," he said. "When you're talking about ventilators, the management is done by us. If you're in a hospital that relies on respiratory, we're the ones making suggestions to nurses and physicians."
Bock enjoys working with a variety of patients, from newborns to adults. He also is proud to be in a profession that is gaining more recognition for its essential role in treating patients during the COVID-19 pandemic.
"The coronavirus pandemic has thrust respiratory therapy into the spotlight," Bock said.
Are You College Ready?
How you think and what you love about life might give you important insights about your college readiness. Our NEW College Readiness Quiz provides instant feedback with your results. Click the button to get started!