Updated February 8, 2023. The information contained in this blog is current and accurate as of this date.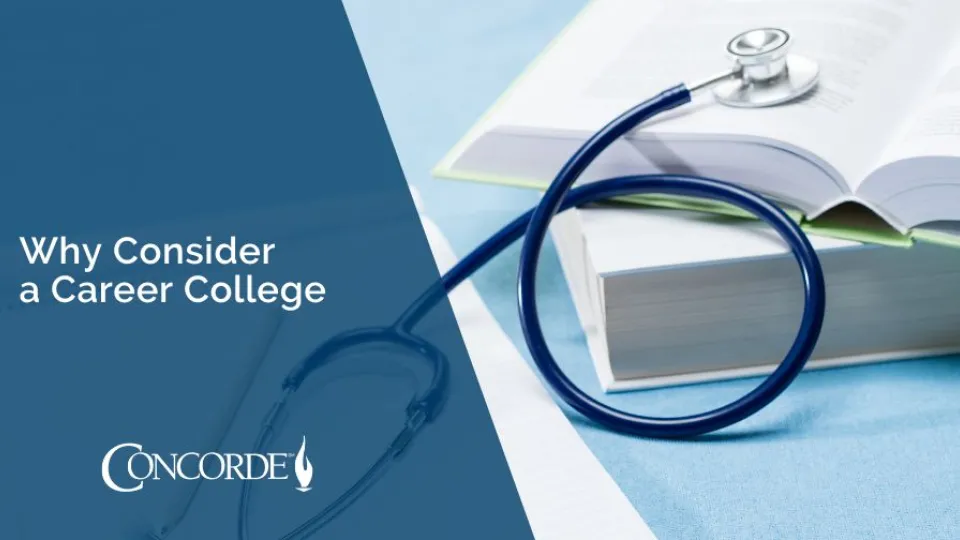 Whether someone is graduating high school or looking to advance in their current career, they might be considering postsecondary education. One of the most traditional routes to professional development is attending a four-year college or a community college. However, these institutions are far from being the only available options. Students attend vocational career colleges for varying reasons, but ultimately all are pursuing education and training with the ultimate goal of obtaining successful employment.
Read on to discover what a career college is and what makes this type of institution unique. We also discuss why someone might choose a career college over a traditional four-year university or community college. Additionally, we give examples of programs you might enroll in and discuss how to find the right career college.
What Is a Career College?
A career college is a private educational institution that offers vocational programs for specialized fields such as health care. These colleges are common alternatives to four-year universities and community colleges, as they offer a shorter amount of time for students to complete their programs and subsequently enter the workforce. Aside from educational and practical experience, a career college program can help students work toward degrees, diplomas, certifications, or other types of professional credentials.
Benefits of a Career College
Here's why someone might choose to attend a career college:
Shorter Completion Time
Four-year universities can be intimidating to people who don't want to spend four years to complete their education. Their families, jobs, and other responsibilities can prevent them from being able to fully commit to a full-time or even part-time schedule. Though community colleges require less commitment and usually only take two years to graduate from, these institutions might also be unappealing to someone who is particularly busy or eager to enter the workforce. One of the biggest advantages of a career college is shorter average completion times when compared to two and four year schools. Some programs, such as the Massage Therapy Diploma program at Concorde, make it possible for students to graduate in less than a year, keeping in mind that licensure or certification must still be obtained following program completion.
Flexibility
Another significant benefit of attending a career college is the flexibility. Many programs allow students to earn degrees, diplomas, and certifications on their own schedules. Here at Concorde, our mix of in-person lab classes, online coursework, and clinical experiences allow students to manage other responsibilities while advancing their education. Whether someone has to work or care for their family as they attend school, they're likely to find a career college with flexible options. Note that this flexibility also caters to each student's unique learning style. For instance, one student might appreciate the independent environment of online classes that allows them to learn at their own pace. A student who wants more guidance might appreciate the structure and collaboration of an in-person class. Of course, a mix of these experiences is often the ideal way for students to obtain a comprehensive education. By combining traditional classroom settings with online coursework and hands-on training, students can build the experience necessary for successful employment.
Better Value
When deciding what type of postsecondary education to pursue, students often prioritize the cost. They want to obtain the least expensive education possible to minimize debt and reap the full benefits of their salary after graduation. After reviewing the initial tuition costs, a community college or four-year university might seem less costly than a career college. However, it's important to consider that a career college packs more coursework into a shorter period of time. A career college program typically runs five full eight hour days per week, whereas the course load at other postsecondary educational institutions is usually around 15 hours per week.
Depending on which four-year university or community college you're comparing it to, a career college often provides similar value. Students may be able to make their career college education more affordable by applying for student loans, grants, scholarships, and other types of funding. Note that your current financial situation and other factors will determine whether you qualify for financial aid.
Fewer Barriers to Entry
Four-year universities and even community colleges can have competitive admissions processes (1). Students often have to provide proof of participation in extracurricular activities, work experience, or community service to differentiate themselves from other applicants. Many career colleges also have enrollment requirements, such as being at least 18 years old and having a high school diploma or GED equivalent, and most programs require some type of entrance assessment in order to be admitted.
Smaller Class Sizes
Many career colleges have smaller class sizes that allow students to develop more personal relationships with their instructors. Instructors can assess individual strengths and weaknesses to give specific feedback on assignments. This environment helps many students understand what areas they need to work on and make the most of their time in the classroom. Smaller class sizes are also beneficial when it comes to networking with one's peers. It's often easier to get to know classmates, as there are fewer people to choose from when collaborating on assignments or creating study groups. These close relationships can help a student not only as they complete their education but also once they enter the workforce. Knowing other professionals in one's industry makes it easier to stay aware of relevant job opportunities.
Practical Education
While many students attend four-year universities and community colleges to prepare for their careers, they might find that a degree doesn't necessarily open the doors they were hoping for. Those looking for an education involving hands-on learning that prepares them for the workforce should consider a career college. A good program allows students to bypass introductory courses that don't relate to their chosen field and get straight to learning the essentials. Students in these programs also gain practical experience that makes them desirable candidates for full-time positions upon graduation.
Job Placement Services
Because career colleges strive to prepare students forr the workforce, these institutions often provide extensive job placement assistance. They offer services ranging from resume development and interview practice to career boards to help streamline the job hunt after graduation. Most importantly, a career college will work to connect the student with a job that's not only appropriate for their degree but also relevant to their interests and desired lifestyle.
Instruction From Industry Professionals
Career colleges like Concorde employ industry professionals who provide instruction in their field. They also stay up to date on the latest industry trends to ensure they provide relevant education. Their hands-on experience helps students understand exactly what to expect when they enter the workforce themselves.
Examples of Career College Programs
Yet another benefit of attending a career college is the various programs you can pursue. Regardless of one's interests or current career, it's possible to find a specialty that's appropriate for their desired professional path. Here at Concorde, we offer various health care programs that prepare students to enter the workforce of health care professionals. Here are just a few examples of the types of programs we offer:
Nursing Programs
Basic nursing programs at Concorde prepare students to earn registered nursing licensure. This program makes it possible to earn an Associate of Applied Science in nursing in as few as 21 months and a corresponding bachelor's in as little as 29 months. We also have programs to prepare students to become a licensed practical nurse or licensed vocational nurse. Additionally, registered nurses may be able to transfer credits from their associate degrees in nursing to earn a bachelor's degree.
Dental Programs
Some students enroll at Concorde for our Dental Assistant diploma and associate programs. This educational path gives students the opportunity to learn how to update patient records, sterilize instruments, and assist dentists during procedures. The curriculum exposes students to everything from foundational anatomy and physiology concepts to various dental specialties in as few as nine months. Another dental program is the Dental Hygiene Associate Degree program which takes as few as 18 months to complete, depending on campus location. Students prepare for careers that require them to clean teeth, examine patients for oral diseases, take X-rays, and provide other types of preventive care.
Patient Care Programs
Patient care is a broad field in the health care industry, but all of the services it encompasses are essential to medical institutions. Most professionals in this field directly interact with patients to diagnose them and develop treatment plans. For instance, Concorde offers a Massage Therapy Diploma program that focuses on the manipulation of body tissues to relieve pain, reduce stress, and improve circulation. Other patient care programs you can complete at a career college include:
Allied health professionals often work behind the scenes in the health care industry but are crucial to ensuring that medical teams provide patients with the care they need. Students at Concorde can use our programs to prepare for careers such as sterile processing technicians, phlebotomists, pharmacy technicians, and medical assistants. Those interested in the administrative side of the health care industry might find our Medical Office Professional and Health Care Administration programs intriguing.
Diagnostic Programs
Diagnostic professionals specialize in using imaging equipment to support providers, surgeons, and other medical professionals. Concorde students can choose a field that interests them, as we have options ranging from medical sonography and cardiovascular sonography to neurodiagnostic technology. We also have a Radiologic Technology Associate Degree program one can complete in as little as 21 months.
Continuing Education
Those who want to advance their careers often enroll in our continuing education programs. These certificates help professionals maintain their credentials and might even provide opportunities for career advancement. Certificates are available to professionals ranging from sterile processing technicians and pharmacy technicians to EKG technicians.
How To Choose the Right Career College
Choosing the right career college is essential for students to receive education and career preparation that could lead to successful employment. One of the most important things to consider is the institution's credentials. For instance, Concorde is accredited by the Accrediting Commission of Career Schools and Colleges (2) and the Council on Occupational Education (3). Other considerations students make when determining which career college to attend include:
Availability of financial aid
Flexibility of payment schedules
Flexibility of classes in terms of scheduling and learning styles
Availability of services like career counseling
Qualifications of instructors
Of course, it's also important for students to research the career college's available programs. Choosing the ideal program is essential to maximizing your educational experience and preparing for a future career. Those who are unsure which program is suits their needs can participate in volunteer opportunities, talk to professionals, and compare career options with their desired lifestyle.
As this article has demonstrated, a career college is more than just an alternative to a four-year university or community college. This type of institution comes with advantages, including providing hands-on instruction in a chosen field and the ability to complete a program in less time than a four year institution.
By building practical skills and obtaining hands-on training, students can find it more efficient to get jobs after graduation or advance in their current careers. If you're interested in attending vocational career college, contact Concorde today. We can help you decide which program is right for you and even guide you through the financial aid process.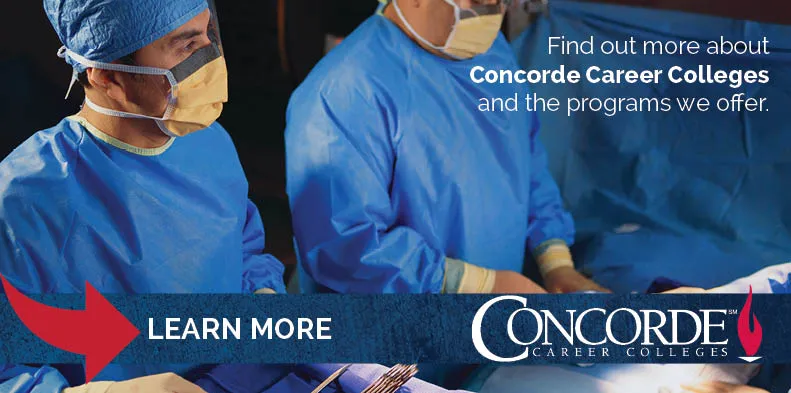 ---
Footnotes
"College Applications Are on the Rise: What to Know," U.S. News, https://www.usnews.com/education/best-colleges/articles/college-applications-are-on-the-rise-what-to-know

"About Us," Accrediting Commission of Career Schools and Colleges, https://www.accsc.org/About-Us/index.aspx

"Seeking Accreditation With the Council on Occupational Education," Council on Occupational Education, https://council.org/achieving-accreditation/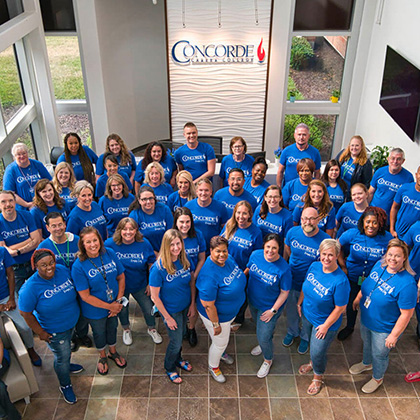 Next Steps?
We have a Concorde representative ready to talk about what matters most to you. Get answers about start dates, curriculum, financial aid, scholarships and more!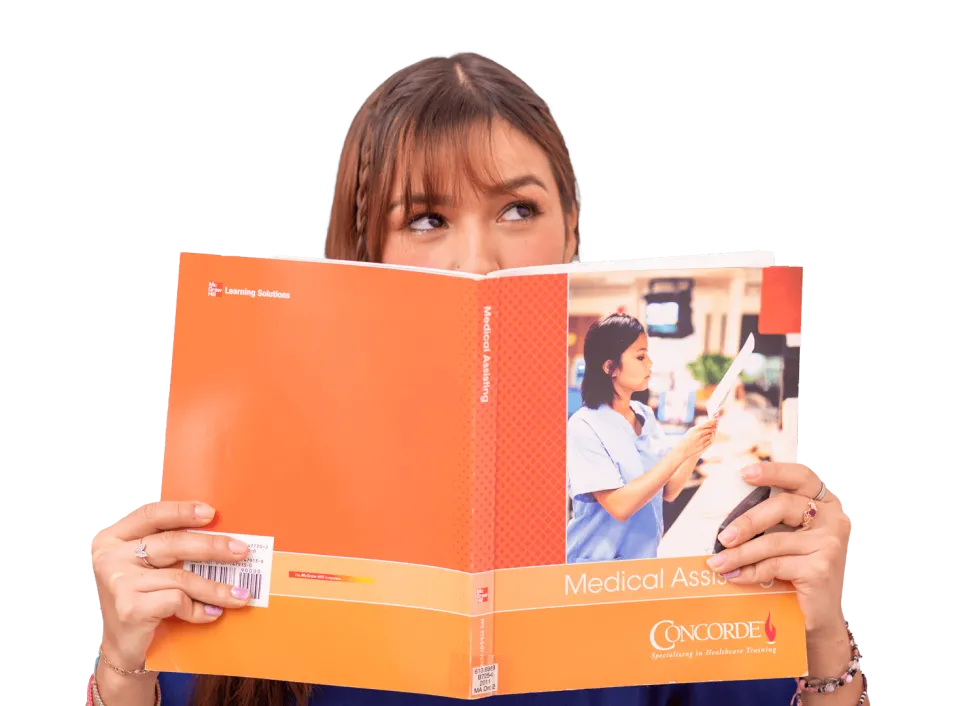 Are You College Ready?
How you think and what you love about life might give you important insights about your college readiness. Our NEW College Readiness Quiz provides instant feedback with your results. Click the button to get started!
START THE QUIZ