Updated January 23, 2023. The information contained in this blog is current and accurate as of this date.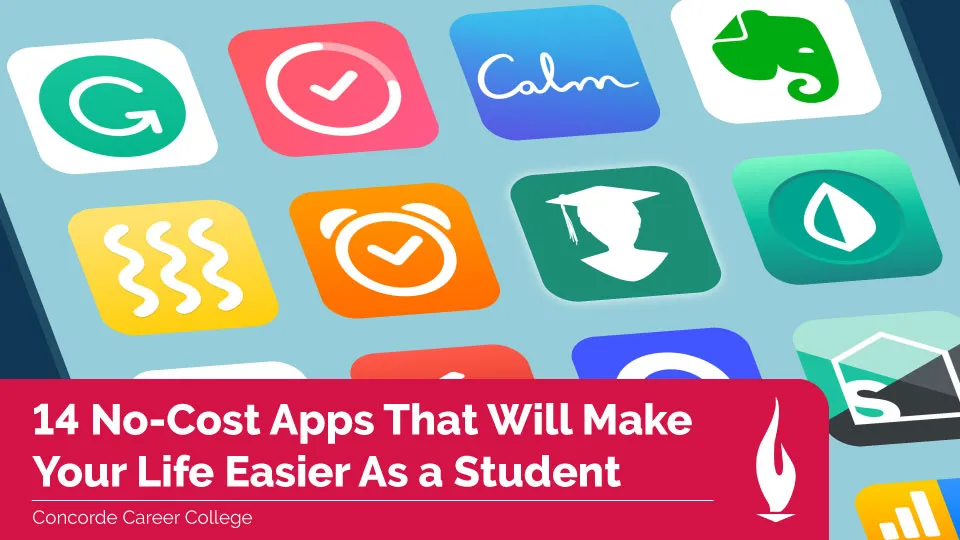 With an almost endless number of web and mobile applications available, it can be overwhelming to find the right apps to suit your needs as a student. We've put together this list of 14 no cost apps that will make your life as a student easier. These apps can help you manage varying aspects of your life so you can feel organized, confident, and in control both inside the classroom and out.
Our list includes some of the most popular and easy-to-use no cost apps to help you with coursework, time management, health and wellness, and budgeting. Here are 14 helpful no cost apps for students.
Study and Writing Apps
Staying on top of your studying is key to excelling at school. These apps can help you build good study habits (1), improve your writing, organize your notes, and even make it easier to study on the go.
Quizlet is a flashcard app. It makes it easy to study on the go because you can access your flashcards on your mobile device. This means you won't need to keep up with physical note cards, and you can easily access your study materials on your phone whether you're waiting in line at the grocery store checkout or lounging in bed. You can either create your own flashcards with the app or access the flashcard library to find pre-made decks in your subject of study.
Evernote takes all your physical paperwork and planners and makes them digital. While it's primarily a note-taking app, it offers a variety of tools to help you track coursework, due dates, handouts, and more. You can store pictures from the classroom whiteboard, upload important documents, create calendars, and save webpage resources. Users can also integrate Evernote with Google Drive and Outlook, making it even more convenient to access and use.
Good writing skills are important no matter what you're studying. Grammarly is easy to install as a plugin for your browser. It automatically runs and helps you identify mechanical errors in your writing. Whether you're composing a professional email or writing an essay, Grammarly can improve the quality of your writing with helpful writing tips and grammar suggestions.
StudyBlue is designed for high school and college students who are looking to access study resources. It features a library with over 400 million flashcards that other students have created and shared. Using the app, you can create custom flashcards, access the flashcard library, and share your study materials with others. You can also create and access practice quizzes, set study reminders, and use the progress tracker to monitor your work.
Time Management Apps
As a busy student, it's important to learn how to manage your time (2) well. This means keeping up with coursework, labs, your externship, extracurricular activities, social and family obligations, and your career development. These apps can help you plan your time and balance your schedule.
Abandon paper planners for good with My Study Life. This app includes a calendar function designed with the needs of students in mind. You can input scheduled events, tasks, due dates, and upcoming exam dates to make them easier to track. The dashboard displays your upcoming obligations and notifies you of approaching deadlines.
Todoist is a to-do list management application. It makes it easy to input both recurring and one-time tasks so you can stay on top of your schedule. For example, you can input your class schedule for the semester to make sure you're always on time for your courses. Add appointments to get reminders on your phone and rank your daily tasks by priority. This app helps you tackle your daily to-do list and plan ahead so you can reduce your stress and feel in control of your schedule.
Wellness Apps
Your physical and mental well-being are just as important as your grades (3). Health and wellness apps help you prioritize your well-being so you can stay healthy and function at your best. Check out these applications to improve your stress management, physical activity, nutrition, and sleep.
If you're a busy student, finding time to get active during the day can be challenging. However, caring for your physical health is essential to feeling your best. The Nike Training Club app includes professionally planned exercises, challenges, and training programs. Users can benefit from this app at any level, meaning you don't have to be a professional athlete to find a workout program that suits your lifestyle and fitness needs. The app has options that range from 15-minute cardio routines to hour-long yoga sessions, so you can find an exercise program that fits your schedule.
Looking to build better habits? This app can help you do it. Habit is both a habit tracker and a goal-setting app that helps you become more aware of your daily habits and build new ones that benefit your wellness. Set goals to help you improve your life, whether you want to increase your water intake, build better study habits, socialize more, or start an exercise routine. You can use the app to track your progress, and it provides encouragement by showing your daily streaks.
When you're busy balancing your school, work, and social lives, it can be hard to make cooking a priority. But if your gut and budget can't afford another meal out, Kitchen Stories can help you prepare scratch-made meals using the ingredients you already have on hand. The app allows you to search for recipes based on ingredients that are in your kitchen. It classifies the recipes by prep time, food type, and diet, so you can find recipes that fit your palate and dietary needs. By simplifying the cooking process, this app can motivate you to spend more time in the kitchen.
Getting your sleep patterns under control is important for maintaining your health and wellness. The Sleep Cycle app has many tools and features that help you understand your sleep patterns, know when you're getting good quality sleep, and improve your sleep through tools like smart alarms and sleep stories. This app helps you track your sleeping and can provide you with an analysis that keeps you informed of how much quality sleep you're actually getting. Based on this data, you can use the app's selection of tools to customize your sleep aid experience for your needs.
Stress can have a major impact on just about every part of your life, from your mood and productivity to your health. Downloading an app like Calm can help you reduce your stress, improve your sleep quality, increase your focus, and feel better overall. With this app, you can access guided meditations, relaxation exercises, and even bedtime stories so you can start feeling calmer today.
Budgeting and Finance Apps
Let's face it, managing your budget as a student (4) isn't easy. Whether you're balancing your school life with a job or spending a semester stretching your savings while you finish your externship, budgeting and finance apps can help. Try these apps to track your spending and keep up with your accounts.
Mint allows you to compile all of your accounts into one app, which makes it easy for you to see where your money is and how much you're spending. This intuitive app is easy to use and review, making it convenient for students to get a quick picture of their finances. When you input your financial details into the app, it automatically organizes your data so you can track your spending and set financial goals. With all your financial information in one place, you can get a better idea of your spending habits, which can improve your money management.
If you're looking for an app that's specially designed to help you track your budget, check out CoinKeeper. This is an interactive app that allows you to track your spending by dragging coins between your accounts or into an expense tracker. You can set expense limitations so that the app notifies you when you hit or exceed your limit in a certain expense category. It also has tools to help you with budget planning. If you have kids and need to supervise their spending while keeping up with your own busy schedule, CoinKeeper has a sharing feature for family members.
Do you frequently need to split expenses with others? Then Splitwise may be the app for you. As a student, you may need to split the rent for housing, group project materials, or meals and groceries. Splitwise can help. This app allows you to input expenses and divide them evenly when it's time to settle the bill. The app makes splitting a bill quick, easy, and fair, which can help you avoid awkwardness with your friends and classmates.
Being a student isn't easy, but there are lots of resources available to help you thrive in your academic career. These are just a few of our favorite no cost apps to help you balance your studies with the rest of your busy schedule, but with so many options out there, we encourage you to explore your options and find the best tools for your needs.
---
"Effective Studying Tips for Career Colleges," Concorde Career Colleges, https://www.concorde.edu/blog/effective-studying-tips-career-colleges

"How To Maintain Classwork/Work Balance," Concorde Career Colleges, https://www.concorde.edu/blog/how-maintain-classworkwork-balance

"Why Learning Style, Health, and Balance Are Important for Successful Learning," Concorde Career Colleges, https://www.concorde.edu/blog/why-learning-style-health-and-balance-are-important-successful-learning

"Managing Finance, Stress, and Health as a Student," Concorde Career Colleges, https://www.concorde.edu/blog/managing-finance-stress-and-health-student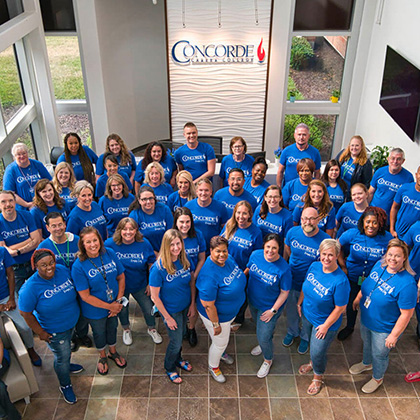 Next Steps?
We have a Concorde representative ready to talk about what matters most to you. Get answers about start dates, curriculum, financial aid, scholarships and more!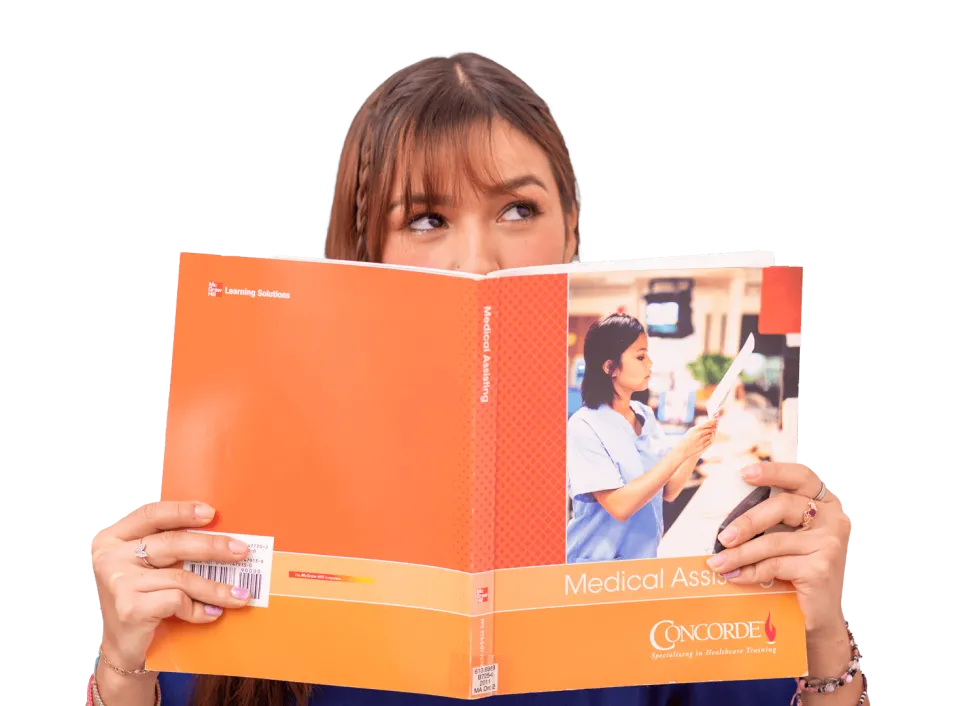 Are You College Ready?
How you think and what you love about life might give you important insights about your college readiness. Our NEW College Readiness Quiz provides instant feedback with your results. Click the button to get started!
START THE QUIZ