Updated July 17, 2023. The information contained in this blog is current and accurate as of this date.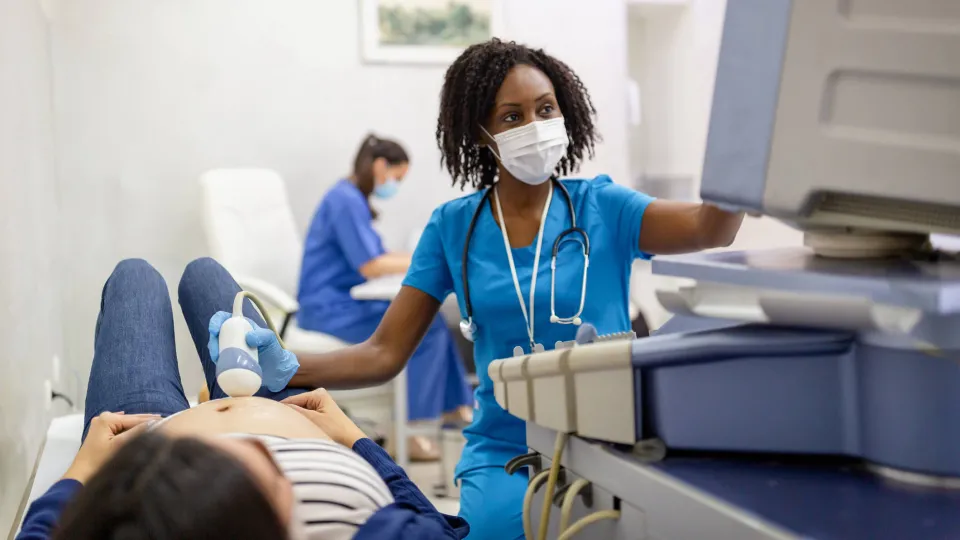 If you're curious about career paths in the health care industry, learning more about working as a sonographer could help illuminate your path. Medical teams trust sonographers to collect various high-quality, comprehensive diagnostic images that physicians and other medical professionals consult to diagnose patients. These highly skilled individuals can enjoy fruitful careers, high pay, and job security. Learning more about this profession and how to become a sonographer is the first step in pursuing your career goals.
What Is a Sonographer?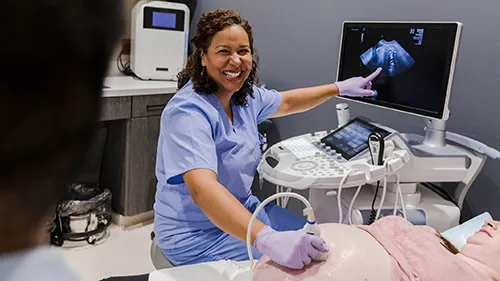 Just What Equipment Do Diagnostic Medical Sonographers Use?
A sonographer is a health care professional who uses ultrasonic imaging equipment to monitor patients' symptoms. They might use these tools to develop images, videos, scans, and reports of diagnostic data that they share with a physician or specialist, who can use this information to build a treatment plan. Sonographers (1) operate equipment like transducers. These transducers use sound waves to generate images. Sonographers may also use ultrasound machines, which might be specific to the organ scanned. 
Some people or organizations might also call sonographers ultrasound technicians.
Types of Sonography Specialties
Sonographers can specialize in a variety of niche areas of health care. Specialized sonographers work with equipment specific to the organ or system they work with, and they typically have refined training or experience working with that organ or system. Sonographers can pursue the following specialties:
Abdominal sonography.
Breast sonography.
Echocardiology.
Gynecological sonography.
Musculoskeletal sonography.
Neurosonography.
Vascular sonography.
Why Become a Sonographer?
A career as a sonographer offers benefits such as:
High earning potential: Because of their specialized skill sets, sonographers can often earn high salaries even when beginning their careers. Consider becoming a sonographer if you're looking for a field with stable pay.
Opportunities to help people: 

Sonographers

help diagnose conditions and guide patients toward treatment.

Sonography could be rewarding if it's important to you to work in a field that allows you to aid others.

In-demand field: Sonography is growing, which might make it easier to find a secure job. According to the U.S. Bureau of Labor Statistics (BLS), sonographer jobs are projected to grow 10% (2) by 2031.
Variety in the workday: Working as a sonographer allows you to work with various people in different health care situations. Many people find the interactive nature of the role and the fact that each day offers unique activity to be an exciting endeavor. (3)
Responsibility in the workplace: Health care organizations typically put a high level of trust in sonographers due to their highly technical background and knowledge. 

Sonography might fit if you seek a career that grants you responsibility, accountability, and agency.

Potential work environments: Many health care environments need sonographers to help with diagnostics. If you're interested in serving in various clinics and organizations throughout your career, working as a sonographer might help you achieve this goal.
Career Requirements for Sonographers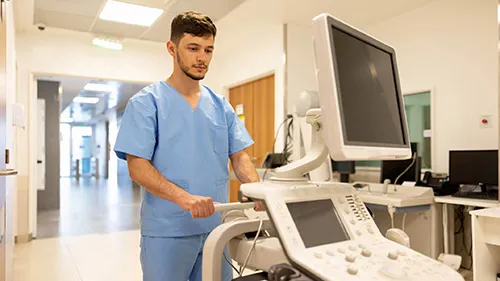 What Are the Different Types of Sonographers?
Sonographers must have relevant skills and qualifications to gain employment with a health care facility. Sonography requires hard skills like dexterity and hand-eye coordination, which allows you to operate machinery and develop precise images while reviewing them in real time. It's also essential that these individuals have a mastery of ultrasonic imaging equipment and the capability to adapt to technological advancements. Sonographers also work with computers, so basic computer skills are vital.
It's also imperative for sonographers to be comfortable interacting with people. They work in teams alongside other health care professionals, like nurses and physicians, and they interface directly with patients regularly. Strong communication and relationship-building skills are beneficial.
Credentials necessary for a career in sonography include:
Training from a college or university: Most sonographers complete either a two- or four-year sonographic or diagnostic imaging program. They might have an associate degree, bachelor's degree, or certificate.
Clinical experience: Training programs include clinical hours to offer students hands-on training. Most employers prefer to hire sonographers with experience working in health care.
If you want to enter a specialized branch of sonography, like neurosonography, it's essential to have specialized training. Many educational institutions, like Concorde Career Colleges, offer specialized training in these areas of sonography. 
How to Become a Sonographer
Below is a step-by-step guide to pursuing a career in sonography:
1. Complete Your High School Education
Before pursuing higher education in sonography, you must finish your primary education. Make a plan to graduate from high school or earn a GED equivalent. While studying, it can be beneficial to focus on science courses, like biology and anatomy, as these are the fundamental concepts supporting the health care field.
2. Pursue a Credential From a College or University
To work as a sonographer, you could earn a certificate, an associate degree, or a bachelor's degree. The right type of degree for you depends on your goals and priorities. If you want to prepare for your career as quickly as possible, consider choosing an educational institution that offers programs you can complete in as little as 20 months, such as Concorde's Cardiovascular Sonography and Diagnostic Medical Sonography programs.
Conversely, bachelor's degree programs can also prepare you for a health care career, but they require four years of full-time study. These programs can also require a more significant financial commitment. The right education path ultimately depends on preferences and personal circumstances. Whichever you choose, you must attend an accredited institution with approval from the Commission on Accreditation of Allied Health/Education Programs (CAAHEP). Accreditation certifies a program meets industry standards and provides students with a high-quality education for their chosen allied health care profession. Some certification exams may also prefer candidates who have graduated from an accredited institution.
3. Earn a Certification
After you complete your accredited training program, you can apply to become a certified sonographer. The Registered Diagnostic Medical Sonographer (4) credential from the American Registry of Diagnostic Medical Sonographers (ARDMS) certifies that graduates have the knowledge and skills required to meet the demands of this career in a professional health care environment. To earn this certification, you must pass an exam administered by the ARDMS and turn in transcripts from your sonography program.
If you want to work in a specialization, certification can show employers you know how to operate the necessary equipment and gather diagnostic data in relevant health care situations. Certification programs typically involve an in-depth exam that candidates must pass. You can expect to renew your certification regularly, which could require continuing education hours. Be sure to get certifications through credible industry organizations. The ARDMS issues specialty certifications in areas like:
Abdomen sonography.
Breast sonography.
Fetal echocardiography.
Obstetric and gynecological sonography.
Pediatric sonography.
What Do Sonographers Do?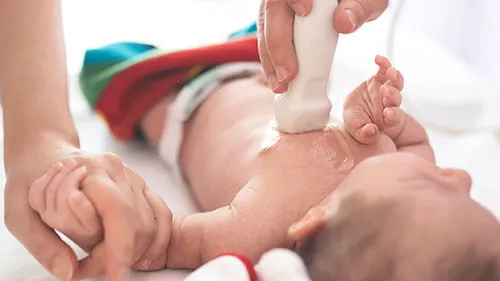 10 Reasons to Train for a Career in Cardiovascular Sonography
A sonographer's duties are instrumental in the diagnostics process. The primary responsibility is to prepare and operate the sonography equipment during testing. This preparation can include sanitizing, maintaining, and positioning tools and equipment. A sonographer also typically reviews patients' medical histories before appointments, helps them orient themselves during testing, explains testing procedures, and documents appointments.
Sonographers also monitor results during the test and record them to share with doctors and other health care professionals. They might speak with these individuals directly to share more context and discuss test results. Ultrasound orders come from physicians and specialists, so a primary responsibility is to carefully review a doctor's orders and select the proper test to meet a doctor's goals. Sonographers use their judgment to determine when to escalate time-sensitive issues to a doctor in the instance of problematic test results. (5)
Where Can Sonographers Work?
Sonographers can work in various health care environments. These health care settings can include doctors' offices, whether primary care or family physicians or specialists providing private care, such as gynecologists or pediatricians. A sonographer could also work in hospitals and focus on a particular wing, depending on the individual's specialty. Sonographers might also work in diagnostics labs and coordinate with health care providers. (2)
If you're passionate about training for your career in sonography, take the first step today and tour your nearest Concorde Career College. We have programs in Diagnostic Medical Sonography, Cardiovascular Sonography, and Neurodiagnostic Technology, among other health care disciplines. We empower ambitious students to finish their schooling in as little as 18 to 20 months, so your career in sonography can begin as soon as you are prepared. Actual program length varies according to your program choice.
---
Footnotes:
1. Diagnostic Medical Sonographer, U.S. News & World Report, https://money.usnews.com/careers/best-jobs/diagnostic-medical-sonographer
2. Diagnostic Medical Sonographers, U.S. Bureau of Labor Statistics, https://www.bls.gov/ooh/healthcare/diagnostic-medical-sonographers.htm
3. How to Become a Sonographer, American Registry for Diagnostic Medical Sonography, https://www.ardms.org/how-to-become-a-sonographer/
4. Registered Diagnostic Medical Sonographer, American Registry for Diagnostic Medical Sonography, https://www.ardms.org/get-certified/rdms/
5. How to Become a Sonographer, Nurse.org, https://nurse.org/healthcare/how-to-become-sonographer/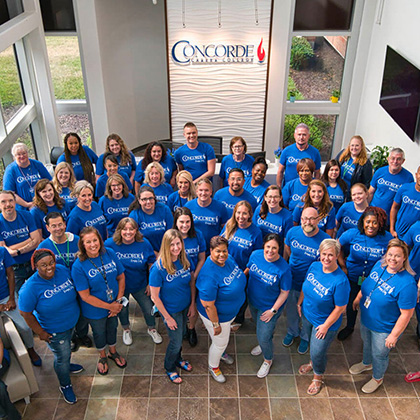 Next Steps?
We have a Concorde representative ready to talk about what matters most to you. Get answers about start dates, curriculum, financial aid, scholarships and more!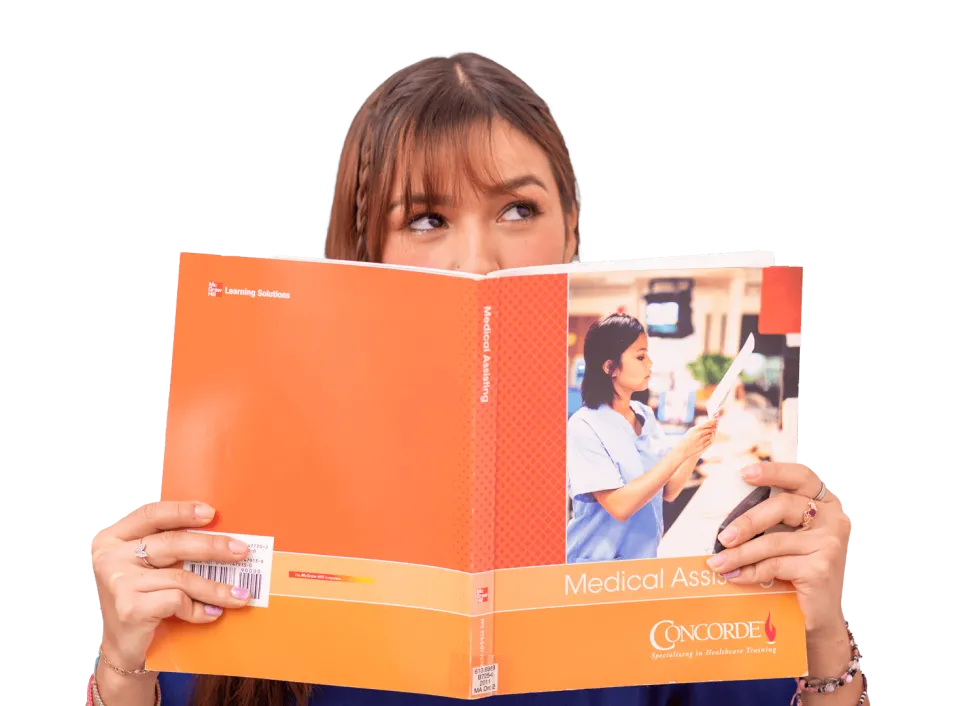 Are You College Ready?
How you think and what you love about life might give you important insights about your college readiness. Our NEW College Readiness Quiz provides instant feedback with your results. Click the button to get started!
START THE QUIZ