Updated October 30, 2018. The information contained in this blog is current and accurate as of this date.
You've heard us say it plenty of times- we're proud of our students' commitment to community service nationwide. We're taking the time to acknowledge two particular initiatives from our Aurora and Dallas campuses that truly show how much #ConcordeCares.
Aurora Campus Feeding the Homeless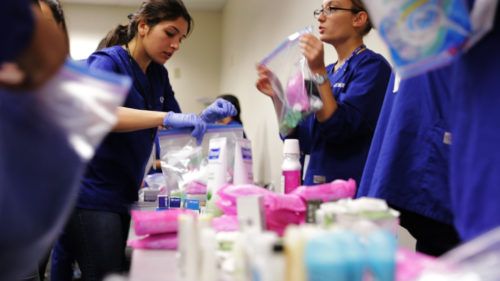 Aurora's "Feeding the Homeless" program started almost two years ago when an instructor had the thought that giving back to the community was the best way for students to learn not to take life for granted. After talking it over with staff, "Feeding the Homeless" was added to the list of volunteer projects.
Students don't just participate in this project- they actually plan and execute it themselves! That's according to Aurora campus Medical Assistant instructor, Tony Dolif, who says the project has become about much more than providing food.
"The students have added to this wonderful project by adding certain items to the goody bags we make, such as feminine products for women, socks, gloves, hand warmers and so much more," Dolif said.
"Letting students plan and prep for this project themselves has given them so much more than we could have hoped. It gave leadership skills to some and a sense of belonging for others as they did this themselves."
The Denver homeless community is also very grateful for the work the students have been doing, referring to them as "blue shirts" when they see them. This project continues to grow and is now something students anticipate.
"This project teaches students empathy, integrity, and problem-solving, all of which are essential for our medical field."
Dallas Campus works with Bucker


Our Dallas campus recently spent time volunteering at the "Buckner's Shoes for Orphan Souls" project. The Medical Assistant and Dental Assistant departments partnered to help put vulnerable children in new shoes as part of the volunteering put together by Medical Assistant Program Director, June Holly.
"I picked this organization because we have a lot of students that come from foster care and I wanted them to know that just because they might have felt abandoned as a child growing up, that there are resources out there helping children" explains Holly. "Not only that, they can give back by helping someone that has been put in the same situation as themselves."
The students help sort shoes that are part of the humanitarian aid mission. "These shoes are shipped all over the world to locations with a high need such as Kenya, Honduras, Guatemala, and Puerto Rico," said Campus President Erin Henry. "The students also get to write motivational messages that are placed in the shoes."
Buckner also assists vulnerable children with school supplies, socks, first aid kits, and makes a bucket into a water filter that can be used for 10 years. To learn more about how you can help, visit the website at buckner.org.