Updated December 9, 2020. The information contained in this blog is current and accurate as of this date.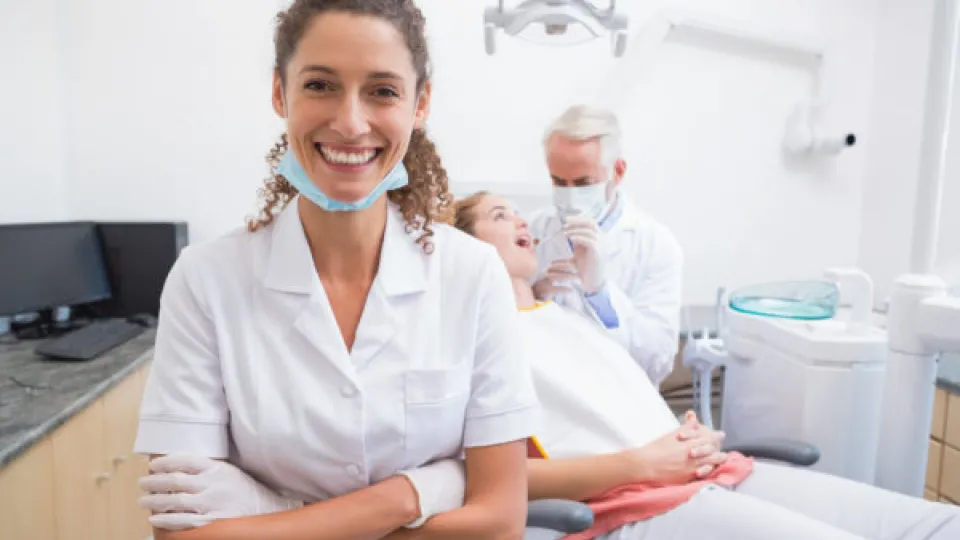 For those who are passionate about helping others and practicing oral hygiene techniques, a career as a dental assistant could be the right path. Dental assistants use their training, education, and skill set to provide high-quality dental care to patients who need it most.
They make sure the office is running efficiently and assist the dentist in treatments and procedures. Learn more about the job duties of dental assistants and where they usually work.
What Does a Dental Assistant Do?
Dental assistants collaborate closely with dentists to provide oral care and support to patients as they undergo certain dental exams and procedures. They often greet patients when they walk through the door and set a positive tone in the office to help patients feel settled and confident before their appointment begins. Dental assistants also perform administrative duties to ensure the office is running smoothly and is properly organized.
Common Dental Assistant Responsibilities
There are several tasks a Dental Assistant must complete each day. They must be independent problem solvers and advanced multi-taskers in order to handle their many responsibilities.
Some of these duties include:
Preparing treatment rooms for procedures and exams: Dental assistants must get the treatment rooms ready for patients by regularly wiping down and sanitizing all the tools, countertops, chairs, and other dental equipment to ensure it's safe and clean.
Learning and following the Dental Practice Act: When dental assistants earn their licenses to practice in their state, they must learn the legal requirements for the practice of dentistry within their state, which are laid out in the Dental Practice Act (1). Dental assistants should ensure both they and other dental office employees are following state compliance at all times.
Getting patients ready for treatments: When a patient enters the practice, the dental assistant usually welcomes them, checks them in, and walks them over to the treatment room. They may engage in friendly small talk, settle them in the procedure chair, and drape them with the dental napkin. Dental assistants make sure the patient is ready for the dentist by the time they enter and start performing the procedure or cleaning.
Assisting the dentist in treatments and procedures: During procedures and cleanings, the dental assistant will work alongside the dentist and perform basic duties, like handing them tools, cleaning and scraping teeth, and holding reflector tools to make it easier for the dentist to see.
Answering any patient questions: Patients may have general dental health questions that the dental assistant should be ready to answer. Patients may also have questions about upcoming procedures or treatments for the dental assistant to answer and guide them through.
Presenting dental tools and instruments to the dentist: To add convenience for the dentist, the dental assistant makes sure the tools are positioned properly for dentists to easily grab and use. Dental assistants must also know the name and purpose of each tool so they can quickly hand it to the dentist.
Using CPR training in emergency situations: Dental assistants are usually CPR-certified in case a patient experiences a negative reaction to a medication given to help them undergo a procedure. They also monitor a patient's breathing and behavior during procedures to ensure their oxygen levels and heart rate are normal.
Advising patients on at-home dental care techniques: Once a patient receives a diagnosis or feedback from the dentist regarding their oral health, the dental assistant explains what the feedback means and instructs them on how to handle the diagnosis. They'll provide advice on plaque control, postoperative instructions, and other basic hygiene techniques.
Filling out patient care information: Dental assistants often perform clerical work such as updating patient files with past oral procedures and other important dental history for the Dentist to reference at later appointments.
Keeping patient information secure: It's important for dental assistants to follow patient confidentiality rules (2) and keep patient information protected. All patient records should be stored in a password-protected data or filing system and shouldn't be shared with anyone outside of the dental office.
Ensuring dental equipment is working properly at all times: If any dental equipment begins to malfunction, the dental assistant should be ready to troubleshoot the issue and find a way to repair it. They may follow certain preventative maintenance requirements to avoid any potential equipment malfunctions, especially during dental procedures. If issues do occur, it's the dental assistant's responsibility to call maintenance workers for repairs.
Tracking inventory of dental supplies: The dental assistant regularly takes inventory and orders new equipment for the office when they're running low. They place and expedite supply orders, research new supplies that may help save money, and verify supply receipts.
Sending reminders to patients about upcoming appointments: Dental assistants keep track of appointments and patients' six-month cleaning dates. They're often in charge of sending reminders of upcoming appointments to patients via mail, email, or phone calls.
Taking dental x-rays: If the dentist requires X-rays for a patient, the dental assistant will position them accordingly and take and develop the X-rays for the dentist to view.
Gathering patients' medical history: Before a patient starts their treatment or procedure, the dental assistant may ask them basic questions about their oral health and general medical history. During this check-in process, they may even take the patient's pulse and blood pressure, if needed.
Collecting impressions of patients' teeth: When the dentist needs to study the size and relationship between a patient's teeth, dental arches, or gums, the dental assistant may create a dental cast (3) of their teeth to help the dentist more easily study it and form a diagnosis.
Required Education and Certifications
To become a certified dental assistant, students must first finish a dental assistant program. One option is to earn their Dental Assistant Diploma, which teaches the basic skills needed to be a dental assistant in as little as eight months. To gain extra skills and perform additional duties in the dental office, certified dental assistants can complete their Associate of Applied Science in Dental Assisting in as few as 19 months. Both of these programs provide the training needed to perform as an effective dental assistant.
After completing their program of choice, students might need to become licensed or certified with the state to qualify as a practicing dental assistant. Depending on state requirements, the dental assistant may be required to take a certification exam provided by the Dental Assisting National Board. They become certified once they pass the Certified Dental Assistant Examination (4).
Where Do Dental Assistants Work?
Dental assistants can work in a variety of health care settings and facilities. They often complete a steady 35-to 40-hour workweek and sometimes spend their weekends or evenings in the office performing procedures, getting files managed and organized, or sanitizing and thoroughly cleaning the office and procedure areas. Common work setting for dental assistants include the following:
Hospitals: For dental assistants looking for fast-paced work, they can work in hospitals assisting dentists with oral procedures and surgeries. Working in a hospital may include less clerical and administrative work than in a dental office and may involve more hands-on experience helping the dentist perform procedures.
Educational institutions: Dental assistants with extensive experience in their field may be eligible to work at certain academic institutions, providing students with hands-on training and experience working with certain dental procedures and techniques. They may also educate and train students who are participating in an externship at a dental office or hospital. Dental assistants may show these students the basics of the job and explain what it's like to perform in the role each day.
Private dental offices: This is the most common place a dental assistant may work. Some private dental offices are smaller, meaning the dental assistant could be working on their own completing all the clerical and procedural assistance work. If they're the only dental assistant, there may only be one dentist working, so the workload shouldn't be too intense for the dental assistant to handle.
Group practices: Group practices usually have more than one dentist working and can have a large team of dental assistants and dental hygienists working together. This means that dental assistants usually share the clerical, inventory, and cleaning-related tasks among each other. It also means the dental assistant may work with more than one dentist throughout the day.
Dental suppliers: Some dental assistants may choose to work outside of the dental office setting using their extensive knowledge to sell dental supplies. Many dental product manufacturers and distributors hire dental assistants to work with dental care facilities to determine their needs and find the right tools for them. This can be a good job for dental assistants who want to help other dental offices improve their efficiency and no longer want to work in a fast-paced dental office environment.
Public health facilities: Dental assistants working in the public health sector usually travel with dentists to low-income and underdeveloped communities to educate them on proper oral health techniques and provide them with better access to dental care. They may also assist dentists in creating presentations to give at community centers, schools, and other public areas in the community.
Common Dental Assistant Skills
There are a variety of tasks dental assistants must perform throughout the workday, from basic office work to patient care. They need to develop several different types of skills to perform these duties effectively. Some common skills for a dental assistant include the following:
Organization: Since dental assistants regularly store and take inventory of dental tools, they must know where their inventory and tools are at all times in order for the office to run smoothly. They must also keep track of important patient records and files, so they should have a strong filing and organizational system in place.
Time-management: Dental assistants handle many tasks at once throughout the day. Strong time-management skills will help them know which tasks to prioritize and ensure they use their time wisely to get all of their work items completed on time.
Attention to detail: There are many rules and regulations dental assistants and the rest of the office are required to follow when it comes to sanitizing tools, preventing potential infections from spreading throughout the office, and keeping patient information confidential. Dental assistants are often responsible for making sure everyone is following the necessary rules and regulations. They should keep a constant eye on everyone in the office to ensure it's a safe and compliant workplace.
Basic computer and technical skills: When dental assistants are completing administrative duties, they're usually accessing information through different software systems. They perform tasks like checking patients in, sending emails to suppliers or patients, and taking inventory using a computer, so they must be tech-savvy to efficiently complete these tasks each day.
Communication and interpersonal abilities: A dental assistant is usually the first person patients see when they walk through the door. Because of this, one of their main jobs is to greet patients and make them feel more comfortable in the dental office. They often participate in small talk with patients and provide answers to any questions they have. Dental assistants must regularly use their communication and interpersonal skills to listen to a patient's needs and advise them on proper dental health techniques.
Strong dental health knowledge: Dental assistants work side-by-side with dentists during procedures and examinations. They must know which tools are needed for certain dental work and must understand basic terminology, which will allow them to communicate effectively with dentists and get them the tools or paperwork they need. Dental assistants should also have strong dental knowledge in order to explain oral health methods to patients and answer any of their questions.
Adaptability: The dental health environment may constantly change from day to day, so dental assistants should be able to easily adapt to many situations. Patients' needs may fluctuate along with the needs of dentists, so dental assistants must be ready to think on their feet and respond quickly using their strong problem-solving skills.
Before you can become a dental assistant, you must receive the proper training and education. At Concorde, we offer courses that provide the knowledge and skills needed to thrive as an effective dental assistant. Apply online today!
---
Footnotes

1. "State Dental Practice Acts," Dental Assisting National Board, Inc, https://www.danb.org/The-Dental-Community/State-Dental-Boards/State-Dental-Practice-Acts.aspx

2. "ADA Ethics: Patient Autonomy," 2020 American Dental Association, https://www.ada.org/en/about-the-ada/principles-of-ethics-code-of-professional-conduct/patient-autonomy

3. "Dental Casts," Tooth IQ, https://www.toothiq.com/dental-procedure/casts

4. "Become Certified," Dental Assisting National Board, Inc, https://www.danb.org/Become-Certified.aspx
Are You College Ready?
How you think and what you love about life might give you important insights about your college readiness. Our NEW College Readiness Quiz provides instant feedback with your results. Click the button to get started!