Updated February 23, 2023. The information contained in this blog is current and accurate as of this date.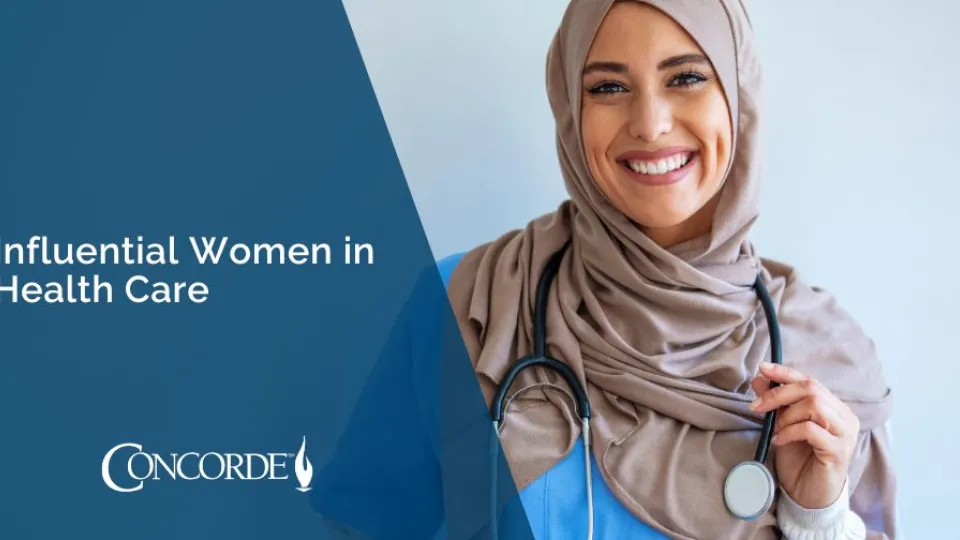 Every year, individuals and organizations across the United States celebrate Women's History Month. This annual commemoration is a great time to learn more about how women throughout history have shaped the world that we live in today. Some of the greatest contributions by women have taken place in the field of medicine. Female doctors, nurses, and scientists have saved countless lives and have contributed to many of the technologies and practices that make our medical system so effective.
At Concorde, we want to shed some light on the history of women in health care, especially in the fields of dental hygiene, massage therapy, nursing, surgical technology, and physical therapy. We hope these great women of history serve as inspiration for our current students and those who are considering us as a launchpad for their careers.
What Is Women's History Month?
Women's History Month is an annual commemoration that takes place in March. This celebration was instituted to recognize the contributions of women to American history. Every year, many organizations throughout the United States hold special events to discuss women's issues and to educate the public on the role of women in U.S. history.
Many government bodies (1) participate in the festivities and plan a series of events during the month of March. These include the Library of Congress, the National Parks Service, the National Archives, the National Gallery of Art, the Smithsonian Institution, and the United States Holocaust Memorial Museum. They are joined by women's institutions, museums, galleries, schools, and universities across the country.
The Origin of Women's History Month
In the 1970s, many teachers and activists were dismayed by the lack of knowledge of female contributions to U.S. and world history. In 1978, a group of California educators associated with The Education Task Force of the Sonoma County Commission on the Status of Women began a local celebration of "Women's History Week," centered on the Town of Santa Rosa in northern California (2)
The activists who established the holiday chose the week of March 8 for the festivities, since it was already widely recognized as International Women's Day. The initial response to the declaration was enthusiastic, and local schools and community organizations put on a variety of events, including special academic presentations, an essay contest, and a final parade through downtown Santa Rosa. Over the following years, communities throughout the U.S. began to organize their own Women's History Weeks.
Over the next two years, a variety of women's rights activists and historians committed to the project of instituting a nationwide celebration of Women's History Week. This effort was led by the National Women's History Project and gained national recognition by 1980. In that year, President Jimmy Carter issued a Presidential Declaration making Women's History Week an officially recognized national celebration (3).
Over the following years, Women's History Week was taken up by state officials and school districts across the nation. In these areas, educators issued educational materials, hosted essay contests, and organized special educational events to educate students and the public on the role of women in U.S. history. Many states even began to designate the entire month of March as Women's History Month and 14 states had done so by 1986.
This wave of momentum led activists to lobby for nationwide recognition of Women's History Month. In 1987, Congress issued a proclamation that recognized March as a month set aside permanently for the recognition of women's history.
Florence Nightingale
Florence Nightingale (4) is rightly recognized as one of the most influential women in the history of medicine. She was born to a wealthy English family in 1820 while they were living abroad in Florence, Italy. After a few years, the Nightingale family moved back to England where they lived on Florence's father's estate. Even while she was young, Florence showed extraordinary care for others and was involved in a range of social causes, caring for the poor and sick in her area.
By the time she was 16, Florence had decided that she was called to be a nurse. This was an unpopular proposition in her family, as they considered it an inappropriate role for a young woman of her status. Despite these barriers, Florence pursued a medical education in Germany before returning to Britain, where she worked to contain an outbreak of cholera. It was during this period that she began to make an impact on her profession by enforcing strict sanitary measures that were uncommon at the time.
In 1853, Great Britain went to war with the Russian Empire in the Crimean Peninsula. Florence was asked to organize a medical mission to the primary British military hospital in Constantinople (now Istanbul). When she arrived with her nurses, she found that ill and wounded soldiers were living in appalling conditions and were suffering from massive infectious disease outbreaks.
She immediately set to work cleaning the hospital completely and setting up an intensive set of sanitary protocols. She was known for her tireless work and compassion. She set up a kitchen, library, and laundry at the hospital to take care of the soldiers' needs. Because of her work, the rate of death in the hospital was reduced massively. After the war, she worked as a statistician and medical consultant to improve the practice of medicine in the British Army. Her work made her the "mother of modern nursing" and her contributions endure to this day.
Mary Eliza Mahoney
Mary Eliza Mahoney (5) is an American icon known for her contributions to racial equality and women's rights. She was born to emancipated slaves in the year 1845 in Boston, Massachusetts, which had a strong abolitionist element. Because of this, she received a good education at the Philips School, which was one of the first integrated schools in the United States.
Mary Eliza discovered her desire to become a nurse in her teenage years and secured a position working at the New England Hospital for Women and Children, an organization staffed entirely by women. During her time at the hospital, she worked a number of jobs, performing cooking, cleaning, and laundry duties. She also had the opportunity to learn more about medicine by assisting nurses in their work.
Mary Eliza Mahoney spent a total of 15 years working at the hospital until she was admitted to its newly opened nursing school in 1878. Upon completion of the challenging course, she became the first African American to earn a professional nursing license in the United States. Throughout her long career, Mahoney worked to advance the interests of Black Americans in the medical field and was also involved in women's rights activism. In 91920, she became one of the first women in Boston to register for the vote.
Throughout her long life, Mary Eliza Mahoney worked tirelessly to promote the rights of African Americans and women. She also spent most of her life caring for the sick, injured, and orphaned. These actions have made her an enduring symbol of compassion and triumph in the history of American medicine.
Agnes Bridget Forbes
While the history of massage therapy dates back to ancient times, it only became an important part of the medical profession in the last century. In fact, the first licensed massage therapist in North America was Agnes Bridget Forbes, (6) who earned her license in 1916. She was an Ohio native who pioneered the use of massage as a medical treatment. Her career was enabled by the fact that Ohio was the first state to recognize massage therapy as a branch of medicine and introduce regulation.
Mary McMillan
Physical therapy is another branch of medicine that took some time to receive recognition, and it was women who led the way. The practice gained popularity in the years after World War I due to the large number of wounded soldiers in need of rehabilitation. Mary McMillan (7) served as a nurse in the war, during which she used a variety of advanced massage and therapeutic techniques that she had learned in pre-war Europe and tested while treating polio patients.
She was appointed the first reconstruction aide of the U.S. Army Medical Corps, charged with helping soldiers recover from battlefield injuries and surgery. After the war ended in 1918, Mary founded the American Women's Physical Therapeutic Association. Because of her accomplishments, she's widely recognized as "the mother of physical therapy."
Enid Graham
Enid Graham (8) is another female pioneer in the field of massage and physical therapy. Enid's career began during the First World War when she came in contact with American and European experts in the budding fields of massage therapy and physiotherapy. In 1917, she was invited to teach at the University of Toronto where she worked tirelessly to promote the practice of physiotherapy across Canada. She was a key figure in creating uniform standards of care and in extending the use of physical therapy to civilians. To this day, Canadian therapists owe a massive debt to this compassionate woman.
That's a quick overview of some of the women who have made a lasting impact on the world of medicine. We hope their examples inspire you in your own career journey. If you're ready to take the first steps towards a career college education in preparation for in a rewarding health care career, get in touch with our admissions team and they'll provide you with all the information you need to get started. We look forward to hearing from you.
---
Footnotes:
"Homepage," Women's History Month, https://womenshistorymonth.gov/

"Why March Is National Women's History Month," National Women's History Alliance, https://nationalwomenshistoryalliance.org/womens-history-month/womens-history-month-history/

"Women's History Month," National Women's History Museum, https://www.womenshistory.org/womens-history/womens-history-month

"Florence Nightingale," History.com, https://www.history.com/topics/womens-history/florence-nightingale-1

"Mary Eliza Mahoney," National Women's History Museum, https://www.womenshistory.org/education-resources/biographies/mary-mahoney

"The History of Massage Therapy," Hocking College, https://blog.hocking.edu/the-history-of-massage-therapy

"1921, Mary McMillan Is Elected the First President of the American Women's Physical Therapeutic Association," American Physical Therapy Association, https://centennial.apta.org/timeline/mary-mcmillan-is-elected-the-first-president-of-the-american-womens-physical-therapeutic-association/

"Enid Gordon Graham (1894-1974)," Government of Canada Parks, https://www.canada.ca/en/parks-canada/news/2017/09/enid_gordon_graham1894-1974.html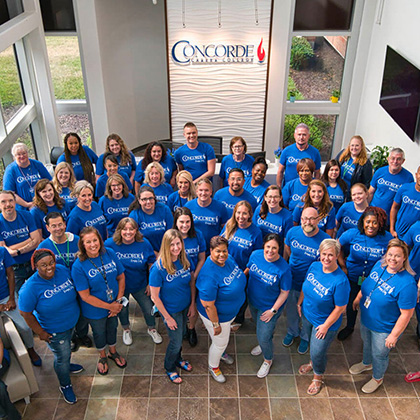 Next Steps?
We have a Concorde representative ready to talk about what matters most to you. Get answers about start dates, curriculum, financial aid, scholarships and more!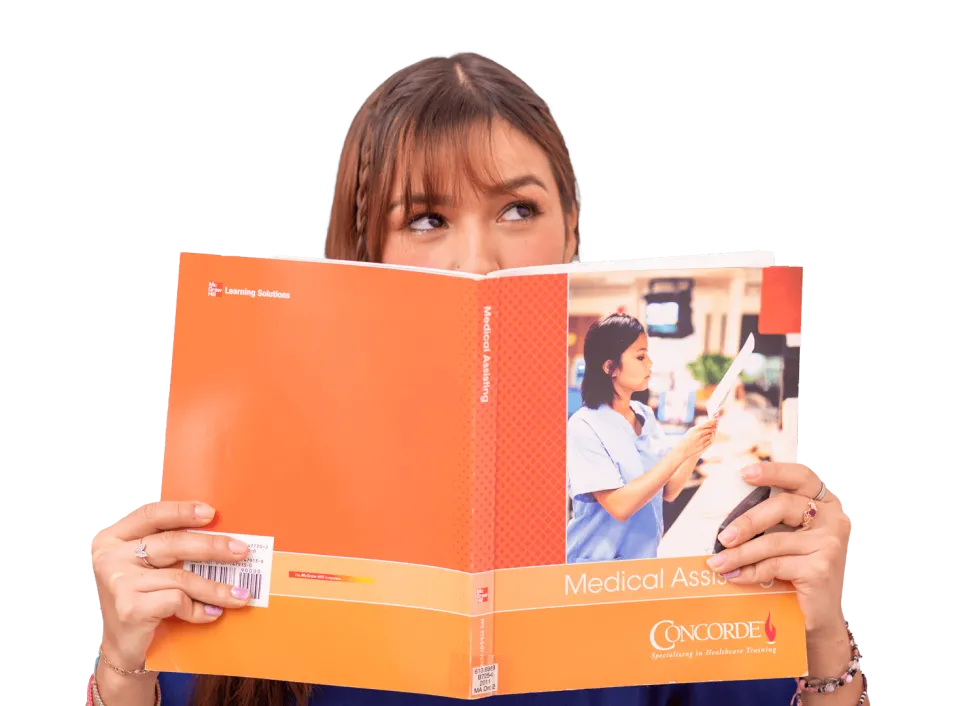 Are You College Ready?
How you think and what you love about life might give you important insights about your college readiness. Our NEW College Readiness Quiz provides instant feedback with your results. Click the button to get started!
START THE QUIZ