Updated July 10, 2023. The information contained in this blog is current and accurate as of this date.
A career in the health care field means rewarding and purposeful work, being able to help people, and collaborating with other intelligent, caring professionals. Phlebotomists are health care professionals who contribute to patient care by drawing blood for samples and donations. Phlebotomy can be a great career choice for new health care professionals, as it can take as little as two months to get into the role. It also offers the opportunity to work directly with patients and provide them with top-notch care. Learn about what is involved in becoming a phlebotomist below. 
What Is a Phlebotomist?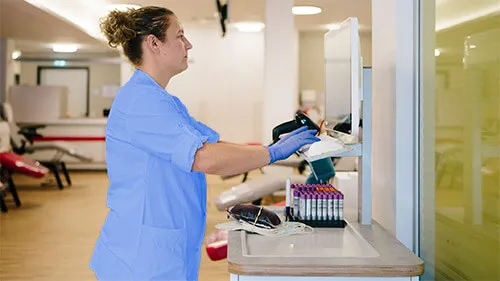 What You Need to Know About Blood Types
A phlebotomist (1), or phlebotomist technician, specializes in collecting and transporting blood specimens. These technicians work with other health care team members and help patients feel more comfortable when giving blood or having a sample collected. The technician is often the only link between the patient and the medical lab. Continuing education is essential for phlebotomists because blood drawing and sample-collecting technologies continue to evolve, becoming less painful and more effective.
What Does a Phlebotomist Do?
A phlebotomist is knowledgeable about blood safety and how to collect and prepare the sample order for transportation to the lab to avoid compromising the sample. A phlebotomist may perform the following tasks:
Educate patients about the blood-drawing procedure.
Gather information about the patient before taking a sample.
Comfort nervous patients during the procedure. (2)
Record vitals to understand a patient's state better.
Use venipuncture, finger pricks, and heel pricks to gather blood samples.
Cover the wound and bandage the patient's arm after taking blood.
Record information from the procedure and update charts.
Clean the workspace and sterilize blood-drawing equipment.
Label and transport blood samples for use in the lab.
Where Do Phlebotomists Work?
Phlebotomists may work in a hospital or clinic, but they can also work for blood donation companies. Phlebotomists can work in any environment where people regularly give blood samples or donations. Technicians can find a workplace in many locations, including cities, suburbs, and rural areas. Relocating can be stressful, and it can help when it's easier to find an open position in a new community.
How Long Does It Take to Become a Phlebotomist?
How long it takes to become a phlebotomist depends on your current status. For example, it may take longer to become a phlebotomist if you still need to graduate from high school. If you already have your high school diploma, it can take as little as two months to complete the phlebotomy program at Concorde.
Why Become a Phlebotomist?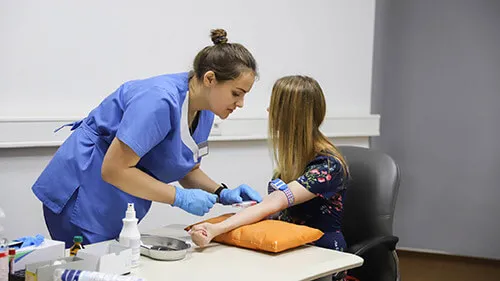 You can choose from among many career paths in the health care field, but the following offers several reasons for becoming a phlebotomist: 
Technicians can work with a team. If you enjoy working with a team, you may like this career. Phlebotomists often work with other health care professionals or phlebotomists to care for patients and complete tasks.
It's a rewarding career. Many of us have been nervous when having blood drawn, either when donating or contributing a sample for a test. Phlebotomists can be there to help patients feel calmer and safer during the procedure. 
The position is in high demand. Health care professionals of all specialties are greatly needed in the United States, which may make it easier to find a phlebotomy role that's right for you.
It only takes a few months. Unlike other health care professional training programs, becoming a phlebotomist only takes a few months. A student can enroll in and graduate from a phlebotomy program and begin working with patients in less than a year.
Phlebotomist Requirements
Phlebotomists are responsible for managing patients, packaging and transporting blood samples, and maintaining a clean and safe environment. Because of these responsibilities, phlebotomists must follow some requirements to ensure they're capable of performing their duties. Phlebotomists must meet the following career requirements:
Receive a High School Diploma
To be eligible for phlebotomy training in the United States, the student must first have a high school diploma. Completing high school ensures that phlebotomists are mature enough to handle sensitive patient information and operate medical equipment. Students may need to show proof of a high school diploma to any employer and may need a high school diploma to qualify for phlebotomy certifications.
Feeling at Ease When Working With Blood
One significant qualification for being a phlebotomist is being comfortable around blood. Some health care professions involve little to no contact with blood, but as a phlebotomist, it's unavoidable. To be successful in this health care role, students must feel comfortable and confident around needles, bleeding, and large amounts of blood.
Attain NHA Certification
The Certified Phlebotomy Technician (CPT) credential from the National Healthcareer Association (NHA) (3) is a common requirement for the phlebotomist role. The NHA aims to create a better future through health care and offers several health career certifications and exams. Almost all employers require this certification for employment, and the credential can demonstrate verification of skills and knowledge.
What Skills Do Phlebotomists Need?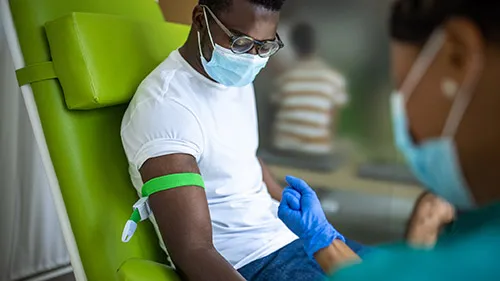 5 Great Reasons to Donate Blood Today
Phlebotomists work closely with patients and help them feel comfortable during blood-drawing procedures. The following skills may be useful for phlebotomists:
Communication: A phlebotomist's job is to educate patients about procedures and collaborate with other health care professionals, which makes communication a vital part of the position. Technicians can use communication skills to relay detailed information when doctors order samples and labs.
Empathy: Empathy is the ability to relate to other people and understand their feelings. Technicians work with patients who are nervous about having their blood drawn. A strong sense of empathy can help them connect with patients and find ways to help their patients stay calm.
Critical thinking: Things may not always go as planned, and critical thinking helps the phlebotomist act quickly and do what's best for the patient.
How to Become a Phlebotomist
Phlebotomy is an attractive health care career. Becoming one requires only a few months of phlebotomy training and offers ample patient interaction. Individuals can follow the steps below to become a phlebotomist:
1. Earn a High School Diploma
Students need a high school diploma to qualify for phlebotomist positions and the NHA certification. Those who have already graduated from high school may benefit from locating their diploma and making a few copies to ensure it's ready if employers or certifying agencies want to see it.
2. Complete a Phlebotomy Program
It's recommended that students complete a phlebotomy program from an accredited institution. Accredited institutions meet a specific quality standard with their phlebotomy information and teachings. Concorde is an accredited career college that offers a phlebotomy course with two options: a path leading to entry-level employment and a continuing education preparation course that helps students prepare for the certification exam.
The phlebotomist technician program at Concorde takes only two months to complete, with just 5.5 credit hours necessary. As part of the continuing education preparation course curriculum, students learn how to use medical equipment and prepare patients for procedures. While taking the course, studying and committing the information to memory is essential.
3. Earn the NHA Phlebotomy Certification
Once students complete the phlebotomist technician course at Concorde, they can take the NHA phlebotomy certification exam. To take the exam, students need to have completed the Concorde course within the past five years. Aspiring technicians can find study materials for the exam online or take the phlebotomist prep course to prepare for the exam. When it's time for the exam, students can take it at school, at a PSI testing center, or remotely using a proctor. Students can expect to see the results from online exams within two days.
4. Apply for Phlebotomist Positions
To find a role as a phlebotomist, search for open job listings online. Aspiring phlebotomists can prepare a health care resume with information about where they completed their program and when they earned their certification. Consider printing or downloading a copy of your certification to have on hand if you need it during the application process or an interview.
5. Maintain Your Certification
Phlebotomy is a growing and evolving field, and that's why continuing education is essential. It helps technicians stay up-to-date on new technologies and procedures. To maintain certification, renew it at least every two years by completing at least 10 continuing education credits. If the certification expires, the technician can reinstate it for one year following expiration. It's best to stay current with certification to avoid having to retake the exam.
Becoming a certified phlebotomy technician can provide individuals interested in establishing a career in health care with an entry point into the field. 
---
Footnotes
1. "Phlebotomist," Cleveland Clinic, https://my.clevelandclinic.org/health/articles/23916-phlebotomist
2. "Phlebotomy Technician," Mayo Clinic College of Medicine and Science, https://college.mayo.edu/academics/explore-health-care-careers/careers-a-z/phlebotomy-technician
3. "About the National Healthcareer Association," National Healthcareer Association, https://www.nhanow.com/about-nha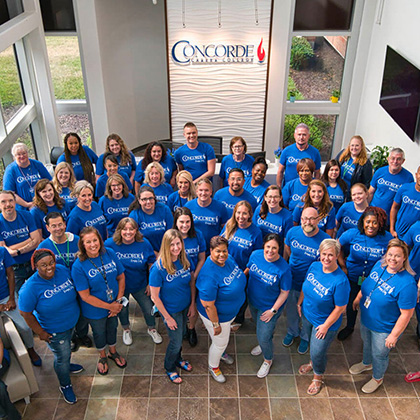 Next Steps?
We have a Concorde representative ready to talk about what matters most to you. Get answers about start dates, curriculum, financial aid, scholarships and more!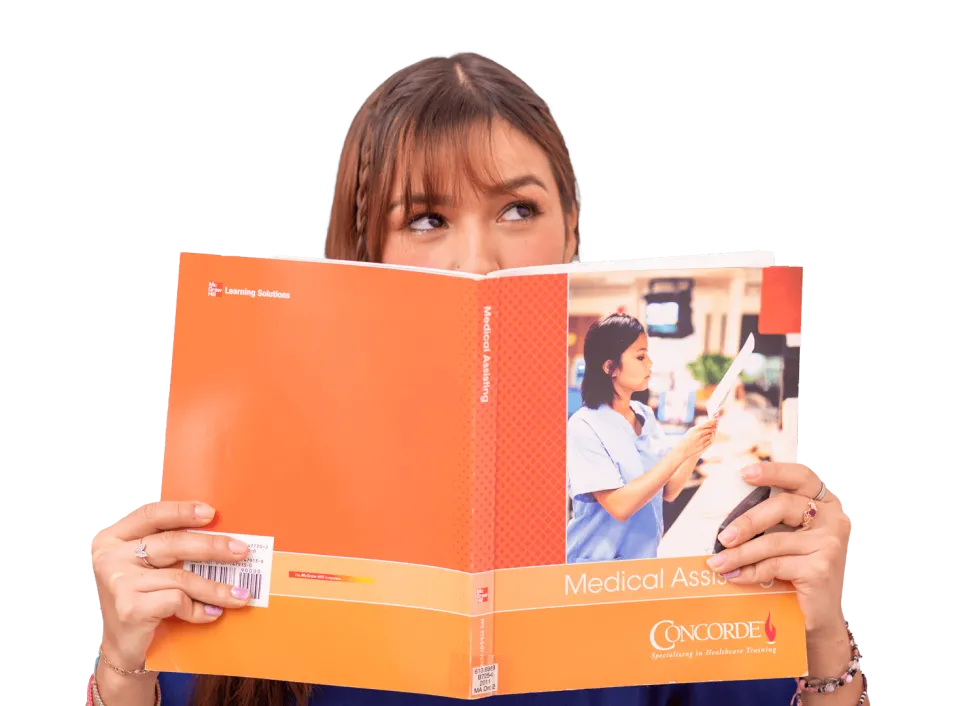 Are You College Ready?
How you think and what you love about life might give you important insights about your college readiness. Our NEW College Readiness Quiz provides instant feedback with your results. Click the button to get started!
START THE QUIZ