Updated September 21, 2023. The information contained in this blog is current and accurate as of this date.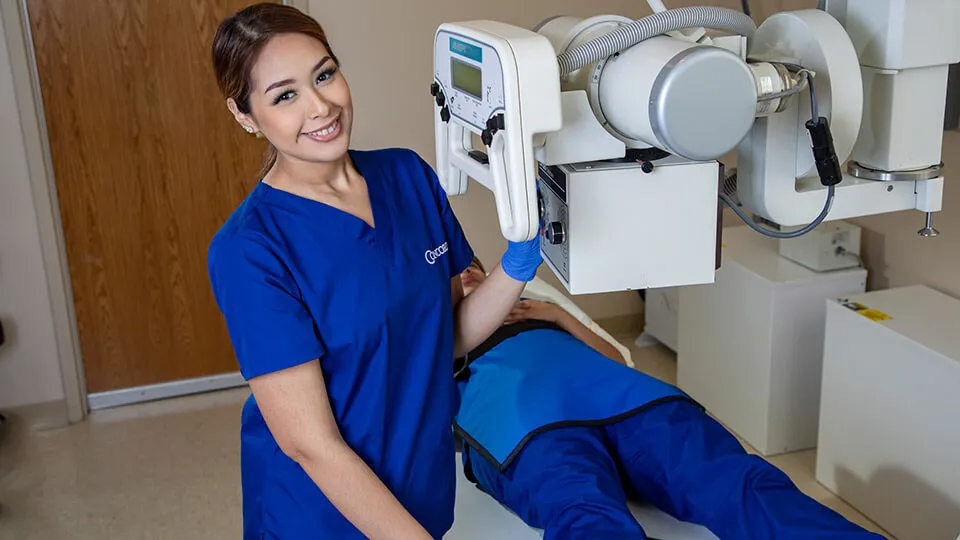 Radiology Techs work with X-ray imaging to help evaluate and diagnose patient conditions. X-ray equipment is a powerful tool for identifying what's ailing a patient without taking invasive measures. This type of imaging can identify broken bones, arthritis, cancer, pneumonia, foreign objects in the digestive tract, and more. If you're interested in a career that combines the latest technology with compassionate health care, a job as a radiologic technologist may be the perfect fit. Here's what you need to know about this profession.
What to Expect From a Career as a Radiology Tech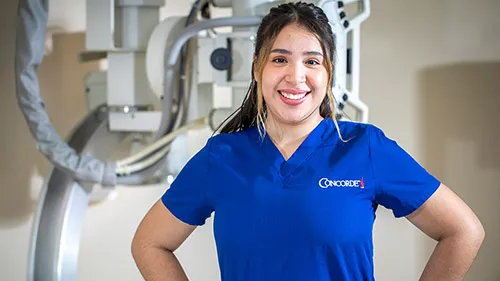 Radiology Technology: A Clear Picture of Success
Radiology techs use various medical imaging equipment to analyze patients' organs, bones, and blood vessels. They may use radiography (X-rays), computed tomography (CT), magnetic resonance imaging (MRI), PET emission tomography (PET), bone densitometry, fluoroscopy, ultrasound, sonography, and mammography machines to collect these images. With so many tools at their disposal, it's no wonder that radiologic technologists need specialized education to help them master the many complex aspects of this job.
Job Duties
The radiology tech is responsible for walking the patient through all steps of the imaging process. This health care professional will review the physician's order and make the appropriate preparations for the imaging. The technologist will then welcome the patient and explain the process, addressing questions from the patient as well as family members when applicable.
The radiology tech must help the patient position their body correctly to get the appropriate image for the physician's diagnostic needs. The technologist must also provide protection from unnecessary radiation. Once everything is in place, they will complete the imaging process and evaluate the results to make sure they're clear enough for use. The technologist stays in communication with the patient throughout the imaging and helps to keep them calm and comfortable throughout the procedure.
While radiology techs are not responsible for interpreting all the imagery, they can evaluate the resulting images, update the patient's chart, and communicate with other health care professionals as needed. The technologist ensures that all patient images are properly stored and secured with the appropriate access restrictions. The radiology tech is part of a complete health care team that includes clinicians, specialists, nurses, medical assistants, and schedulers.
Radiology techs also participate in the care and maintenance of imaging equipment. Since these machines do give off radiation, it's crucial that all professionals working with them take the proper precautions and use the appropriate procedures. They must comply with government regulations and stay up-to-date with all radiation safety measures. Radiology techs perform routine tests, regular maintenance procedures, and frequent sanitization to ensure that the imaging equipment is safe and functional at all times. This may require small mechanical or technical adjustments.
Work Environment
Radiology techs work in hospitals, physicians' offices, clinics, and diagnostic imaging centers. In some environments, like a hospital, these technologists may have to work nights, weekends, or holidays to provide imaging on an emergency basis. In facilities where routine imaging procedures are scheduled in advance, radiologic technologists will often have more regular hours.
Radiology techs are typically on their feet for long stretches of time. They must be able to assist patients with mobility issues when needed and should be able to lift, move, and manipulate all the required equipment. The work can be strenuous at times, but individuals who enjoy helping others can find it rewarding as well.
Job Outlook
According to the Bureau of Labor Statistics, employment of radiologic technologists and technicians is projected to increase 6% over the 2021-31 decade (1). This is only slightly faster than the national average of 5% for all occupations.  The increase in job opportunities may be associated with the increase in the elderly population. Imaging technology is useful in identifying injuries from falls, which are more prevalent among older individuals.
Preparing for a Career as a Radiology Tech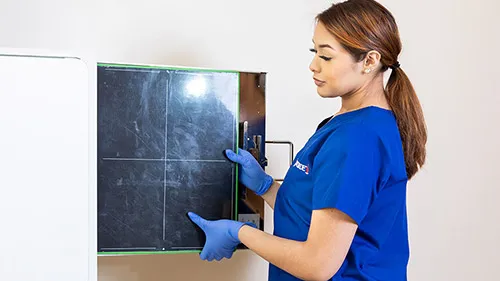 Day in the Life of a Radiology Technician
Individuals who are interested in a career as a radiology techn can begin preparing in high school. Focus on coursework that addresses science, anatomy, math, and computer science. These areas provide a solid foundation for the type of coursework included in a radiologic technology associate degree program. Maintaining a good GPA may increase your chances for admission to a radiologic technology program.
Radiologic techs must also have strong interpersonal skills. This is a hands-on job where the health care worker has direct contact with patients. These patients may be concerned, scared, uncomfortable, confused, or in pain. The technologist has the task of calming these patients and successfully guiding them through the imaging procedure.
Volunteer work in a health care setting can help prospective technologists hone their interpersonal skills. Individuals interested in this type of profession may want to consider volunteering in a clinic, hospital, or nursing home. These positions can provide plenty of one-on-one interaction with patients that will prove very useful in the future of this career path. Volunteer work in a health care setting also looks outstanding on a resume for a radiology tech.
How to Become a Radiology Tech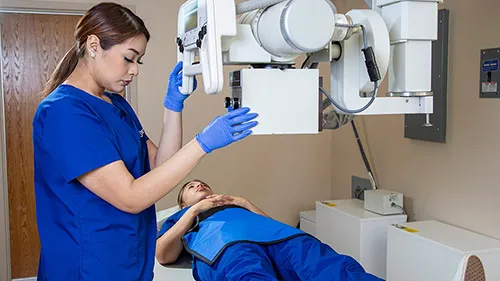 Any individual interested in working as a radiology tech can get started on their career path with a proper educational program. This career path is simple and straightforward, despite the complexity of the topics that it covers. Here's what a prospective radiologic technology student needs to know.
Educational Requirements
You can apply for a radiologic technology associate degree program with just a high school diploma or GED, but additional requirements such as a background check and admissions testing may apply. Concorde's degree program consists of 20 months to complete the required 98.5 credit hours. This program covers the competencies for an entry-level radiologic technologist position. Students learn how to:
Check vital signs.
Perform CPR.
Use proper medical terminology.
Identify essential parts of the human anatomy and physiology.
Properly position patients for imaging.
Obtain diagnostic quality radiographs.
Utilize proper radiation protection.
Modify procedures for non-routine patient conditions.
Hone written and oral communication skills.
Coursework covers radiologic science, radiation physics, anatomy, imaging modalities, and basic patient care.
Certification
Radiology techs can pursue professional certification such as the American Registry of Radiologic Technologists (ARRT) certification (2). To be eligible for certification, you must have an associate's degree or higher and complete an ARRT-approved educational program in the same discipline as the credential that you're pursuing. 
While radiology techs typically begin by obtaining Radiography certification, ARRT also offers credentials in other topics that can further improve your employability. Options include but are not limited to:
Computer Tomography (CT).
Magnetic Resonance Imaging (MRI).
Mammography (M).
Sonography (S).
Vascular Interventional Radiography (VI).
Vascular Sonography (VS).
Individuals can pursue these post-primary pathways without obtaining additional degrees. They simply act as a valuable addition to a technologist's resume, demonstrating their expertise in numerous areas. 
Licensure
Licensing requirements for radiology techs vary by state. Over 75% of the United States requires licensure for this profession (4). Most of the states that do require licensure use ARRT certification to determine an applicant's eligibility to practice. Though ARRT will administer the state licensure exam in these cases, the process is slightly different from getting ARRT certification and registration. For ARRT certification and registration, ARRT itself will determine whether the candidate passed or failed the test. When taking the test for state licensure, it's up to the state to determine whether the candidate passes or fails.
Alabama, Georgia, Missouri, South Dakota, and the District of Columbia do not license radiography personnel. All other states have some form of licensure requirement (3).
Learning how to become a radiology tech is a great first step toward setting out on this career path. With training that takes as little as 20 months, prospective health care students don't have to wait long to start enjoying the benefits of this route. Check out the radiologic technology associate degree program at Concorde today and start charting your course to a new future.
---
Footnotes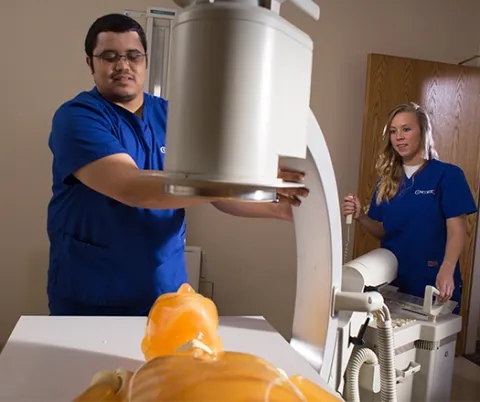 Next Steps?
Interested in learning more about our Radiologic Technology program? We have a Concorde representative ready to talk about what matters most to you. Get answers about start dates, curriculum, financial aid, scholarships and more!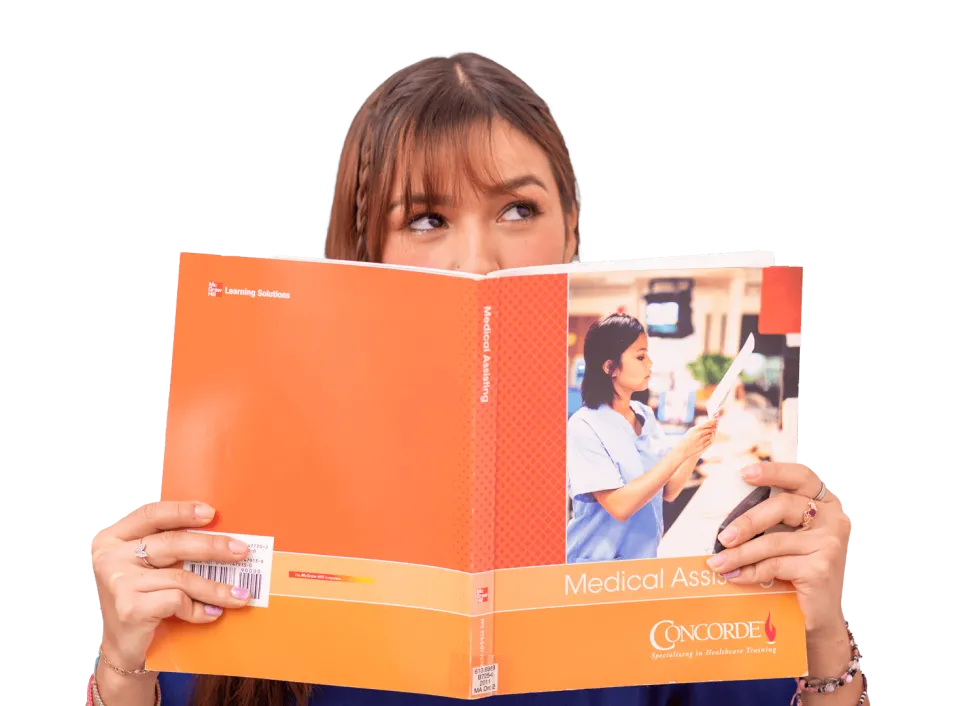 Are You College Ready?
How you think and what you love about life might give you important insights about your college readiness. Our NEW College Readiness Quiz provides instant feedback with your results. Click the button to get started!
START THE QUIZ