Updated October 28, 2022. The information contained in this blog is current and accurate as of this date.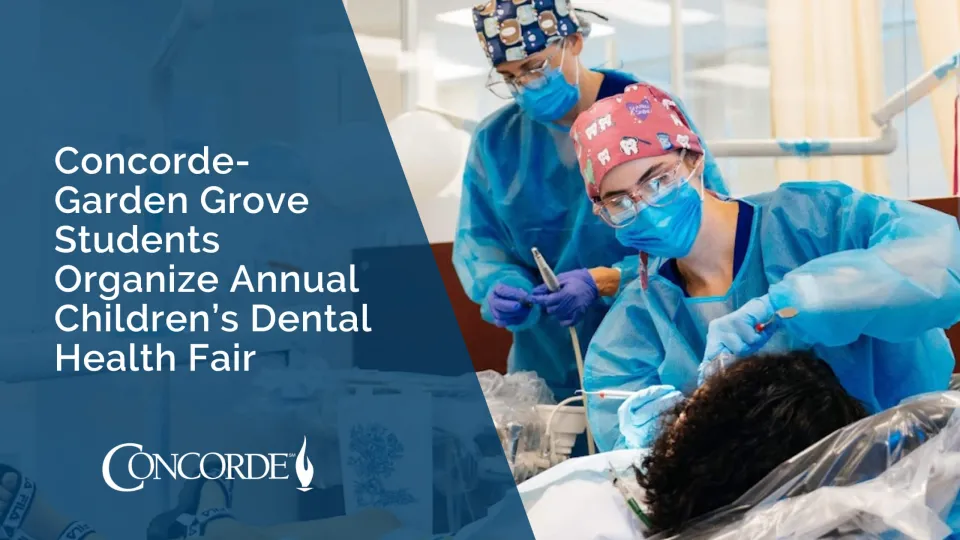 One event that students in their last year of Concorde-Garden Grove's Dental Hygiene program in California look forward to most took place recently — the community Children's Dental Health Fair. The annual event offering free pediatric dental services provided by Concorde students, including dental cleanings, sealants, and X-rays, benefits children in the surrounding community who may not have regular access to dental care due to lower household incomes or a lack of health insurance. This year's event was hosted at the Concorde-Garden Grove campus' fully functional, public Dental Hygiene Clinic.
"Hosting the event on a Saturday, when parents are most free, encouraged the great turnout we received. In total, including parents, we had around 100 people attend," recalled Mary Sue Pierce, Concorde-Garden Grove Dental Hygiene Instructor. "We are grateful that we were able to impact the lives of so many children and families and contribute to the growing need for dental care within our community."
According to the CDCi, 17% of children ages 2 through 5 from low-income households have untreated cavities in their primary teeth, which is triple the rate for children from higher-income households. In Garden Grove, according to the July 2021 Censusii, 11.6% of the city lives below the poverty line, with 9.8% of people under the age of 65 lacking health insurance.
During the Health Fair, students worked to make the experience fun and enjoyable with many children having never had a dental cleaning before. Outside of the clinic, patients had the opportunity to participate in fun-filled activities and games, win prizes, and listen to music provided by an on-site DJ. One Concorde student even dressed up in a tooth costume to help teach the kids about proper oral care and dental hygiene.
Throughout the day, dental hygiene students gained additional supervised hands-on training from program and clinical instructors while guiding children through the process of a health care visit. Event staff, including Concorde-Garden Grove community partners, provided encouragement and support to all pediatric patients, helping to alleviate any uncertainties or fears they may have had and ensuring everyone was as comfortable as possible.
"Students were also able to complete their clinical competencies involving pediatric and adolescent patients, as well as learn how to organize, remain flexible, and collaborate with each other to produce a positive outcome that encourages healthy oral hygiene practices," said Pierce.
Concorde-Garden Grove's Dental Hygiene Clinic creates the opportunity for students to apply course materials in a real-life, clinical setting while providing low-cost dental services to patients across the Los Angeles region. Daily services include dental cleanings digital X-rays, bite guards, bleaching trays, and dental sealants. Appointments can be scheduled by calling (714) 620-1056.
To learn more about the variety of dental and health care career programs offered at Concorde Career College's Garden Grove campus, please visit www.concorde.edu/campus/garden-grove-california.
---
i Disparities in Oral Health: https://www.cdc.gov/oralhealth/oral_health_disparities/index.htm
ii U.S. Census Bureau QuickFacts: https://www.census.gov/quickfacts/fact/table/gardengrovecitycalifornia,US/PST045221
Are You College Ready?
How you think and what you love about life might give you important insights about your college readiness. Our NEW College Readiness Quiz provides instant feedback with your results. Click the button to get started!